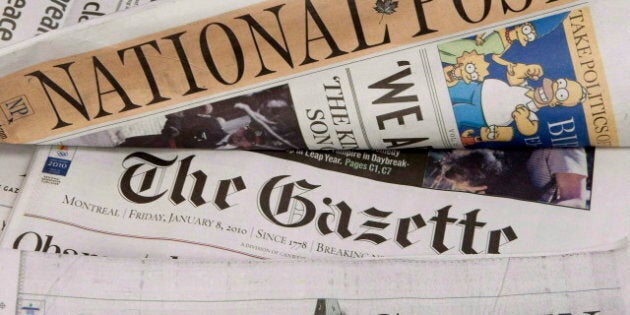 Postmedia Network, the owner of Canada's largest newspaper chain, has announced drastic cutbacks that will see three major city dailies lose their Sunday editions amid an expected wave of layoffs.
The company that runs the National Post and dozens of other newspapers announced Monday that it would end Sunday editions at the Calgary Herald, Edmonton Journal and Ottawa Citizen. The company also said that, for the third summer in a row, the National Post would not run a Monday edition.
The company blames the cuts on "advertising revenue challenges."
The Post will "look closely at its publication schedule going forward," Postmedia said in an internal memo obtained by The Huffington Post, suggesting the newspaper could see a shorter publication schedule going forward.
Postmedia's memo did not mention any specific layoff numbers, but did mention that "some roles across our operations will be eliminated."
According to chatter on Twitter, the Ottawa Citizen is losing 20 staff, and the Montreal Gazette is losing 23. The Huffington Post could not immediately verify those numbers.
According to Globe and Mail reporter Steve Ladurantaye, the job cuts at Postmedia won't be evenly distributed. Ladurantaye tweeted that Saskatchewan newspapers will likely survive this round of layoffs relatively unscathed.
The company is also planning to streamline editing at its newspapers by concentrating more of it in a joint newsroom in Hamilton, Ontario, that serves all Postmedia papers. Though the newsroom has been in operation for some years, it only accounted for a portion of all the editing taking place at the local papers. Postmedia's note suggests that a much larger amount of editing will now be concentrated in Hamilton, which the paper says will free up its newsrooms "to concentrate on the creation of local content."
Here's Postmedia's internal memo in its entirety:
Since Postmedia Network was formed nearly two years ago, our company and our industry have been undergoing a significant transformation. Changes we have made so far have come from the review of all of our operations so that we can leverage the strengths that we have, address any weaknesses and identify our most competitive areas.

Early on we centralized our finance operations, leveraging our strengths as a large company, and now provide greater service to our markets and to our clients while operating more efficiently. More recently we moved our commodity news requirements out of house having identified that commodity news is an area where we cannot be competitive.

While the changes we have been making are about creating the company we need to be, it also means changing the way we have done many things in the past. While some areas are expanding, some roles across our operations will be eliminated. The only way we can be competitive is to create a new company that leverages its history and moves aggressively into the future.

We are continuing on this path and looking to further reduce our print-related infrastructure costs, build out our digital platforms and invest in growth areas of our business. We know that print advertising revenue decline is ongoing across the industry. And a lot of the lost revenue in Canada is going to foreign-owned and controlled digital companies who, without any regulation, are accessing Canadian audiences and eroding Canadian media revenues.

The way we produce our newspapers can be a strategic advantage for a company of our size and over the last few years, Postmedia Editorial Services in Hamilton (PES) has expanded services to our newspapers by providing a majority of their pagination and layout. We are now further expanding our PES operation to accommodate the editorial production of more of our newspapers' pages allowing our newsrooms to concentrate on the creation of local content. Creating compelling content is still a major focus at Postmedia Network and we are proud of the exceptional work appearing on our print and digital pages every day.

Along with moving editorial production out of our local newsrooms, each of our operations will implement various programs aimed at reducing print-related infrastructure costs with a focus on investing our energies and resources in digital platforms. Three of our newspapers – Calgary, Edmonton and Ottawa – will stop producing a Sunday edition, having identified that subsidising this publication day is simply no longer practical. National Post, as it has for the past three years will suspend summer Mondays and look closely at its publication schedule going forward.

Our audiences move across platforms with great ease and we have seen continued audience growth on our newspaper websites. Our tablet apps and mobile optimized sites are gaining traction as we continue to develop unique experiences for engagement across all of our platforms.

The insights we have gained and the transformation we have undertaken over the last two years continue as we prepare to enter our new fiscal year in September. We know that we must accelerate the pace of change so that the new company we are creating is the strongest, most future-focused and successful that it can be.
TWITTER REACTS TO POSTMEDIA CUTS
Popular in the Community