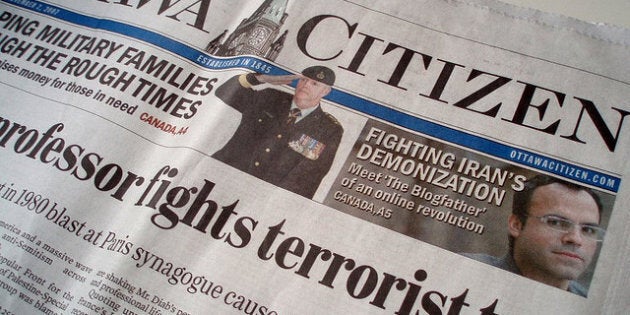 Online newspaper readers will soon be seeing registration screens when they visit the websites of several major Canadian newspapers.
Postmedia News properties the Ottawa Citizen, Vancouver Province and Vancouver Sun are about to launch the first paywalls for major news sites in Canada, joining a growing number of newspapers worldwide seeking to recoup lost advertising revenue by directly charging readers.
Though Postmedia's paywalls are the first to go up among Canada's major papers, the Globe and Mail announced in April it would also begin charging online readers later.
Crawley said the Globe had already planned to put its business section behind a paywall this fall, but, after further research, decided to apply the paywall to the entire paper. Details of the Globe's paywall were still being worked out as of the latest reports.
"This new 'metered' system will help generate revenue to invest in the insightful, award-winning print and digital journalism expected from the biggest and best news team in Western Canada," he wrote. "We remain committed to investigative reporting and working to ensure transparency from governments and public agencies."
The new pay system will see print subscribers to the newspapers get free access to website and mobile content. Those who only want to read the papers online will be charged an initial fee of 99 cents per month. Over time, the cost will rise to $7.95 per month for the Vancouver papers, or $79.50 per year, and $9.95 per month for the Ottawa Citizen, or $99.50 per year, the Globe reported.
The Canadian papers' move mirrors that of many other newspapers around the world, who have struggled with declining print revenue and advertising as readers shifted from paper to digital.
In recent years, the Times of London and the New York Times both went behind paywalls, moves that at the time were considered risky within the industry but appear to have paid off.
The Postmedia paywall will resemble the New York Times model more closely than the U.K. Times model, allowing a monthly quota of 15 free stories to readers.
-- With files from Jesse Ferreras and The Canadian Press