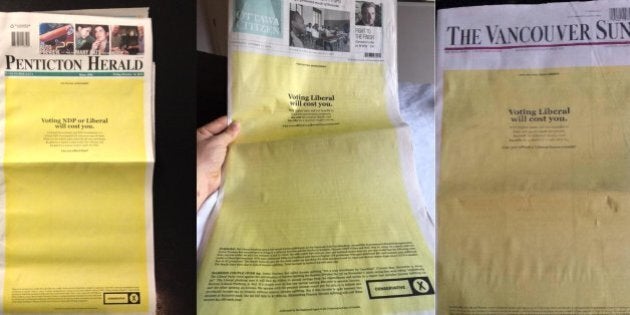 If you looked at a Postmedia or Sun's newspaper on Friday, you likely noticed a giant yellow ad where your front page of news would normally be.
They were rather hard to miss.
The Ottawa Citizen, The Vancouver Sun, Fort McMurray Today, and other papers replaced their entire front pages with the flamboyant ads endorsing the Tories just days before the federal election.
The spreads said either "Voting Liberal will cost you," or "Voting NDP or Liberal will cost you," followed by explanations of how those parties' platforms would affect voters. There was also a ballot-style checkbox marking a "Conservative" vote.
At the top of the page, the newspapers noted that the spreads were "paid political advertisements."
Political pollster Bruce Anderson, who writes a regular column for The Globe and Mail, called the ads "awkward to say the least."
A spokesperson for Postmedia Network could not be reached at time of publication.
What do you think of the ads? Let us know in the comments below.