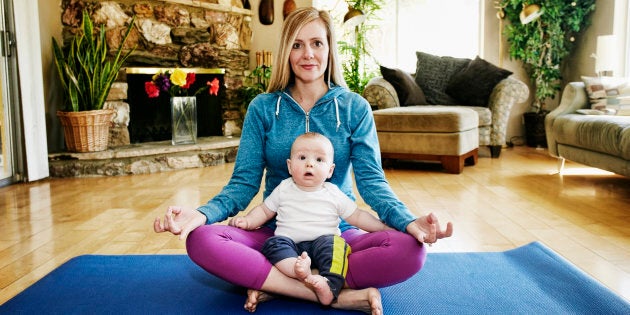 Two days following the birth of her baby, Maria Lopez began experiencing anxiety attacks. Though she was immediately prescribed medication to treat her postpartum anxiety, Lopez said she didn't want to take it because she didn't want "chemicals" in her body.
"I wanted to try natural things," Lopez, who lives in Toronto, told HuffPost Canada. "At nine months postpartum, I hit rock bottom."
"I felt scared to be alone with my daughter," Lopez said. "I was afraid I was going to die."
Lopez began experiencing severe panic attacks and found herself in the emergency room. She was diagnosed with agoraphobia and health anxiety and once again, her doctor prescribed antidepressants. While the medication helped her anxiety, Lopez said she experienced adverse reactions.
WATCH: We need to start talking about postpartum depression. Story continues below video.
Faced with a three-month wait to see a psychiatrist for symptoms of anger and irritability postpartum, Sarah Cunningham of Oshawa, Ont., also decided to try alternative therapies.
"I discovered restorative yoga and that was a huge help for me with the mind/body connection," Cunningham told HuffPost Canada. "I'm very pro natural but I do think medication and therapy are important, too. Different things work for different people."
Canadians regularly use alternative therapies — but are they effective?
From personal preference to unwanted side effects, limited access and celebrity endorsements, there are various reasons why some women try alternative therapies to treat maternal mental illness. But are they safe?
According to the Public Health Agency of Canada, more than 70 per cent of Canadians regularly use complementary and alternative health care therapies such as yoga, acupuncture, naturopathy, and massage. And up to 20 per cent of women in Canada experience maternal mental illness such as postpartum depression (PPD). Symptoms can range from mild to severe.
"We wanted to find out how effective and safe these treatments are to know whether or not professionals should be recommending them to women," U.S. researcher Rebecca J. McCloskey, author of a systematic review on complementary health approaches for postpartum women, recently published in the Journal of Social Work in Mental Health, told HuffPost Canada.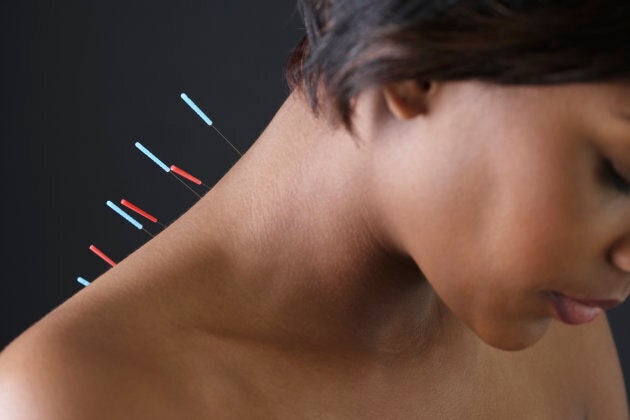 "I wanted to bring attention to this and to better understand what the research shows about these 'alternative' options."
McCloskey and her colleagues scoured databases for randomized clinical trials, the gold standard in scientific research. They found 10 studies in the past 12 years that qualified. The studies looked at the effectiveness of aromatherapy, iron supplementation, yoga, light therapy, acupuncture, mindfulness meditation, omega-3 fatty acids, infant massage, and saffron, in treating PPD symptoms.
"Many of these options appear safe and show promise in reducing PPD symptoms," McCloskey said.
"However, these studies have small sample sizes and need to be replicated with larger numbers of women."
While women diagnosed with maternal mental illnesses should talk to their doctors and always follow medical advice, here are four of the best evidence-based alternative therapies, based on McCloskey's review:
1. Meditation
Up to 40 per cent of women in Iran experience PPD. An Iranian control trial of 67 postpartum women were placed in two groups: a treatment group that received eight, two-hour sessions of mindfulness training, and a control group that received no training.
Researchers found that women placed in the treatment group significantly reduced their PPD scores compared to women in the control group, concluding that "mindfulness training is effective in reducing depression symptoms in new mothers."
2. Yoga
The first randomized control trial on yoga and PPD was completed in the U.S. in 2015. Women were randomly assigned into two groups — one that practiced Hatha yoga for one hour, twice a week for eight weeks, and another group that did not practice yoga and who also did not receive other treatments for the duration of the study.
A total of 57 women participated in the study.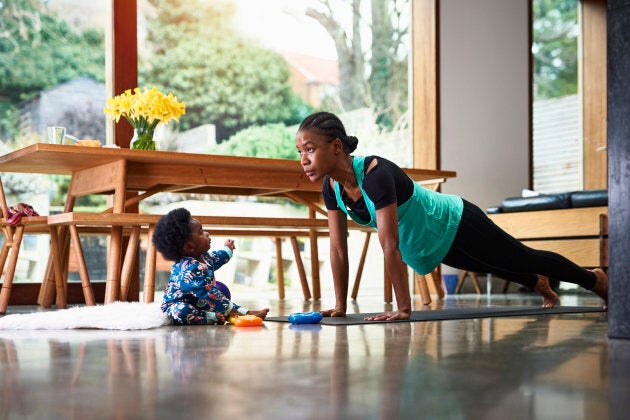 Researchers found a significant improvement in depression and anxiety symptoms in 78 per cent of the women in the yoga group and, though both groups reported a steady decrease of depressive symptoms, the decline was steeper for the women practicing yoga.
3. Iron
A randomized, double-blind, placebo-control Iranian trial looked at the efficacy of iron supplementation in 70 women with PPD who gave birth via Cesarean section. The study began seven days postpartum and lasted for six weeks. Women in the treatment group took an iron supplement once a day while women in the control group took a placebo pill.
While the women in the control group reported no changes, researchers found a 42.6 per cent improvement rate in postpartum depression scores among women in the treatment group compared to women in the control group.
(Talk to your doctor to determine if you have an iron deficiency before taking iron supplements).
4. Saffron
A double-blind, randomized control trial (also in Iran) examined the efficacy of saffron (an herb) versus placebo in 60 breastfeeding mothers with postpartum depression. Study results showed a greater decrease in depression scores for women in the treatment group who took a twice daily 15 mg saffron supplement compared to the control group who received a placebo tablet daily for eight weeks.
By the end of the study, 96 per cent of women in the saffron group "no longer met the criteria for depression."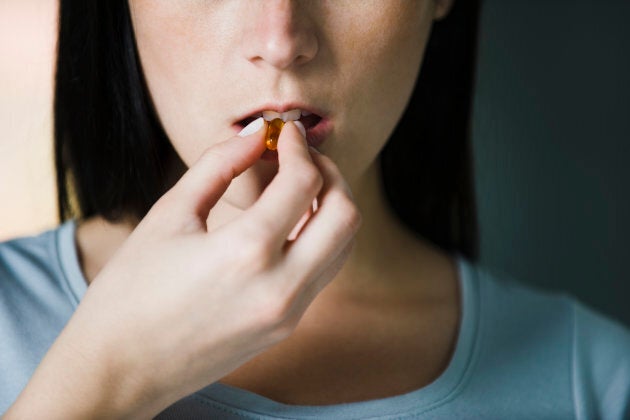 In a similar study, instead of a placebo group, women with mild postpartum depression either took a saffron pill or fluoxetine, the antidepressant commonly known as Prozac.
Though researchers caution the study contained a small sample size and should only be considered a preliminary study, the authors concluded that the results of their study "may suggest that saffron is a safe alternative medication for improving depressive symptoms of postpartum depression."
More trials on alternative therapies are needed
McCloskey believes more randomized control trials are needed for alternative therapies in order for women and health care professionals to make informed decisions.
"Medication and therapy cannot be routinely considered as evidence-based interventions if they conflict with a patient's values," McCloskey said. "I think there is an obligation to investigate the safety, feasibility, and effectiveness of other treatments."
Popular in the Community