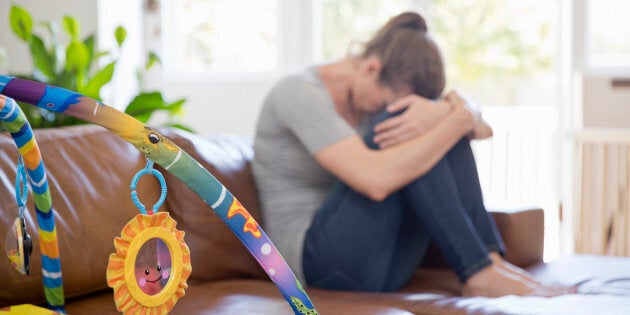 It's every mom with postpartum depression's worst nightmare: seeking help only to have children's aid called, or worse, the cops.
And that's what happened to Jessica Porten of Sacramento, California this past weekend.
"I thought it was very excessive, but I was told that the ER was where I needed to go to get help," Porten told HuffPost Canada via text message.
"Based on the private messages I am receiving from so many women, this is not an isolated incident ... No one should be afraid to be truthful with a doctor."
Porten shared her story Friday via a Facebook post that quickly went viral. In it Porten described how she was "treated like a criminal and then discharged with nothing but a stack of xeroxed printouts with phone numbers on them."
The police were called during Porten's afternoon obstetrician follow-up appointment last Thursday, four months after giving birth to her daughter, Kira, she wrote in the Facebook post.
"A nurse practitioner comes in (one I don't particularly care for) and I tell her everything my husband told them when he scheduled me the appointment a week ago," Porten wrote.
"That I have postpartum depression that is manifesting in fits of anger, and I want to discuss my medication options. I tell them I have a very strong support system at home, so although I would never hurt myself or my baby, I'm having violent thoughts and I need medication and therapy to get through this. She rushed through my pelvic exam, barely spoke about medication, said she needed to talk to the doctor about my PPD, and left the room."
That's when staff called the police, Porten wrote.
"The phrases 'it's protocol' and 'standard procedure' were thrown around a lot, so although I didn't agree with it, I was willing to endure because I thought I would walk away with a prescription and a referral to a psychiatrist," Porten told HuffPost Canada. "Neither of those things happened."
She was able to drive to the hospital with her daughter but had to be escorted by police cruisers in the front and back.
"The cops can clearly see I'm of sound mind and that this whole thing is bull****," Porten wrote on Facebook. "They take me to the bathroom so I can give a urine sample. They make me remove all of my clothes (including my flip flops, which they replaced with socks) and then took them away from me and locked them up."
After 10 hours of waiting, Porten was finally seen by a social worker at 10:45 p.m who decided not to place Porten on a psychiatric hold and discharged her.
"Not once during all of this has a doctor laid eyes on me. Not once," Porten wrote. "Not even before they decided to call the cops on me ... I leave the ER at midnight, my spirit more broken than ever, no medication, no follow up appointment ... This was a 10 hour ordeal that I had to go through all while caring for my infant that I had with me. And that's it. That's what I got for telling my OB that I have PPD and I need help."
"The nurse practitioner who saw Jessica was not trained to recognize or understand perinatal mood disorders and reacted precipitously in a way that was not ultimately helpful to mother or child. Instead of being asked if she was okay and given respectful treatment, Jessica was picked up by the police," PSI wrote on Facebook.
"It is unfortunate that, due to misinformation, medical providers make mistakes that are so disruptive to families. PSI is helping Jessica find the treatment she needs and deserves. We are also committed to training front-line providers across the country so this never has to happen again."
It's not just happening in the U.S.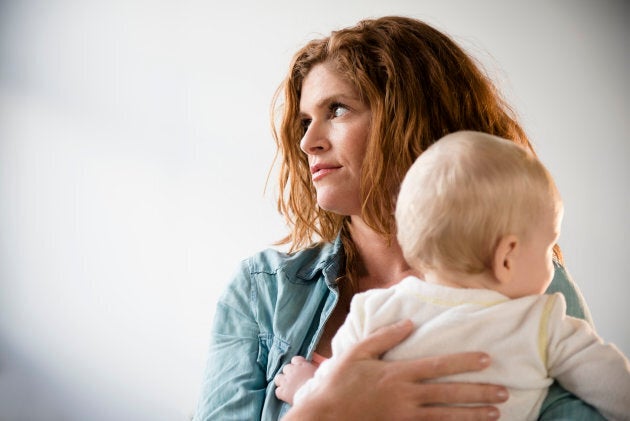 Think this can't happen in Canada?
In 2014, Nicole Reid of Newmarket, Ont. went to the emergency room on the advice of her doctor who couldn't fit her into his schedule, HuffPost Canada previously reported. Reid was on her third day of medication for postpartum anxiety and was experiencing concerning physical and emotional side effects. She was vomiting, lethargic, and extremely depressed.
But instead of getting help, a hospital crisis worker called the Children's Aid Society and Reid was forced to spend three days in the mental health wing before being deemed not a threat and discharged with new medication.
"It's unfathomable that despite maternal mental health issues being the most common complication of pregnancy, health care providers are still this clueless," Alberta-based Maternal Mental Health Research Collaborative Program Director, Shannon Hennig, wrote in a blog post in response to Porten's ordeal.
"How can a nurse practitioner in an obstetrician's office, exclusively working with women who are pregnant or postpartum, not have any idea about mood disorders and anxiety? ... Jessica's experience is an example of how mental health is viewed and treated by the medical system," Hennig wrote.
"It's misunderstood, maligned and deviant. Mental illnesses are suspect, even criminal, and those who are sick and in need of care are treated no differently than someone who has committed a crime. This lack of knowledge and ignorance is inexcusable; there is no justification."
A call for universal screening
Porten's experience comes as maternal mental health advocates across North America are calling for universal perinatal depression screening.
"We must demand accountability," Hennig wrote. "Maternal mental health isn't just a health issue, it's a women's rights issue and the time for change is now. #nomoreexcuses."
Porten decided to use her experience to help others and turn herself from victim to advocate. She's raising funds for 2020 Mom, a national non-profit that promotes the mental health of women before, during and after pregnancy, she wrote in a Facebook update. Porten wrote she wants to particularly focus on women of color and LGBTQ parents whom she thinks would have treated even worse than she was.
"I am working tirelessly to move the attention away from me and on to the bigger picture," Porten told HuffPost Canada.
"I did not ever think it would go viral, but I am grateful for the platform and I am trying to use it as effectively and efficiently as possible to enact real changes to our healthcare policies, both locally, and on a national level ... I am asking everyone to lift up the mothers of color in their community and LGBTQ parents and use the hashtag #Action4Jessica."