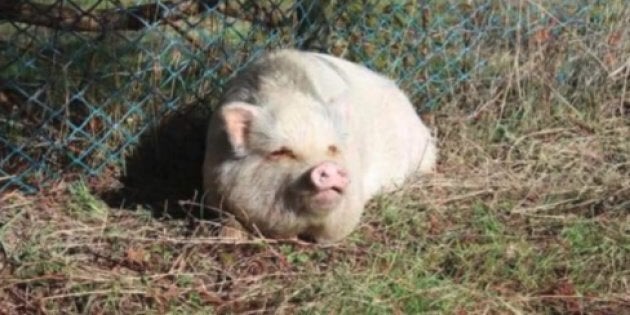 A owner of a pot-bellied pig in Nanaimo, B.C. says she was disgusted to learn that one of the animals adopted from the province's SPCA was slaughtered for food.
"If this isn't animal cruelty, I don't know what is," Brandy Mckee told HuffPost Canada on Friday.
She says she found out through Facebook that the animal had been killed, and then got in touch with a woman who said she lived in the same house as the pig named Molly. But the woman told Mckee that it didn't belong to her and she wasn't involved with its death.
"These people are not denying it," she said.
"What the question here is, is that this was a pot-bellied pig that was a rescue, that was adopted out as a pet from the SPCA, a non-kill shelter."
The B.C. SPCA says it euthanizes fewer than 10 per cent of the companion animals that come to its shelters every year.
Mckee said she finds it "hard to believe" that she wouldn't be charged if she adopted a dog, decided three weeks later she didn't like it, and then killed it for food.
But that's technically true. Lorie Chortyk, B.C. SPCA general manager of community relations, told Global News that once someone becomes an animal's owner, they have all legal rights to it. While the new owner had to agree verbally and in writing not to use the pig for food, what he did isn't illegal.
Molly ended up at the organization's Cowichan and District branch as part of an animal cruelty investigation, and was adopted out on Jan. 19 to a Duncan, B.C. couple, Global reported.
The society's constables visited the property where Molly had been living, and confirmed that she was killed humanely. But Chortyk said those owners will no longer be able to adopt an animal from the SPCA.
Stunned by decision not to just return her to shelter
"We are heartbroken and currently focusing on taking care of our team and animals," a spokesperson from the Cowichan and District branch told HuffPost Canada via Facebook.
Mckee said she learned that Molly's owners were having trouble training her, but added that she's still stunned they didn't just return her to the B.C. SPCA or drop her off at another rescue organization.
"My friend even said that she would go and pick it up if they decided that they would shoot her and eat her," she said.
Mckee owns a four-year-old pot-bellied pig named Donald, and said she would never consider eating one of the animals, who she says aren't bred to be eaten.
Popular in the Community