Nicolas "noticed more and more how poutine was presented as a Canadian dish, instead of a Québécois dish." As the article states, even chefs around the world highlight the dish as "the official dish of Canada." Nicolas says, "This is a problem, because Quebec has a distinct culture, a distinct society and nation."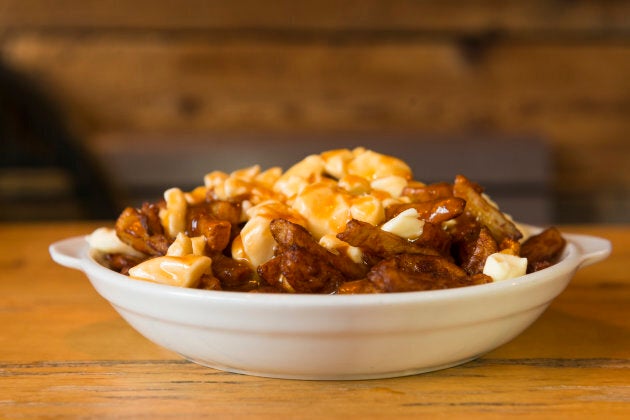 This blog post is to explain where we are coming from in regard to poutine on a worldwide scale alongside cultural appropriation.
Food is a human conduit. We share stories and personal experiences about our love for food with each other. Food, for me, is all about sharing. It's about communities and people coming together to experience a collective pleasure. We are nourished by our relationships with others, and food is the medium.
But more importantly, FOOD IS DELICIOUS! And it's everywhere. You can't get away from great food, and food loves to get in there and party with other foods -- whether it's samosas with apple-pie filling, cronuts, pizzas covered in kimchi or a poutine (say it with me... "PU-TIN") with fresh hand-cut french fries, squeaky cheese curds, smothered in piping hot gravy... all topped with food pleasures of your choice.
Poutine is a beautiful creation – but like the great work of any artist, once out in the world, it no longer belongs to just one person.
At Smoke's Poutinerie, we truly believe in maintaining the authenticity of poutine. No matter how many amazing, incredible, endless toppings get thrown on top, the base is always the same. All we want to do is take it to the rest of the world with Canadiana pride! Our cheese curds and our chicken-based gravy recipe are both conceived and made in Québec. We give credit to Québec on the main page of our website, so that the first thing people see is that this fantastic concept of poutine comes from the great province of Québec.
(Thanks again, QC! You're the reason millions of people didn't wake up hungover today! And for the ones who did, they're eating poutine and thanking you for it!)
Poutine is a beautiful creation -- but like the great work of any artist, once out in the world, it no longer belongs to just one person. Canadians have taken in Poutine as our unofficial national dish. Poutine is more than that, though. It is a celebration of our national culture, from the Quebec history of the dish, to those who are still contributing all over the country to creating rich new variations of poutine as GOD-DAMN DELICIOUS as they are interesting and innovative.
We consider ourselves among this group, striving to make poutine as dynamic and entertaining a culinary delight as possible. During our Smoke Around the World Campaign, Smoke's Poutinerie has promoted all kinds of diverse poutine flavours, from our Korean inspired BBQ poutine to the Jamaican inspired, jerk chicken poutine. These flavours, and more, support the depth of cultural differences through an internationally adored dish.
Another poutine aficionado like myself, Na'eem Adam, founder of La Poutine Week, said it best in this article from MTL BLOG: "The tradition is strong," he said. "There's this melting pot of people; there's different backgrounds and ethnicities that are just coming together. You see that translated to these dishes. It's getting its evolution, but its core is never changing. Its core is always an homage to Québec."
You can't take the Québec out of poutine, no matter how many variations or twists you put on it.
This couldn't be more beautiful if it were a painting of Justin Trudeau as a centaur galloping through a golden field of French fries. And Adam is absolutely right. You can't take the Québec out of poutine, no matter how many variations or twists you put on it. Poutine is a dish that is becoming adored around the world, which means people are going to mess with it. What people love more than anything, though, even more than adding their own personalized flair to their dishes, is authenticity. What could be more exciting for someone who has been eating poutine in L.A. or Michigan to finally jump across the border to grab a traditional poutine in Montréal?
So, who loses here? Who doesn't benefit from this incredible Canadian dish making the rounds to every country? Poutine-lovers already flock to events, and trendy new poutineries to find delectable and inspired combinations, but there has been no slowdown in the sale of traditional poutine (you can take my word on that one). The rich simplicity of the original recipe is the reason why other poutine dishes are popular at all.
So, don't worry, Québec, no matter what you call it, with every mouthful of poutine the world is nodding to you.
Follow HuffPost Canada Blogs on Facebook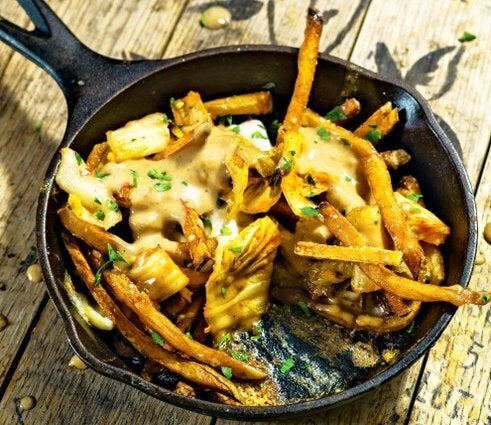 How To Make Your Poutine More Exciting