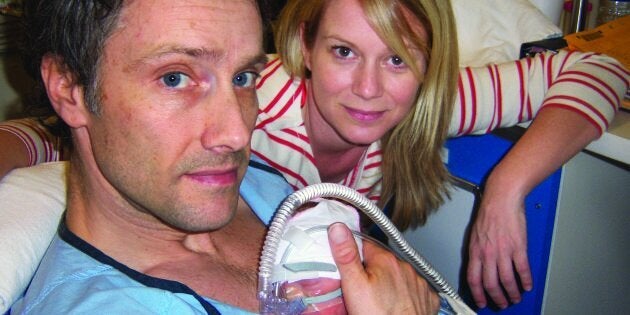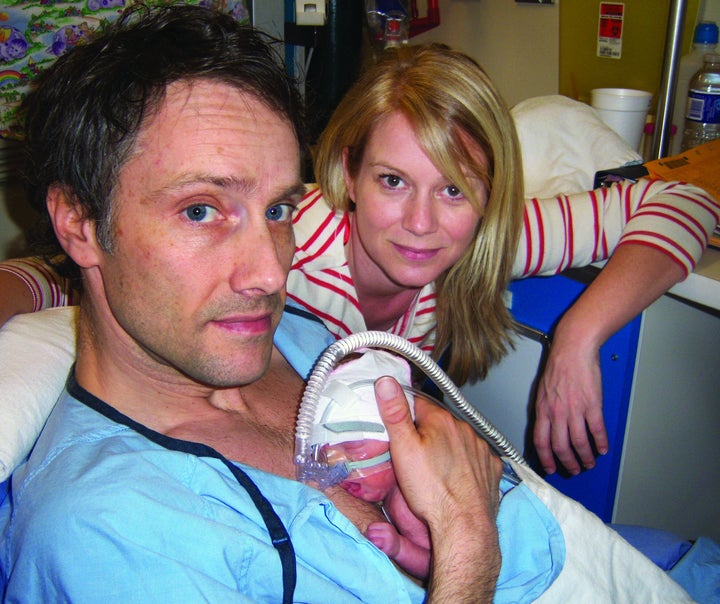 Baby Tess receiving care from her parents through Mount Sinai Hospital's Family Integrated Care Program, the first program of its kind in North America. (Image credit: Jacqueline Hourigan)
Jacqueline "Jack" Hourigan, a Toronto-based writer and television host, recalls when she first saw her daughter, Tess, who weighed only two pounds, five ounces at birth.
"She was just about the size of my husband's hand," Hourigan said. "She was beautiful and pink and let out a great cry."
Tess, who was born three months early, was whisked off to the neonatal intensive care unit even before her mother could touch her.
"Everyone around me was taking care of her," said Hourigan, who had lost another premature baby before Tess. "I certainly didn't feel like I was a mother."
Two weeks after Tess' birth, Hourigan was invited to participate in Mount Sinai Hospital's new Family Integrated Care Program, where parents provide most of the care for their premature babies while the nurses teach and counsel parents.
"I leapt at the chance," she said. "I needed a purpose. I needed to be a mother."
Premature babies gain weight better when their parents are active caregivers compared to those whose parents play a passive supporting role, according to a new study.
A pilot study, published in the January 31 edition of BMC Pregnancy and Childbirth, compared the outcomes for 31 premature babies -- whose parents enrolled in a Family Integrated Care Program -- to 62 similar babies who were born the year before the program started.
"Parents really like the fact that they have an active and important role in the care of their babies," said study senior author, Dr. Shoo Lee, pediatrician-in-chief at Toronto's Mount Sinai Hospital and scientific director of the Institute of Human Development, Child and Youth Health at the Canadian Institutes for Health Research.
"This gives them purpose and empowerment, promotes bonding with their babies, increases their skills for looking after their babies, and ensures a smoother transition to home."
Mothers enrolled in this program were much more likely to breastfeed their premature babies, compared to mothers who didn't participate in the program, said lead study author, Dr. Karel O'Brien, a staff neonatologist in the department of pediatrics at the University of Toronto.
"The significant increase in breastfeeding rates is remarkable," she said, adding that there are many health benefits of breast milk for premature babies.
After adjusting for maternal age, birth weight, and health status scores, the rate of change in weight gain was higher in premature babies whose parents were part of the program compared to those whose parents weren't in the program, she added.
This study showed that families bring tremendous value to the health care team by fully participating in and contributing to the care process, according to the researchers.
"Parents are needed," O'Brien said. "We do want them as part of the team."
"I, as a physician, have appreciated families telling me about their babies during rounds," she said, explaining that the information provided by families about their babies was useful for her medical decision-making.
Stress levels of parents who didn't participate in the program stayed constant over time, the authors wrote in their study. Parents who were part of the program had much lower stress levels by the time their babies were ready to go home.
O'Brien recalls how one program participant stopped at a restaurant for a meal with her baby on the way home from the hospital. "People are often too anxious to go outside with their baby after they are discharged home," she said, explaining that this example illustrates how parents who go through this program are more confident when their babies leave the hospital.
Another benefit of a Family Integrated Care Program is the potential reduction in health care costs, said one neonatal expert who was not involved with the study.
"We always have a problem of not having enough nurses," said Dr. Victor Han, chair of the division of neonatal-perinatal medicine at the University of Western Ontario's Schulich School of Medicine and Dentistry. "There will be less burden on specialized nurses if parents can take over some of the specialized care. This will ultimately lead to health care savings."
These early results still need to be proven by additional studies, he said, adding that some health care workers may be reluctant to accept parents as hospital caregivers until more data becomes available.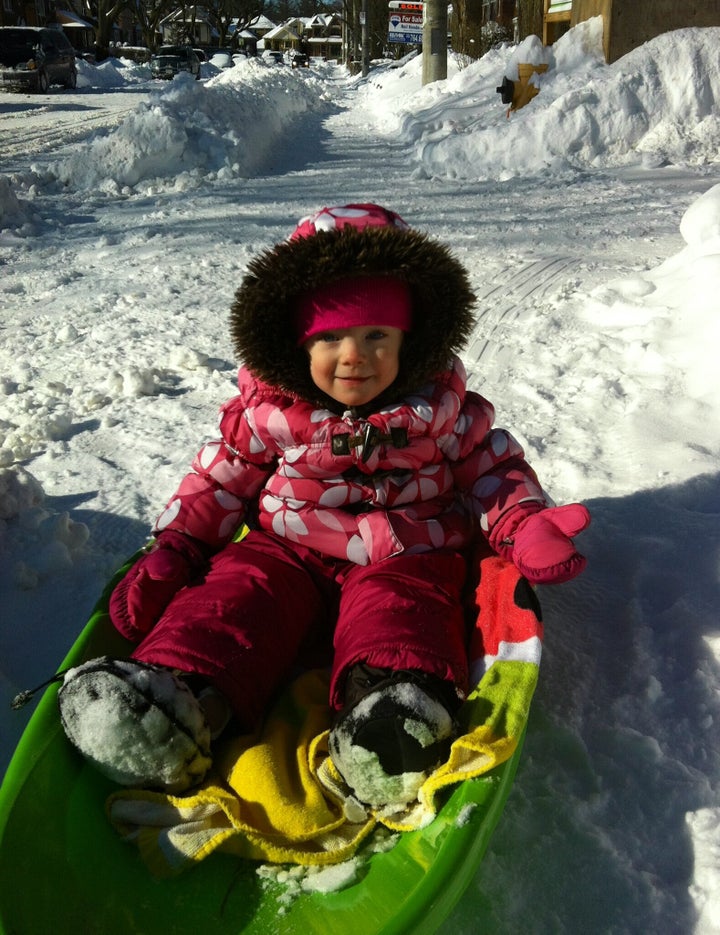 Tess is now meeting her milestones as a toddler, according to her mother. (Image credit: Jacqueline Hourigan)
Tess -- who was the first baby enrolled in this study -- left the hospital weighing a hefty seven pounds, Hourigan said.
Hourigan now advocates for the Mount Sinai Hospital's Family Integrated Care Program and mentors other parents. "It's life-changing," she said. "We were really part of the team. I can't imagine doing it any other way."
"There has been tremendous enthusiasm among families, governments and other neonatal intensive care units," Lee said, adding that they are now conducting a randomized clinical trial across 16 Canadian hospitals to further evaluate this program and measure its impact on health outcomes and costs.
"Should the results of this pilot study be confirmed, this will become standard of care in Canada."
Popular in the Community