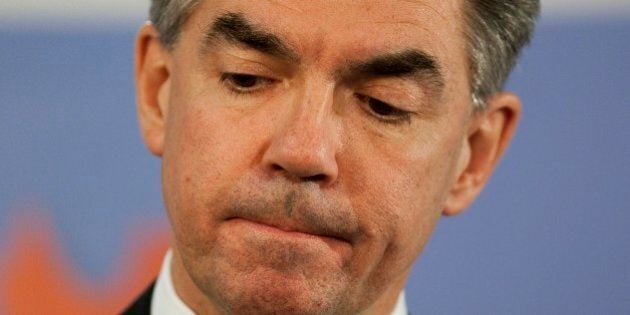 Albertans don't like it when their premier blames them for the province's problems.
After Premier Jim Prentice said Wednesday that he wouldn't raise corporate taxes to make up for lost oil revenue, instead saying residents need to "look in the mirror" to see who's responsible, people responded in kind.
A hashtag, #PrenticeBlamesAlbertans, has gone viral on Twitter and spawned lots of angry responses as well as some entertaining memes.
"The only thing Albertans have done wrong was to keep voting you idiots back in & you wasting very dime you can find to get votes," said user Margaret-Frank Merrithew.
"It is you that sells our resources to others for less than half the price and charge the crap outta Albertans…" said Gloria Stephen.
At 10 per cent, Alberta's corporate tax rate is currently the lowest in Canada.
Hiking the rate to 12 per cent would bring in an estimated $1 billion, but Prentice said Wednesday it would be self-defeating.
"It would simply result in corporations deciding to relocate head offices to other provinces, to book their income in other provinces, and to reduce jobs in Alberta," he said.
Prentice was asked if he was being driven solely by conservative ideology.
"I don't think it's wise economic policy," he replied. "I've got no issue with it in an ideological sense."
To see more responses to the premier's comments, check out more of #PrenticeBlamesAlbertans in the slideshow below.
With files from the Canadian Press
Popular in the Community