Life-saving prescription drugs have undergone dramatic price hikes in the U.S. and it's causing some Americans to turn to Canada.
Floridian Darby Leigh told the Toronto Star she was shocked when she discovered it would cost her US$600 for two EpiPens. Her husband, originally from Ontario, suggested she buy the medication from Canada, where she was able to get a two-pack for a third of the cost.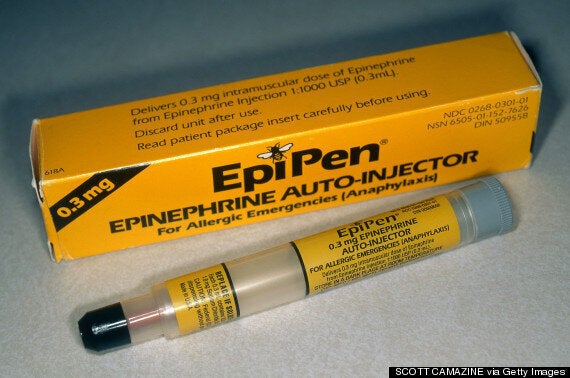 EpiPens can halt a potentially life-threatening allergic reaction and the drugs expire in just 18 months, making them a costly and regular occurrence for families.
Unlike Canada, the U.S. doesn't regulate drug prices. So pharmaceutical companies can set prices as they please.
"What we do have to protect against these rapid price increases is a regulatory body, the Patented Medicine Prices Review Board (PMPRB). It regulates price increases … our prices can't go astronomically high very quickly because there are regulatory restrictions on price growth," Steve Morgan, a health policy professor at the University of British Columbia, told the National Post.
"… our prices can't go astronomically high very quickly because there are regulatory restrictions on price growth."
Diabetics are another group that has turned to Canada amid price hikes.
In the U.S, the cost of insulin has dramatically increased. Prices for Humalog, a rapid-acting insulin, has grown 700 per cent since 1996, The Washington Post reported.
For a diabetic, long periods without insulin can result in blindness, nerve problems, heart and kidney failure, and eventually death.
In the U.S. a 10-milliliter vial of Humalog — roughly a one month supply — can cost over US$250 out of pocket, according to U.S. prescription price comparison site GoodRx.com. The same amount costs just CA$32 on a Canadian site, a number that becomes even more tempting with the low Canadian dollar. And that doesn't include the dozens of other medical supplies diabetics rely on to survive.
An illegal, but often overlooked, practice
But some states, including Maine and Kansas, have passed bills to allowing residents to buy personal prescription drugs from Canada, CNBC reported. In other states, the law is not often enforced.
CNBC added that about two per cent of Americans have bought prescription drugs from outside the country.
And that number could increase in the near future.
President-elect Donald Trump has promised to repeal the Affordable Care Act, which could leave millions of U.S. citizens without health insurance.
Popular in the Community