Prime Minister Justin Trudeau told the media gathered outside Rideau Hall on Wednesday that it's an "incredible pleasure" to present a cabinet that "looks like Canada."
And when he was asked by a reporter about why it's important to build a cabinet with gender parity in mind, his answer was to the point.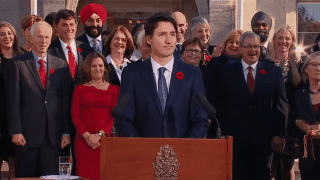 Watch Trudeau's full answer below:
The response elicited cheers from the crowd, many of them members of the public after Rideau Hall opened its grounds to those seeking to witness the change of government.
It's also one that takes the wind out of recent debates about quotas and merit-based appointments in the lead-up to Wednesday's highly-anticipated reveal of Trudeau's Liberal cabinet.
In a blog for HuffPost, Green Party Leader Elizabeth May weighed in on the debate by criticizing the argument that appointments based on gender parity will bring "incompetent" ministers into power.
"I do not recall anyone questioning the merits of male ministers being appointed as the vast majority of cabinets — forever," wrote May. She listed Julian Fantino, Vic Toews, and Pierre Poilievre as poor ministerial picks by former prime minister Stephen Harper.
Trudeau followed through on his campaign pledge to appoint an equal number of men and women to cabinet. At 30, the Liberal cabinet is smaller than the 39-member one belonging to the previous Conservative government.
Among the 15 women given appointed, many were given important portfolios including Jody Wilson-Raybould to justice, Carolyn Bennett to indigenous and Northern affairs, and Chrystia Freeland to international trade.
Of the 184 Liberal MPs elected to the House of Commons on Oct. 19, 50 are women.
Read the full list of Liberal cabinet ministers, by order of precedence, below:

Justin Trudeau (Quebec) — Prime Minister, Minister of Intergovernmental Affairs and Youth.
Ralph Goodale (Saskatchewan) — Minister of Public Safety and Emergency Preparedness
Lawrence MacAulay (P.E.I.) — Minister of Agriculture and Agri-Food
Stéphane Dion (Quebec) — Minister of Foreign Affairs
John McCallum (Ontario) — Minister of Immigration, Refugees, and Citizenship
Carolyn Bennett (Ontario) — Minister of Indigenous and Northern Affairs
Scott Brison (Nova Scotia) — President of the Treasury Board
Dominic LeBlanc (New Brunswick) — Leader of the Government in the House of Commons
Navdeep Bains (Ontario) — Minister of Innovation, Science, and Economic Development
Bill Morneau (Ontario) — Minister of Finance
Jody Wilson-Raybould (B.C.) — Minister of Justice Minister and Attorney General
Judy Foote (Newfoundland and Labrador) — Minister of Public Services and Procurement
Chrystia Freeland (Ontario) — Minister of International Trade
Jane Philpott (Ontario) — Minister of Health
Jean-Yves Duclos (Quebec) — Minister of Families, Children, and Social Development
Marc Garneau (Quebec) — Minister of Transport
Marie-Claude Bibeau (Quebec) — Minister of International Development and La Francophonie
Jim Carr (Manitoba) — Minister of Natural Resources
Mélanie Joly (Quebec) — Minister of Canadian Heritage
Diane LeBouthillier (Quebec) — Minister of National Revenue
Kent Hehr, (Alberta) — Minister of Veterans Affairs and Associate Minister of National Defence
Catherine McKenna (Ontario) — Minister of Environment and Climate Change
Harjit Sajjan (B.C.) — Minister of National Defence
MaryAnn Mihychuk (Manitoba) — Minister of Employment, Workforce Development, and Labour
Amarjeet Sohi (Alberta) — Minister of Infrastructure and Communities
Maryam Monsef (Ontario) — Minister of Democratic Institutions
Carla Qualtrough (B.C.) — Minister of Sport and Persons with Disabilities
Hunter Tootoo (Nunavut) — Minister of Fisheries, Oceans, and the Canadian Coast Guard
Kirsty Duncan (Ontario) — Minister of Science
Patty Hajdu (Ontario) — Minister of Status of Women
Bardish Chagger (Ontario) — Minister of Small Business and Tourism
With files from Althia Raj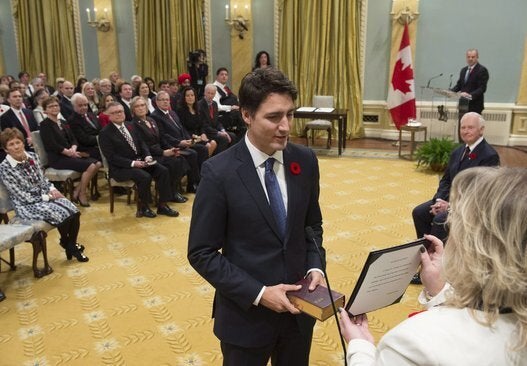 Justin Trudeau Swearing-In Day