A good chunk of Canadians finally got a selfie-op with our new prime minister, almost right after he was officially sworn in.
Following the ceremony at Rideau Hall, Justin Trudeau headed out to meet the public and their mobile phones.
Trudeau has become well-known for his willingness to pose for pictures with Canadians over the course of his various campaigns. He has probably posed for more selfies than most movie stars do on any given red carpet. And they're all over the Internet.
In the same article by the CBC, it was noted that NDP leader Tom Mulcair didn't say no to selfies, but didn't exactly wait around for them.
Stephen Harper has his fair share of selfies online, but his security detail was much tighter, so people couldn't exactly crowd him for a picture.
"It's free advertising of the best kind," former marketing head David Alston told Huddle, a New Brunswick-based new site. "It captures a permanent memory, one that is shareable on social media so it reaches well beyond that individual."
Now, the race has been won, but Trudeau is continuing to smile and pose with the people he now officially represents. Here are some from Rideau Hall: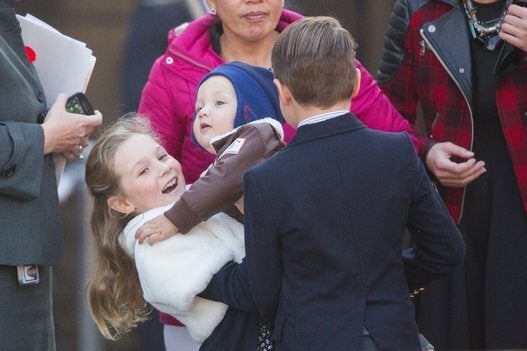 Justin Trudeau's Kids At His Swearing-In Ceremony
Popular in the Community