After taking Prime Minister Stephen Harper and the federal government to task yesterday during a Toronto press conference and concert last night, Neil Young received an official reply from the Prime Minister's Office earlier today regarding his comments on the Alberta oilsands development.
A press release from the PMO defended the government's position stating it was a fundamental part of Canada's economy. The statement also seemingly took a shot at Young in the process.
"Even the lifestyle of a rock star relies, to some degree, on the resources developed by thousands of hard-working Canadians every day," Jason MacDonald said in a statement. "Our government recognizes the importance of developing resources responsibly and sustainably and we will continue to ensure that Canada's environmental laws and regulations are rigorous."
Young was quick to respond to the PMO's statement, issuing a statement of his own through his label Warner Music.
"If rock stars need oil is an official response, how does that affect the treaties Mr. Harper's government of Canada is breaking," Young wrote. "Of course, rock stars don't need oil. I drove my electric car from California to the Tar sands and on to Washington DC without using any oil at all and I'm a rock star."
The singer -- who said the issue is "with the government breaking treaties with the First Nation and plundering the natural resources the First Nation has rights to under the treaties" -- stated he and the First Nations people "have respect for all working people" but were concerned with "the job they are working on."
"They are digging a hole that our grandchildren will have great trouble digging their way out of," Young wrote. "There are better jobs to be developing, with clean energy source industries to help make the world a safer place for our grandchildren." He also noted the amount of CO2 being created by every gallon of gasoline being produced from the oil sands, reportedly three times as much CO2 as the cleanest oil sources.
"As a Canadian citizen, I am concerned that this government is not acting within the advice of science," the singer said. "When people say one thing and do another, it is hypocrisy. Our Canadian environmental laws don't matter if they are broken."
In an interview with CBC's Jian Ghomeshi yesterday which ran on Q this morning, Young was quick to respond to some of the backlash he received in Alberta following comments last year comparing Fort McMurray to Hiroshima. One radio station even banned Young's songs from their playlist while some politicians including Alberta's then-Energy Minister Ken Hughes* said the comments were offensive.
Story continues after slideshow

Readers Respond To Neil Young Hiroshima Comments
"I don't even react to them, they don't mean anything to me," Young said in response to Hughes comments. "It's senseless, a man in a position like that whose elected by the people of the province of Alberta should be able tell the difference between a metaphor and a direct quote. If he doesn't understand that Fort Mac stands for the oilsands, then he doesn't even know where he lives. That was a ridiculous thing to do.
"And as far as burning my [records], whatever they want to do with my records, I could care less," Young added. "My records are still there, you can burn them and break them and you can do whatever you want with them but they will stand the test of time and still be there. So I'm not worried about that. Doesn't bother me at all. I say they missed the point."
Young also said people should look at the motivation behind the development versus the motivation behind the First Nations people regarding the issue. During yesterday's press conference, three seats remained empty with Nunavut MP Leona Aglukkaq. Minister of Natural Resources Joe Oliver and Minister of Aboriginal Affairs and Northern Development Bernard Valcourt invited to attend but absent.
"This is not a myth, this is true," Young said. "You can either believe me and the First Nations people or you can believe the oil companies and the Canadian government. And you got to look at the motivation. Why would anybody say anything? Why would I say anything? And why would the First Nations people say anything if there wasn't something wrong? Then look at the motivation of the Canadian government and the oil companies that they're working with."
Young's benefit tour for the Athabasca Chipewyan First Nation (ACFN) Legal Defense Fund continues later this week with shows in Winnipeg, Regina and Calgary. Young's interview with Ghomeshi will air on CBC's The National Wednesday evening.
*An earlier version of this story called Ken Hughes Alberta's Energy Minister. He was at the time he made the comments referenced, but moved to municipal affairs on Dec 13, 2013.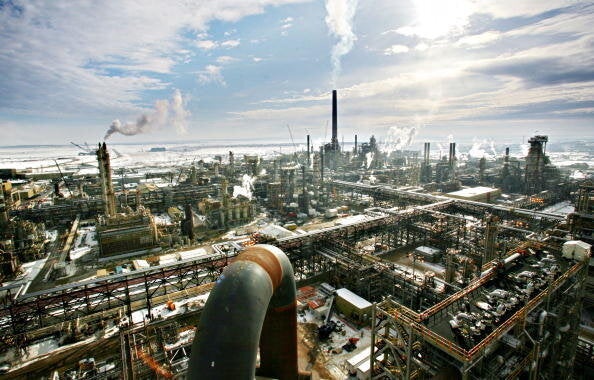 The Craziest Photos Of The Oilsands
Popular in the Community