To mark Prince Charles' 70th birthday, Clarence House released two new family portraits of the royal family taken in September. And lo, are they a treat to behold for royals fans. Not only do the pics show three generations of royalty (all looking stunning, obvs.), but Meghan Markle is pregnant in the pic (though it hadn't been announced yet), AND six-month-old Prince Louis also makes his first public appearance since his christening in July.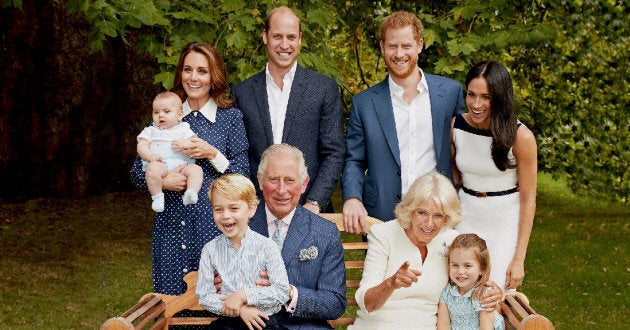 "The images, taken in the gardens of Clarence House in September, show Charles as few see him, a loving grandparent at ease with his surroundings," Daily Mail writes.
More details about what Prince Charles is really like as a grandpa have surfaced recently, including the fact that he gave George an entire forest (grandparents, right?). And in images from a new BBC documentary to mark his birthday, Daily Mail reports Charles is seen holding little Louis' hands and chuckling, and swinging the Duchess of Cornwall's granddaughter around in the garden.
"He will get down on his knees and crawl about with them for hours, you know making funny noises and laughing," Camilla said of Charles during an appearance in the documentary, Hello! Magazine reports.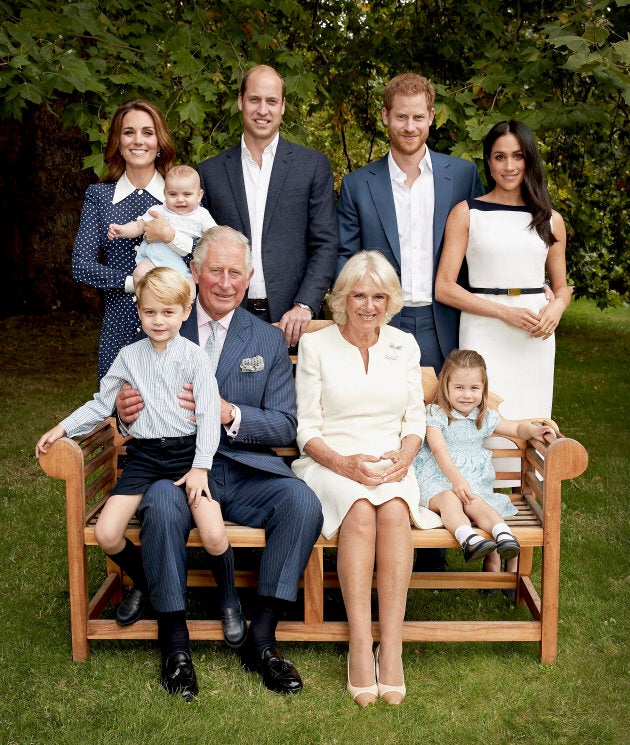 In the more formal of the two colour-coordinated photos, it's Prince Louis who steals the spotlight with an adorable baby smile. Just look at those cheeks!
"I've travelled all over the world photographing the Prince of Wales for the last 15 years from Durbars in Nigeria to the Galápagos Islands, Pakistan, Japan and many more as well as well as covering numerous domestic Royal Engagements so I was delighted to have been asked to take these official portraits of The Prince surrounded by his family to celebrate the important milestone of his 70th Birthday," Jackson wrote.
"It was particularly special to capture such an informal and relaxed family portrait over a fun afternoon in the gardens of Clarence House!"
Charles is due to have tea on Wednesday with a group of people who are also turning 70 this year, before a Buckingham Palace party thrown by his mother, Queen Elizabeth II.
The environmentalist prince writes in the latest edition of Country Life magazine, urging people not to take the natural world for granted but to "think ahead to what our grandchildren will want and need.''
- with files from Associated Press