With the Invictus Games fast approaching, Prince Harry spent the morning cheering on hopefuls at day one of three tryouts for the British team in Bath.
Kensington Palace shared a series of photos of the prince happily chatting with the athletes between the trials on Instagram.
One hundred successful athletes will be selected from the tryouts to represent Britian at the Invictus Games in Orlando, Florida this May.
"The excitement is building not just here but also across the pond. You will be unbelievably amazed by the amount of support there is out there for you," the 31-year-old Prince told the competitors. "You are now or will be ambassadors for the Invictus shirt, and the Invictus spirit. Wherever you go and whatever you do, spread the word."
Prince Harry created the Invictus games, a sporting event similar to the Paralympics, but for wounded, sick and injured servicemen and women, in 2014 after attending a similar event in the United States in 2013.
"These Games have shone a spotlight on the 'unconquerable' character of service men and women and their families and their 'Invictus' spirit," the prince has said of the games.
During the early morning session, the Prince took a moment to acknowledge the recent passing of his friend and idol, British explorer Henry Worsley who died after developing a serious infection while crossing Antarctica unaided.
"He put his life on the line. This person was raising funds for the Endeavour Fund so people like you can do amazing things and rediscover yourselves. Thanks to him we have huge options for more and more people," the prince told the athletes.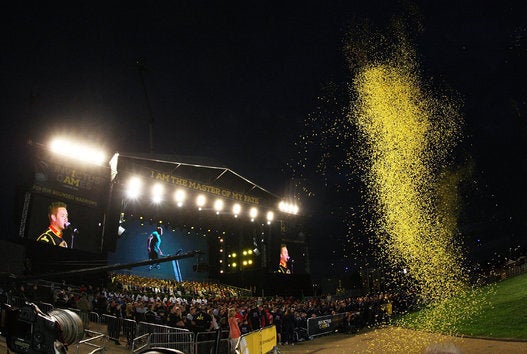 Invictus Games opening ceremony