The Sussexes are headed on another royal tour. During their 10 days in southern Africa, they're getting close to causes that matter to them — namely, women's rights, environmentalism, and mental health. They'll also be honouring Princess Diana's legacy.
As they're sometimes wont to do, Prince Harry and Meghan Markle will start the tour with a slight deviation from royal tradition — they're flying in privately, so photographers won't be documenting their trip until their first engagement in Cape Town.
In other words: no airport photos.
South Africa
Harry and Meghan, along with baby Archie, will start the tour on Monday in Cape Town, South Africa. Their first official engagement will be at a girls' self-defence class, an activity that serves as a grim reminder of an ongoing epidemic of violence. South Africa is currently in the midst of mass protests related to the country's high rates of violence against women following the rape and murder of a 19-year-old student.
Many South Africans see Meghan's visit as a relief, something that will provide both levity and support, given that she's seen as an advocate for women.
"I think the Duchess of Sussex' visit is perfectly timed. She's coming to South Africa at an incredibly turbulent time," said Lara Rosmarin, who leads a local tech incubator that will be part of the royal visit.
"People are anxious, people are scared, people are worried ... She's coming at a time when she can instil some hope and some promise and perhaps highlight the struggles of women in South Africa."
They'll also meet with environmental groups, learn about the effects of apartheid, tour the country's oldest mosque, and meet with Archbishop Desmond Tutu.
Botswana
On Wednesday, Harry will head to Botswana, north of South Africa. He'll plant trees with school kids and dedicate a portion of Chobe National Park to the Queen's Commonwealth Canopy. He'll also visit Sentebale, a charity he started in 2006 along with Prince Seeiso of Lesotho. (He was one of the few foreign royals invited to Harry and Meghan's wedding.) Sentebale, which means "forget-me-not" in Sesotho, is a group that provides support to young people living with HIV.
While he's there, Meghan will stay in South Africa, likely with Archie, where she'll continue to meet with women-focused groups. She's spending time with female entrepreneurs and with women working in public service. The palace just announced that she'll also visit mothers2mothers, a group that trains women living with HIV to become community health workers.
Angola
Harry will spend time in a de-mining camp at the HALO Trust in Dirico, in the southeast of Angola. That's where his late mother Princess Diana famously walked through a minefield in 1997. He'll also visit the recently-updated Huambo Orthopaedic Centre, which will be renamed in Diana's honour. Harry's private secretary Sam­­antha Cohen called his Angola visit "a poignant journey."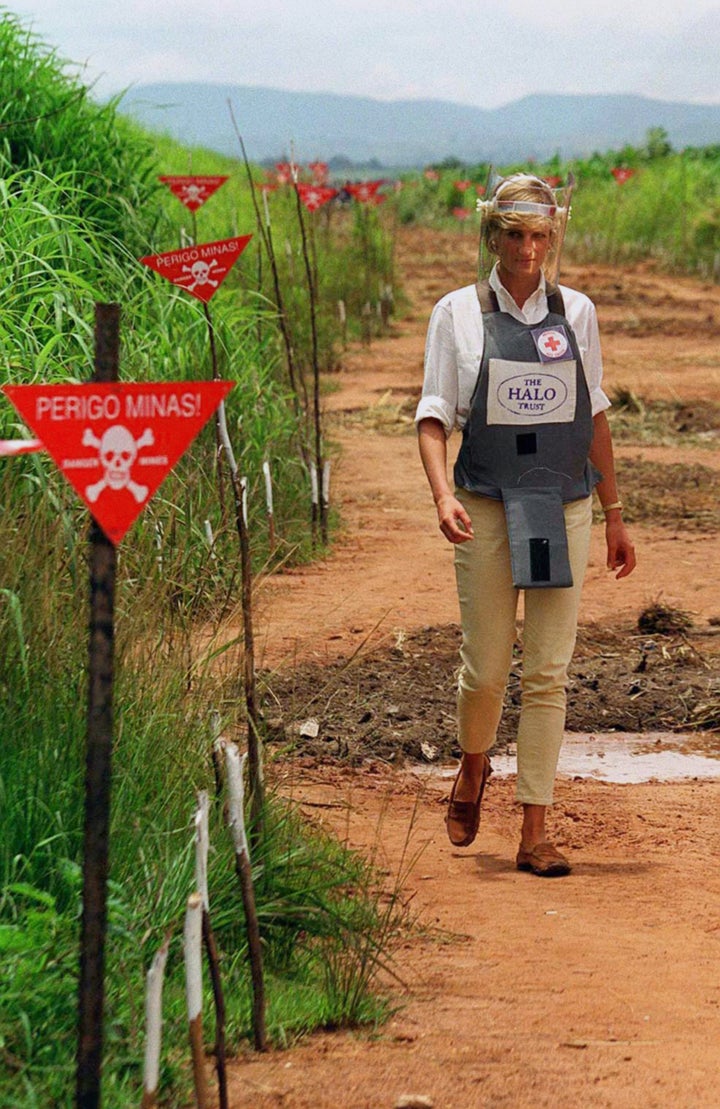 Harry will also visit Angola's president, João Lourenço, as well as the British ambassador.
Malawi
His next stop will be in Lilongwe, the capital of Malawi. On his first day there he'll meet the country's president Peter Mutharika and the British High Commissioner, and will also meet young female students.
Next, he has several environmental visits, including an anti-poaching demonstration. He'll also visit different medical centres.
Back to South Africa
Harry and Meghan will reunite in Johannesburg, South Africa, where Meghan will have just visited the University of Johannesburg to discuss access to higher education for women and initiatives to stop sexual violence in schools.
Together, they'll meet with young entrepreneurs, and then with Nelson Mandela's widow Graça Machel. They'll meet President Cyril Ramaphosa and his wife Dr. Tshepo Motsepe before flying home.
How many new pics of baby Archie we'll get remains to be seen.
With files from the Associated Press