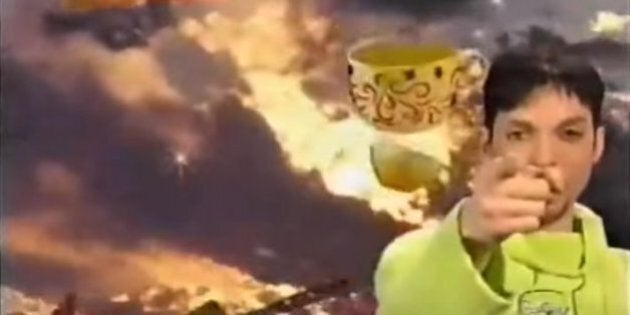 Prince will be missed for his legendary musical career, but his appearance on the Muppets makes us wish he'd taken children's television as a side-gig.
In this rare TV cameo back in 1997, Prince wasn't Prince, or even The Artist Formerly Known As Prince — he had changed his name to a symbol, that blended the ♂ and ♀ symbols.
Instead of tip-toeing around it, the Muppets proved why they're the best in the puppet biz. They introduce him in the best way ever, that made us laugh as kids and makes us laugh even harder as adults.
The hilarious segment introduces an even better one: Prince moseying around as a humble country singer, proving that he's one of the few people who can actually pull off plaid and overalls.
The episode also gifts us mere mortals with Prince's freestyle about breakfast, "Starfish and Coffee." Who else but Prince could levitate tangerines and ham from a lunchbox?
The Muppets paid tribute to their funkiest friend yesterday, in a tweet that's as heart-wrenching as could be. Now that's true friendship.