With the tragic news of Prince's death on Thursday, fans around the world are in mourning. We are reflecting on his profound impact on music, his connections to Canada and his former relationships. But not everyone remembers the most tragic story of his life: the death of his infant son.
From 1996 to 2000, Prince was married to Mayte Garcia-Nelson (the singer's full name was Prince Rogers Nelson). She is a belly-dancer and met him when she was just 16 years old backstage after one of his concerts in Germany.
He was twice her age, but they stayed in touch after the concert.
According to the Daily Mail, she went to visit him at his Paisley Park estate in Minnesota – the same home where his body was found on Thursday – when she was 17 to record a song. A year later, they started dating.
"I can see how in tune he is with women, it's the way he notices every detail about you," Garcia told the Daily Mail about her ex-husband who wrote the song "The Most Beautiful Girl In The World" for her. "He'll comment on your hair, or acknowledge a new pair of earrings and when he looks at you he makes you feel like you're the centre of his universe -- that's very beguiling."
Almost immediately after their wedding in 1996 that, of course, included white doves, Garcia got pregnant. Prince was so excited about having a child, he wrote the song "Friend, Lover, Sister, Mother/Wife."
He also included the ultrasound heartbeat in the song "Sex in the Summer."
"Yeah. What we did was take a microphone and place it on Mayte's stomach and move it around with the gel until we got the right spot," Prince said in 1996. "And then (imitates heartbeat) you know, you start to hear that and then we put the drums around that. That's the baby."
Hearing his baby's heartbeat for the first time had a profound effect on the singer. "It really grounds you, it makes you realize that things you thought were important aren't really. That's what it meant to me."
Garcia gave birth to a son, Boy Gregory Nelson, a month prematurely. Tragically, their son died a week later. Boy Gregory had Pfeiffer syndrome, a genetic disorder that prevents the skull from growing naturally.
"We believed he was going to come back, that souls come back. We didn't want to acknowledge he was gone."
According to Garcia, they were unable to process his death and appeared on Oprah a week after their son died, pretending he was still alive.
When Oprah asked Prince about the health of his son, he answered: "Well, our family exists. We're just beginning it. And we've got many kids to have, a long way to go."
Then he showed Oprah photos of his favourite room in his house: the playroom.
"He said that he wants to -- in 10 years, he's going to have babies crawling all over him," said Oprah on the show. "On his ears and around his neck and calling him 'Daddy.'"
"We believed he was going to come back, that souls come back. We didn't want to acknowledge he was gone, it was our way of grieving," Garcia told the Daily Mail to explain why the couple didn't tell Oprah the truth.
Garcia experienced another miscarriage shortly after their son's death.
"To lose two babies is really scary... it really caught on me emotionally, physically, everything. It took me at least 15 years to get over it and still, to this day, I miss my son," she told The Mirror. "I believe a child dying between a couple either makes you stronger or it doesn't. For me, it was very, very hard to move forward and for us as a couple I think it probably broke us."
After their divorce in 2000, Prince did not go on to have other children, but Garcia now has a daughter, Gia.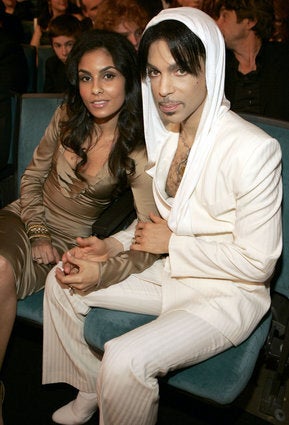 The Women In Prince's Life