Following the shocking death of Prince, his ex-wife Mayte Garcia paid a beautiful tribute to the singer on Instagram.
Along with a gorgeous photo of the couple, Garcia wrote: "I can't even think of the words of what I'm feeling. This man was my everything, we had a family. I am beyond deeply saddened and devastated ... I loved him then, I love him now, and will love him eternally ... He's with our son now."
Garcia and Prince were married from 1996 to 2000. Sadly, their marriage unraveled after the death of their son, which was quickly followed by a miscarriage.
In 1996, Garcia gave birth to Boy Gregory Nelson a month prematurely. Their baby had Pfeiffer syndrome, a genetic disorder that prevents the skull from growing naturally, and died a week later.
"To lose two babies is really scary... it really caught on me emotionally, physically, everything. It took me at least 15 years to get over it and still, to this day, I miss my son," she told The Mirror. "I believe a child dying between a couple either makes you stronger or it doesn't. For me, it was very, very hard to move forward and for us as a couple I think it probably broke us."
As a result, Prince and Garcia divorced in 2000. However, the love didn't end.
"We last spoke about five years ago when I reached out to him," Garcia told The Mirror in June of 2015. "There is no animosity or bad blood, and he was my husband and the father of my child. So although I am not actively in love with him, I will always love him – he's a great guy."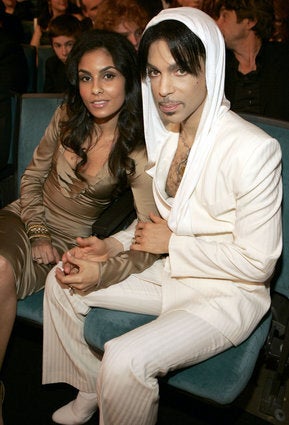 The Women In Prince's Life