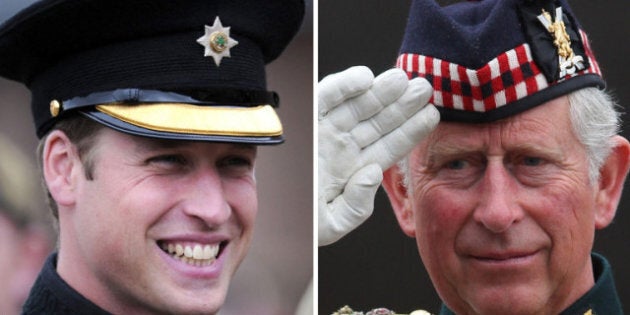 OTTAWA -- Canadians overwhelmingly prefer Prince William to his father, Prince Charles, as the next King of Canada, according to a new Huffington Post Canada poll released on the eve of William's visit here with Kate.
But the poll also found the royal couple's April wedding — a global spectacle viewed by more than 12 million Canadians — has done nothing to boost public support for the monarchy in Canada.
View photos of the William and Kate below
William, who turned 29 last week, is favoured to succeed Queen Elizabeth II over his father, the rightful heir, by a margin of more than 2-to-1, found the Abacus Data poll conducted for The Huffington Post Canada. That's despite the fact William can only become King if his father dies or abdicates the throne.
Women were more likely than men to favour William over Charles as King: 61 per cent of females chose William compared to 54 per cent of men.
"Women paid far more attention to the wedding than men," said David Coletto, CEO of Abacus Data, "so William comes to mind more than Charles at the moment."
Prince Charles' turbulent history with William's late mother, Diana, and his relationship with second wife Camilla, may have also dragged on female support for the Prince of Wales, Coletto said.
Much of William's appeal has to do with Diana, said Carolyn Harris, a royal expert and PhD candidate in history at Queen's University.
"William looks a lot like his mother. People who took an interest in him during his mother's lifetime saw his sadness and are now happy to see he's enjoying a marriage," she told The Huffington Post Canada.
Charles' political convictions can also be polarizing, she noted. "He holds very clear political [views], whether it's about organic farming or traditional architecture … His political advocacies have raised concerns that his political activity may be incompatible with being a [monarch]."
Perhaps surprisingly, younger Canadians were less likely than their parents or grandparents to prefer William: only 41 per cent of those aged 18 to 30 gave the nod to William, compared to 28 per cent who preferred Charles. This contrasts sharply with older Canadians. While 58 per cent of people between the ages of 31 and 60 prefer William over Charles, that proportion increases to 63 per cent among respondents over the age of 60.
"Younger Canadians were not born when Charles and Diana were married and most were quite young when Diana died, so the history and attachment to her and dislike for Charles is not as strong," Coletto said.
On a regional level, Albertans, at 62 per cent, were most likely to want William to be the next King, whereas residents of B.C. were most likely to prefer Charles. Still, the majority of people on the West Coast, 59 per cent, chose the son over the father.
Ottawa and Gatineau, June 30 - July 2
Montreal and Quebec City, July 2-3
Charlottetown and Summerside, July 3-4,
Yellowknife and Calgary, July 5-6
Calgary, July 7-8
Regardless of her wishes, the Act of Settlement passed in 1701 by the English parliament stipulates that the Queen cannot appoint her successor. The heir to the throne must be a direct descendant, ordered by male preference.
"It goes from father to son," said Harris. "In the case of there being a daughter and then a son born, the son succeeds to the throne."
Charles will get the throne automatically, but he can leave the post should he choose. "There have been situations in the past where the government has been unable to work with a monarch and they've asked that they abdicate," Harris said. That happened in 1936 when King Edward VIII abdicated the throne so he could marry American socialite and divorcee Wallis Simpson. He turned the crown over to his younger brother Albert, whose reign as George VI was recently depicted in the film The King's Speech.
RESULTS BY EDUCATION LEVEL AND POLITICS
The preference for William over Charles was also skewed by education level. Respondents who had a high school education favoured William by 60 per cent over Charles at 21 per cent. Respondents with a post-graduate education were split on William over Charles by 46 percent to 40 per cent.
Canadians born outside of the country were also more likely to prefer the traditional line of succession. Charles' numbers increased from 25 per cent among those born in Canada to 37 per cent among those born outside the country. Still, in both cases William is preferred.
In terms of political leanings, Conservatives, Liberals, and New Democrats generally feel the same way about William and Charles. Bloc supporters prefer Charles.
CANADIANS DIVIDED ON MONARCHY
William may be the country's first choice for King, but Canadians are divided when asked if they support Canada continuing to have the British monarch as its head of state. The wedding of William and Kate has done nothing to improve those numbers.
Thirty-nine per cent of Canadians oppose continuing the monarchical tradition; 34 per cent support it. The remaining 26 per cent have no strong opinion either way.
In total, 60 per cent of Canadians are indifferent or in support of the monarchy, suggesting that there is little impetus for Canada's political leaders to divide the country over such a contentious issue.
Still, opposition to the monarchy has increased by six percentage points and support has dropped slightly from the end of April, when Abacus asked the same question of Canadians the day before and of the royal wedding.
"The royal wedding in April and the excitement about Kate and William's trip to Canada have not changed attitudes towards the monarchy in this country," said Coletto.
"Canada is no longer the monarch-loving nation of the early 1900s. If a debate about the future of the monarchy was started, it would likely divide the country."
WOMEN FAVOUR THE MONARCHY
At 37 per cent, support for the monarchy is highest among women. Only 31 per cent oppose the monarchy, whereas 49 per cent of men said they would rather not have a British king or queen as head of state.
While opposition to the monarchy is generally consistent in every age group, support increases to 41 per cent from 27 as you move from youngest to oldest respondents.
QUEBEC HAS NO TIME FOR THE MONARCHY
But the real split is between Quebecers and the rest of the country. Fully 63 per cent of people in Quebec oppose the monarchy, compared to just 13 per cent in support of it. In the rest of Canada, support stands at 41 per cent, well ahead of the 32 per cent of Canadians outside of Quebec who are opposed to the monarchy.
Will and Kate's nine-day Canada tour may or may not goose those numbers — we won't know until after they leave for the United States on July 8. However, there is no question the young couple will have plenty of opportunities to change hearts and minds. The newlyweds will enjoy far more media coverage and larger crowds than Charles and Camilla garnered during a subdued visit in 2009.
The latest numbers from the Department of Canadian Heritage show 1,056 Canadian members of the media and 241 members of the foreign press have been accredited to stand within shouting distance of the royal pair.
The figures are a dramatic increase from the 20 foreign journalists who came along for the Queen's visit to Canada last summer. This year's international contingent hails from 13 different countries, including Qatar, Japan, India and China.
The Abacus Data poll was conducted between June 23 and 24 and surveyed 1,005 randomly selected adults from an online panel of more than 150,000 Canadians. A random sample of this size has a margin of error of +/- 3.2 per cent, 19 times out of 20.
With files from Scaachi Koul of The Huffington Post Canada, and The Canadian Press
Éric Grenier taps The Pulse of federal and regional politics for Huffington Post Canada readers on most Tuesdays and Fridays. Grenier is the author of ThreeHundredEight.com, covering Canadian politics, polls and electoral projections.
Popular in the Community