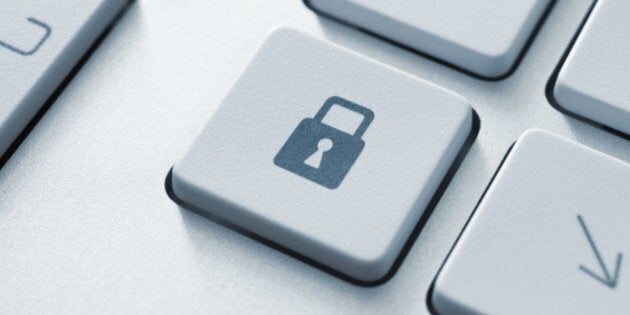 The release of Windows 10 marks the arrival of Microsoft CEO, Satya Nadella's vision towards a "mobile-first, cloud-first" computing world. At Microsoft's Worldwide Partner Conference in July 2015, Nadella reiterated that this was the future for Microsoft and its global partners. By mobile, he means mobility or the ability of a person to consume and connect with another person and their device anywhere. By cloud, he means that products and services will be delivered from a cloud-based infrastructure.
Trends indicate the amount data passing across million of devices through the Internet are rising quickly. According to Business Insider, in 2014, Cisco reported the world sent 30 billion gigabytes of data across the Internet. By 2019, Cisco estimates smartphones, tablets, wearables, video, and the Internet of Things will send ten times this number. To put this in perspective, this equals 65 trillion photos, or 23 images per person, or six trillion YouTube clips or two per day for every person.
What does "mobile first, cloud first mean for your privacy?
As a computing customer, you may want to know what information about you is shared with companies and third parties before giving away your privacy. A popular view about privacy is that more protection of a person's information means less convenience and innovation. The counter argument, expressed in this article argues that privacy and innovation can grow together, allowing companies to succeed.
The release of Windows 10 marks a departure from Microsoft's previous operating systems. Windows 10 is a scalable operating system that can be used across mobile and tablet devices, PCs and Xbox consoles. Microsoft applications can now be synchronized across platforms and devices. Microsoft is following other giants like Apple and Google and wants to collect increasing amounts of information about customers, in order to offer better products and services.
If you plan to upgrade to Windows 10, consider configuring the settings during the installation phase if you want to protect your privacy. You can do this yourself or have a trusted expert help.
Five tips to increase your privacy with Windows 10
1. Reinstall Windows 10 from scratch
If you bought a new computer with Windows 10 preinstalled, start with a clean slate. Your computer likely came loaded with partner software applications that you do not need. While some preinstalled applications are useful such an anti-virus and malware software, others are not useful and are commonly referred to as bloatware. To learn how to properly remove preinstalled bloatware, click here. The benefit of a clean install is that no unwanted applications will be installed, so your information is not shared.
2. Do not choose 'express settings' during installation
By default, if you choose the Windows 10 'express install' option, this will mean you automatically agree to share the most data with Microsoft. Instead, you want to manually selected each privacy setting to disable. By default, most settings are turned on.
For example, each customer is allocated an advertising ID. If you agree to let apps use your ID, Microsoft's partners will learn about you and deliver targeted ads. Other settings include sharing your email messages, contacts and calendar details along with your location history with Microsoft and its partners. Not surprisingly, Microsoft has come under fire from privacy groups for this option. Every customer must decide on his or her comfort level between privacy and convenience. If unsure, ask for help from an expert.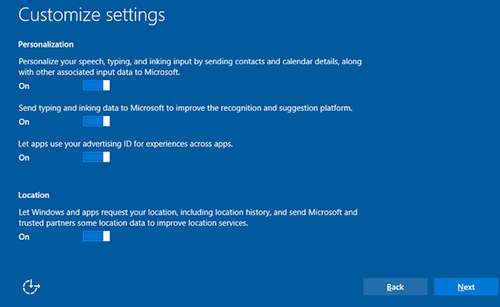 Two other important privacy settings that are automatically turned on are "Account Information" and "Feedback and Diagnostics"
Account Information Privacy Settings
By default, Windows 10 allows your account information to be shared with any apps (and the respective companies) that you install. Microsoft, in their privacy terms of service, does not clearly indicate how many details about your account information they will share with other app companies. It is recommended this setting be turned off until Microsoft communicates how your information is shared with other companies.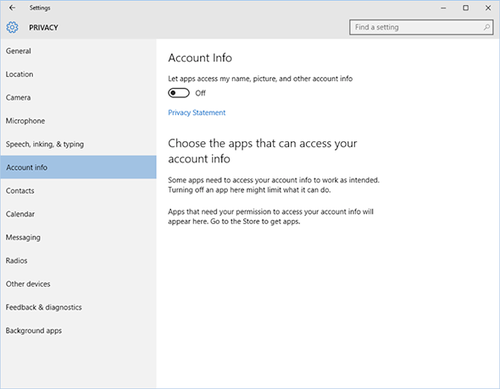 3. Reduce Feedback and Diagnostics Reports
Companies often ask for feedback and diagnostic reports about a customer's activity while using an application when errors occur. The amount of information varies from 'Basic', to 'Enhanced' to 'Full'. If you are uncomfortable with Microsoft seeing detailed information about your application usage, set this option to 'Basic.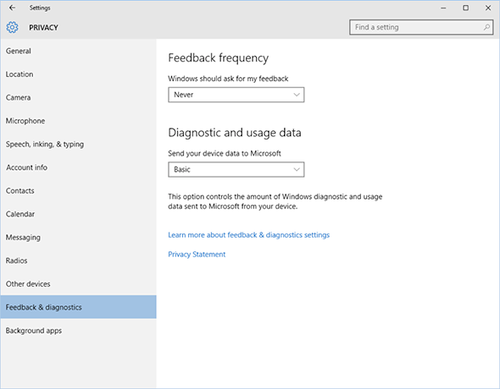 4. Don't sign up for a Microsoft Account
After Windows 10 installation finishes, you are given the option to sign up for a "Microsoft Account" or choose a local account. Signing up for a Microsoft account allows the company to track every time you log in to your computer. If you are uncomfortable with Microsoft having this information, choose a local account. Use any other email service instead of Microsoft. Not having a Microsoft account is one of the best ways to ensure your data is not shared without your permission. At the same time, you will lose access to some features, one of which is their popular Cortana service.
5. Use third party privacy and safeguard applications
Similar to previous operating systems, your computer is never protected from viruses and malware unless you take certain precautions. Safeguard applications that protect your information include installing antivirus and anti-malware tools, which block unwanted malicious software. Installing privacy extensions or plugins for Internet browsers like AdBlock Plus and Disconnect will help keep your data safe. One of the best ways to protect your information is to set up a virtual private network (VPN). This ensures your Internet browser traffic is encrypted and not visible to outsiders. If you are not familiar with such applications, call an expert for assistance.
When new technology arrives, people have a tendency to rush to install and use the new features. The important point is to make well-informed decisions that allow you to control your privacy, enjoy technology and understand the consequences of your actions. When in doubt, call an expert.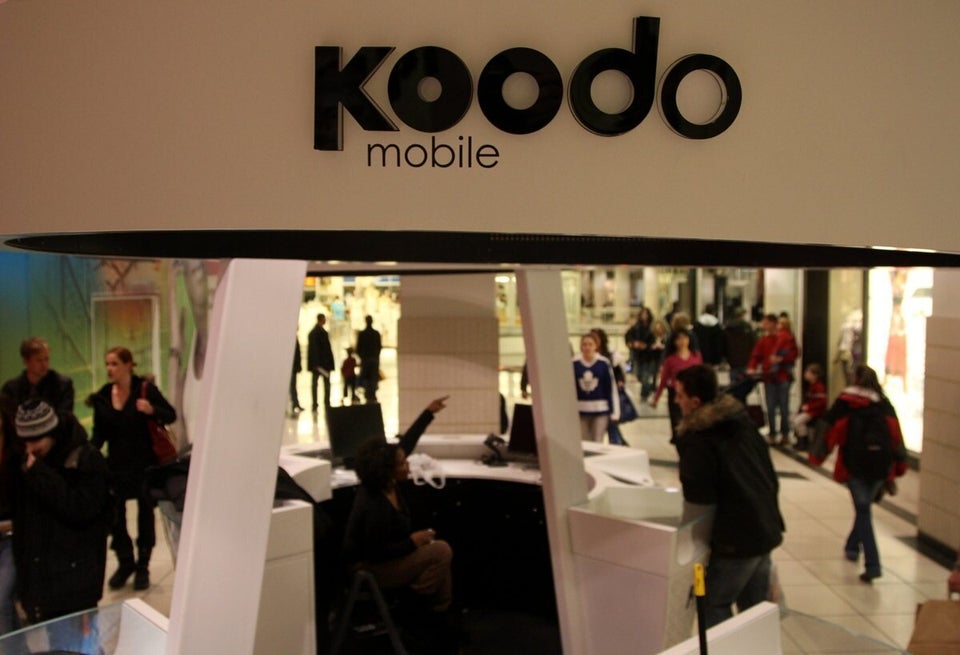 Best, Worst Telcos For Privacy