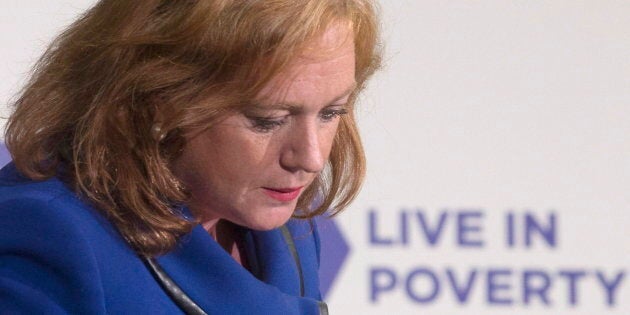 Ontario's decision to cancel a basic income experiment early is unethical, professors from around the world said in an open letter published Tuesday.
"It appears to us that 4,000 vulnerable research subjects will have made decisions to improve their lives ... only to have the promise broken," the letter read. "Not only is the cancellation inconsistent with international best practices, but it violates your own Canadian policy for the ethical conduct of experiments involving humans."
The letter is signed by 24 researchers and foundations involved with basic income experiments around the globe.
Basic income projects across the world are designed differently, the researchers said, and together they would provide invaluable data. The letter called Ontario's pilot a "key piece of the analysis."
Watch: HuffPost Canada follows basic income recipients for 'No Strings Attached' series. Story continues after video.
The previous Liberal government designed the program to run for three years. Participating households were going to receive between $17,000 to upwards of $24,000 a year.
During the spring election campaign, a spokeswoman for Premier Doug Ford said they would allow the pilot to run its course. But one month after taking office, the province's new Progressive Conservative government announced it would wind down the program.
"For the amount it was costing the province of Ontario ... it was certainly not going to be sustainable," Minister of Children, Community and Social Services Lisa MacLeod said at a press conference.
The pilot was going to cost $50 million per year.
Participants had not been notified of the cancellation in advance. HuffPost Canada was the first to inform some participants of the cancellation when they were asked to comment on the cancellation. Others said they learned about the program's end on Facebook or through conversations with neighbours.
A spokesman for the Ministry of Children, Community and Social Services said the department is focused on providing a "smooth transition" to recipients. People who were formerly on Ontario Works, for example, will be reinstated if they're still eligible, Graeme Dempster told HuffPost Canada in an email.
Researchers plea with government
"We are deeply concerned that the experiment was cancelled with no concurrent announcement that you intend to continue the promised stipends for the full period of the planned experiment," the open letter, addressed to Ford and MacLeod, said.
"We ask you to reconsider. The world is watching."
CORRECTION: A previous version of this article identified Graeme Dempster as a spokesman for Minister Lisa MacLeod's office. He works for the ministry she leads, the Ministry of Children, Community and Social Services.
Popular in the Community