Consent may seem simple, but there's something about dancing genitals and body parts that just make the concept stick.
The purpose? To teach people, "Consent is simple. If it's not a yes, it's no."
"My overall goal was to raise awareness about sexual assault in a way that'll spark effective conversation and action. I wanted to educate people about the prevalence of rape culture and I wanted to do it in a way that'll allow people to engage with us thoughtfully," says Sara Li, founder and head of Project Consent.
Li, who is a 19-year-old student at the University of Kansas says while consent may seem simple, looking at recent sexual assault cases can make it seem complicated.
"If you look at sexual assault cases, there's all these complications that pile on. What was the victim doing? How drunk were they? What's their gender? What's their relationship with their assailant? None of that matters. If it's not a yes, it's a no," she tells The Huffington Post Canada.
The campaign also includes some of these images on Twitter with the hashtag #ConsentIsSimple.
Li adds Drummond and his team had approached her team, and came up with the idea of portraying consent without metaphors or analogies.
"Consent shouldn't be difficult or hard to talk about; we shouldn't need to use tea or anything else to explain what is or isn't inappropriate," she says. "Talking about consent, or sex or anything under that umbrella, shouldn't be a taboo. Hopefully the nature of these videos have opened up an important dialogue."
By law, consent is the voluntary agreement to engage in sexual activity, which can be withdrawn at any time, and although 96 per cent of poll participants agreed sex should be consensual, 67 per cent of them didn't understand what this fully meant.
Check out the videos from the Consent Project above.
With files from the Canadian Press.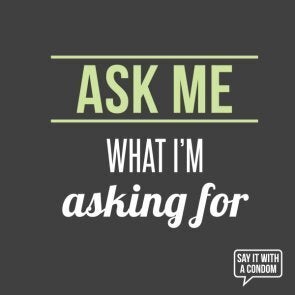 The Consent Project
Popular in the Community