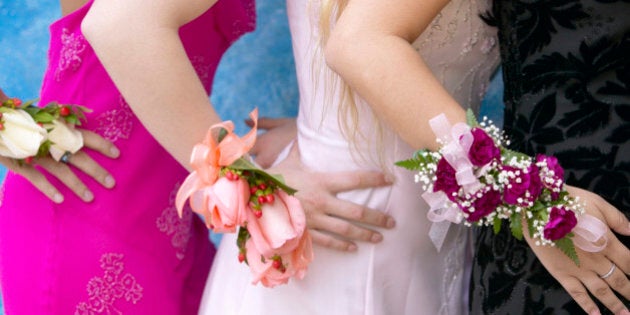 With the end of the school year on the horizon, we're now in the heart of prom season. For many high-school graduates, prom marks the most expensive party of their academic lives.
Prom is a rite of passage for high school students celebrating the end of almost 15 years of school. There's no doubt that a lot of fuss goes into making this ritual perfect. But beyond the glitz, glamour and fashion, prom marks a milestone that can be used by parents and educators as a teachable moment for students.
In my last column I wrote about the importance of this educational milestone and how it can be a huge cost for students--sometimes upwards of $500. In fact, according to a recent survey conducted by Visa Canada, the average spent for prom in Canada is $804. This can be a very expensive extravaganza that requires proper planning to not only pay for the perfect dress, but for all the auxiliaries that come along with it.
Responsible spending is not the sexiest of topics. But it's definitely important. Having the ability to make a budget and stick to it is a must-have skill in the adult world. For teens, college and university are right around the corner, along with buying a car, home and planning a wedding. Prom provides the perfect opportunity to empower students with the skills to make sound financial decisions with an event they can relate to and are excited about. The ultimate goal is to build a strong foundation for a sound financial future.
Some students will get complete funding from their parents for everything from the outfit to the limo, while others will pay on their own. We all know that we need to save for big events, but what are some of the lessons we can learn from prom? Here are three for starters:
Consider all the costs and make a plan: There can be many expenses associated with one event beyond the obvious -- the outfit. It is easy to forget about alterations, accessories, corsage or boutonniere, and the actual tickets. Not to mention the tax on top!
Do your research for big expenses: Some students will procrastinate and be tempted to purchase the first item they fall in love with. It is vital to plan ahead and not fall into this dangerous trap and compare several options from multiple vendors.
Make a budget and stick to it: Many will start out with the best intentions and make a general plan in their minds. However, estimating all the needs and wants in advance and putting pen to paper or key to board, helps students make a realistic plan. Then the only challenge is sticking to it. Experts will recommend students track and check off actual costs to ensure they stay on target.
For tech-savvy teens, a traditional budget on paper or excel spreadsheet might not be the most exciting option. Lucky for them there are many tools at their disposal, including an app called Plan'it Prom recently launched by Visa. It's used everywhere from Canada to the Caribbean. Although Visa is often associated as a vehicle to pay for the big ticket items, many may be surprised to learn that they are big advocates for financial literary. "Prom is a major event for teens but the associated costs require thoughtful planning," said Michelle Michalak, Visa Canada's Head of Financial Literacy. "Today's teens appreciate web-based tools and apps. Our free Plan'it Prom app has engaging, practical features that allow them to budget, calendar and track spending in one place, whether they are planning or shopping."
With prom just weeks away for many, now is the time to have financial talks with teens. This milestone is the perfect chance to capitalize on an opportunity to make planning for prom a meaningful start to a strong financial future.