By Kristen Ostling and Samantha Grills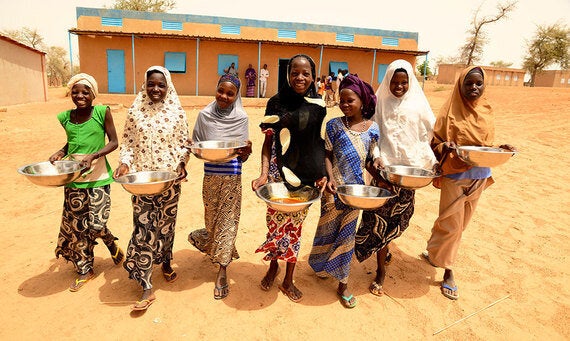 We live in a world where over one billion women and girls are malnourished.
As we marked International Women's Day, it is more important than ever to recognize the role nutrition plays in achieving gender equity. Decades of experience have shown us time and again that malnutrition and poverty are sexist. Malnutrition remains one of the most persistent barriers to women's empowerment, with millions of women and girls around the world eating least and last. Such gendered inequalities in nutritional access and opportunity compound the negative and cyclical effects of poverty and undercut development initiatives before they have a chance to succeed.
Take for example the story of Nikhat Praveen, a teenage girl from India who was one of the millions held back by poor nutrition resulting in anemia. This all changed when Nikhat began receiving iron-folic acid supplements (IFAS) at school. Soon she became more energetic, more active and was better able to concentrate on her studies. Eventually, Nikhat became a mentor to out-of-school girls in her community and helped them to also receive and understand the benefits of IFAS -- effectively short-circuiting longstanding cycles of malnourishment throughout her community.
When we prioritize proper nutrition for girls and young women like Nikhat, we lay the groundwork for them to grow, learn, earn and lead. Well-nourished girls are better able to go to school and get an education. Well-nourished women are more productive and engaged members of their communities and have stronger immune systems. By investing in nutrition, societies become more sustainable and equal -- a point most starkly reflected by the fact that 12 of the 17 global Sustainable Development Goals (SDGs) are directly related to advancements in nutrition.
Canada is a leading advocate and donor to global nutrition.
Despite the focus on gender within the SDGs and the World Health Assembly Targets, the goal for reducing anemia (an issue affecting half a billion women of reproductive age and four out of ten pregnant women worldwide), is the furthest off track of any target. In fact, less than two per cent of reporting countries are on track to success.
The good news is that many governments and multilateral actors are increasingly recognizing the fundamental importance of prioritizing nutrition. Canada is a leading advocate and donor to global nutrition. Through the Government of Canada's support, and working in collaboration with other partners and donors, the Micronutrient Initiative (MI) reaches 500 million people -- mostly women and children -- every year.
In 2015 alone, MI supplied iron and folic acid supplements to 2.4 million pregnant women globally. And in 2016, MI launched the Right Start Initiative with the aim of reaching 100 million women and girls in nine countries.
As a result of improved nutrition through Right Start programming, expected impacts include: an increase in school attendance and academic performance among adolescent girls; a reduction in cases of neural tube defects (spina bifida); and increased survival rates and health of new mothers.
Reducing the prevalence of malnutrition will improve the health, capacity, and opportunity of millions of women and girls around the world, paving the way for improvements in gender equity and women's rights. By recognizing nutrition as the fundamental cornerstone of women's rights and empowerment that it is, and responding in kind through increased action and resources towards ending malnutrition, Canada will continue to be a world leader on gender equality and nutrition.
If we ensure that all women and girls have the health and wellness to grow, learn, earn and lead, the entire world will be a more just and prosperous place.
Kristen Ostling is Senior Manager, Advocacy and Global Impact and Samantha Grills is Policy and Advocacy Officer with the Micronutrient Initiative.
The views expressed are those of the authors and do not necessarily reflect the views of CCIC or its members.
Follow HuffPost Canada Blogs on Facebook
Popular in the Community