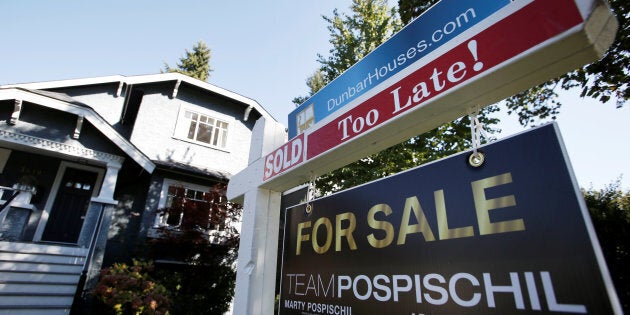 A proposal by Canada's banking regulator to expand "stress tests" for mortgage borrowers will reduce how much house Canadians can afford by 21 per cent, says a new report from mortgage comparison site Ratehub.
Reducing affordability by that much is likely to lead to a 10- to 20-per-cent decline in house prices, said James Laird, co-founder of Ratehub.
"If implemented in their current form, the effects of these changes will be significant. When buyers can qualify for less mortgage financing, it puts significant downward pressure on home prices," Laird said in an email to HuffPost Canada.
"Properties worth more than $1 million will be most affected by this change, which means that Toronto and Vancouver will be the geographies most impacted."
More on real estate in Canada:
Canada's federal banking regulator, OSFI, has proposed a "stress test" for borrowers of uninsured mortgages, where the borrower puts 20 per cent or more down. That follows a new rule introduced last fall which requires borrowers who put less than 20 per cent down to pass a similar stress test.
About 46 per cent of mortgages outstanding in Canada are uninsured, with a 20-per-cent or more down payment, according to DBRS.
A household with an annual income of $100,000 and a fixed-rate 25-year mortgage at 2.84 per cent can afford a house worth up to $726,145 currently, Ratehub calculated.
Under the new rules, the same household would be able to afford only $573,791, a reduction of more than $150,000.
The new rule would come amid a slowdown in Toronto's previously red-hot housing market, which has seen the average price drop by more than 20 per cent since a peak in April following a spate of new housing rules introduced by the Ontario government this spring.
It also comes amid cooler sales and price growth in Vancouver, following the introduction of a foreign buyers' tax there last year.
"Those of us working in the mortgage industry question if now is an appropriate time to introduce more regulation which will cool markets across the country further," Laird said in a statement.
"We have yet to see the full impact of regulation added over the last 12 months, combined with rising interest rates. A more prudent approach would be to let these new variables work their way through the real estate markets, and decide if further tightening is required."
If implemented in their current form, the effects of these changes will be significant.James Laird, Ratehub
Other industry insiders have used stronger words. Tim Hudak, head of the Ontario Real Estate Association, has said the proposed rules, combined with all the new regulations already in place, amount to "a war on first-time homebuyers."
Hudak has called on all levels of government to "hit the brakes" on any further tightening of housing rules. Instead, he says governments should loosen regulations and administration to allow more housing to be built.
Many experts have suggested Canadians would not be able to handle their debt payments if interest rates were to normalize — something that appears to be starting already, with the Bank of Canada raising interest rates twice this summer as the economy grew faster than expected.