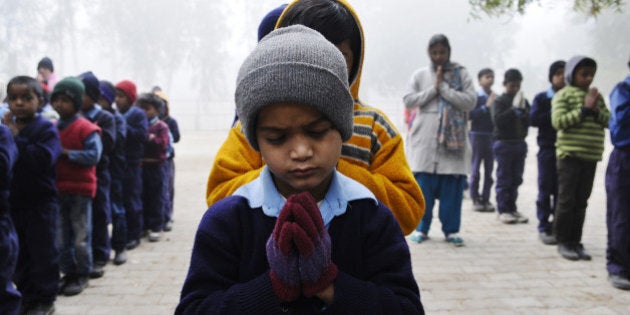 "Why did they hurt kids in school mama?" My close friend recounted that her eight-year-old son had sprung the question over dinner the previous night. She wasn't sure if he was referring to the Oregon school shooting that wounded three or the Peshawar blast that killed 141. After more probing, it was obvious that he was referring to the Peshawar tragedy which, after a classmate expressed concern, had been discussed at his school.
Given that homicide, suicide and trauma are leading causes of childhood death, it is crucial to address how adults can serve as facilitators for children as they become exposed to some of the most pressing issues of our time, where in 2014 alone millions of children have been affected.
While I am not a parent myself, I do see the value of these and similar discussions -- between various disciplines and parents -- in helping improve child health and well-being. Further, this is a topic that often comes up in the clinical context, and with increasing frequency amongst teachers, youth workers, and others working with children, who have taken notice of the increase in violent and disturbing topics in the media, and how this may be impacting our children and youth.
This year UNICEF has gone so far to say that it has been one of the most devastating years for children in recent memory -- of note, this statement was made a week before the Peshawar attacks. Clearly it has been one of the most horrifying news cycles in years, and one that many children may have been exposed to.
What is our responsibility as adults -- parents and otherwise -- to clarify the concerns that will inevitably present themselves in these young minds? What is the most sensitive way to discuss these issues? What is the possible impact? To what extent should we, and can we, protect our children from such disturbing images?
The DART Center for Journalism and Trauma published a brief fact sheet on this issue. They indicate that it is difficulty to conclusively say that post-traumatic stress disorder (PTSD) can be a directly associated with exposure to media violence. However, among those with repeated exposure, symptoms of PTSD (if diagnosed) may be more severe. They also name behavioural issues, anxiety, fear, and sadness as common symptoms after viewing disturbing and violent media. Further, females, younger children, exposure to graphic imagery, and living close to the incident covered can lead to a more significant impact of exposure to violent and disturbing imagery.
The American Psychological Association, which has analyzed research in this area, concluding that effects on children can be broadly grouped into 1) aggressive attitudes and behaviours 2) desensitization or increased callousness towards victims of violence 3) increased or exaggerated fear of being victimized by violence. They suggest that, from public health point of view, the manifestation of aggression and violence may be the most concerning. However all three can have a severe impact throughout the life-course of children, youth, and ultimately our communities.
The American Academy of Pediatrics recently published an excellent statement on the role of healthcare practitioners in addressing these concerns. Specifically, they note that children under eight have difficulty processing the difference between fantasy and reality, which might contribute to aggressive behavior or anxiety. They suggest limiting screen-time, removing televisions from bedrooms, and co-viewing more challenging material with an adult caregiver.
They also suggest that primary-care providers, such a pediatricians, might be well-positioned to provide counselling on media violence and discuss symptoms with of anxiety, worry, stress, that may result from exposure to disturbing and violent media coverage. The Canadian Pediatrics Society has a great tip sheet on screentime that is often used in conjunction with the AAP statement by pediatricians during media counseling with patients. These discussions may take place during a well-child visit or a counseling session for example.
From a media standpoint, the Canadian Radio-television and Telecommunications Commission (CRTC) has indicated their broadcasting responsibilities and has listed tools and resources for parents. MediaSmarts, a Canadian organization focused on media literacy, has taken this a step-further by outlining age-specific considerations. For instance, two- to seven-year-olds may be most frightened by scary visual images (real or imaginative), stories involving death or a parent of children, natural disasters, whereas seven to 12-year-olds may be more affected by more realistic threats and dangers, violence or threats thereof.
-Choose age-appropriate content. For instance nightly news may not be appropriate, and should be restricted to hours young children are asleep or involved in another activity.
-Co-view more challenging content -- this was the caregiver is available for reassurance and to address any concerns or worries that may come up
-If violent or disturbing content is viewed or discussed in school -- debriefings and conversations with children may focus on the suffering caused by such violence (i.e. to help prevent desensitization) combined with reassurance and indications of how various systems and individuals are assisting in a given situation (i.e. instance laws and protocols)
-Aim for open communication with all caregivers and teachers of your child -- they may notice changes in behavior or be more likely to overhear distressing discussions about current events
-Ensure all discussions and debriefings are age-appropriate and child-guided (i.e. if the child exhibits discomfort or further worries with the discussion, hold off until a more appropriate time)
-Encourage socially positive TV viewing (i.e. material that inspires, encourages, and teaches) as much as possible.
-Be aware of emotional reactions to disturbing or violent media coverage. Every child is different, with some exhibiting: anger, aggression, worry/anxiety, bed-wetting, nightmares, stress, sadness, hyper-vigilance. Discuss these concerns with sensitivity, non-judgment, and openness.
-As always, if any significant symptoms are identified, address them with your appropriate care provider along with your child's teacher, counselor, and/or youth-worker to help strategize a plan to restore the child's sense of safety and well-being and help prevent a similar impact in the future
Please feel free to share some of your own strategies and thoughts below in the comments section.
Closer to home, a 16-year-old Rinelle Harper became one of the youngest advocates for missing and murdered aboriginal women. Indeed, while 2014 has been a troubling year for children and youth in Canada and internationally, let's not forget the glimmers of hope. In the same vein, it is essential that the disturbing news that children may inadvertently be exposed to be balanced with these socially positive stories. Now is a better time than any for adult caregivers to be engaged in ways to address a child's concerns while continuing to provide a protective and nurturing role expected, and perhaps even more necessary, for our children today.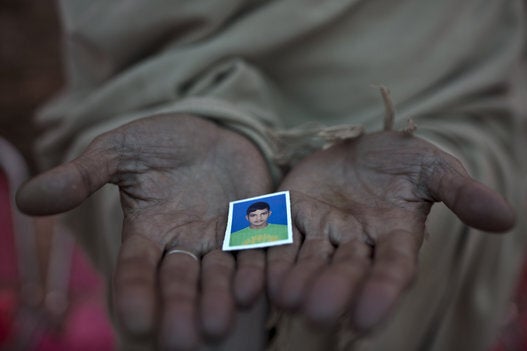 17 Evocative Images From Peshawar
Popular in the Community