U.S. President Donald Trump signed an executive order Friday that left many in the U.S. and around the world stranded and fearful for their future.
Although many are still held in bureaucratic limbo, some travellers were eventually allowed to enter the country after long periods of detention over the weekend.
In Virginia's Dulles International Airport, protesters welcomed people with cheers and signs of support as they were finally allowed in.
Iraqi-American Ali Hassan was returning from his honeymoon when he landed in Dulles.
"My flight just landed in Dulles Airport and I was greeted by hundreds shouting 'NO HATE, NO FEAR, REFUGEES ARE WELCOME HERE,'" he tweeted.
Those with legal permanent residence in the U.S. were allowed to leave the airport on Saturday after a Virginia judge signed a temporary restraining order to block Trump's decision.
One of those reportedly detained was a five-year-old boy. Maryland Senator Chris Van Hollen posted on Facebook that the boy, a Maryland resident, was held at Dulles International Airport for over four hours.
At Los Angeles International Airport, demonstrators greeted travellers with signs reading "compassion first" and "Muslims welcome here."
In San Francisco, protesters vowed they would not leave the airport until every detainee is released.
A spokeswoman for Prime Minister Justin Trudeau said Saturday night the Trump administration told them the ban will not affect those who hold Canadian passports, including dual citizens.
With files from The Canadian Press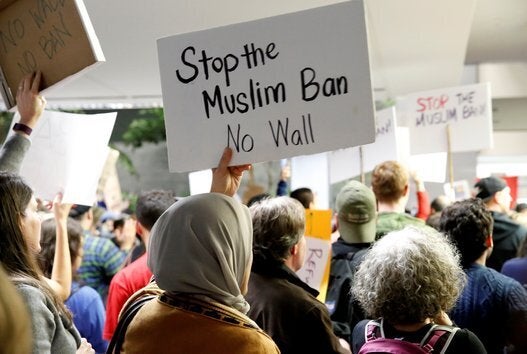 Trump Immigration Ban Sparks Protests