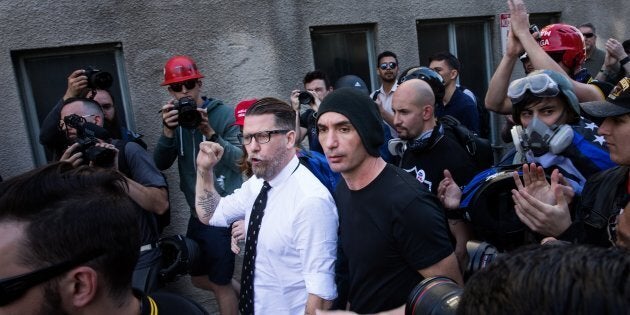 TORONTO — Canada cannot follow the FBI's lead in characterizing the Proud Boys as "extremist" because it doesn't appear to have any similar system to classify far-right organizations that promote violence.
The FBI's classification of the Proud Boys as "an extremist group with ties to white nationalism" was revealed early this week in a leaked memo from a Washington state sheriff's office to the Guardian. While it's unclear what happens when a group is classified as "extremist," the FBI warned northwest law enforcement agencies that the Proud Boys contribute to the escalation of rallies held on college campuses, and actively recruit in the area, said the memo written in August by Commander Michael McCabe of the Clark County Sheriff's Office.
"Canada has a list of terrorist groups, but nothing like the 'extremist group' categorization that the FBI does," said Canadian human rights lawyer Richard Warman.
In an online video Wednesday, Canadian and founder Gavin McInnes said he quit the Proud Boys, and denied the FBI's stance, saying in a video, "We are not an extremist group and we do not have ties with white nationalists." He defended nine Proud Boys who face prosecution in New York City for their alleged involvement in a street brawl last month.
Proud Boys identify themselves on their website as "white chauvinists" and a "pro-Western fraternal organization for men who refuse to apologize for creating the modern world." They've been kicked off Facebook and Instagram.
When HuffPost Canada contacted the RCMP, asking if it considers the Proud Boys extremist, or is considering categorizing it that way, a spokeswoman said she'd never heard of the group.
Five members of the Proud Boys, all members of the Canadian military, made headlines last year when they interrupted a Mi'kmaw ceremony in Halifax, carrying a Red Ensign flag, confronting participants and saying they were recognizing Canada's heritage as a British colony. They did not face criminal or disciplinary charges and four returned to their regular duties.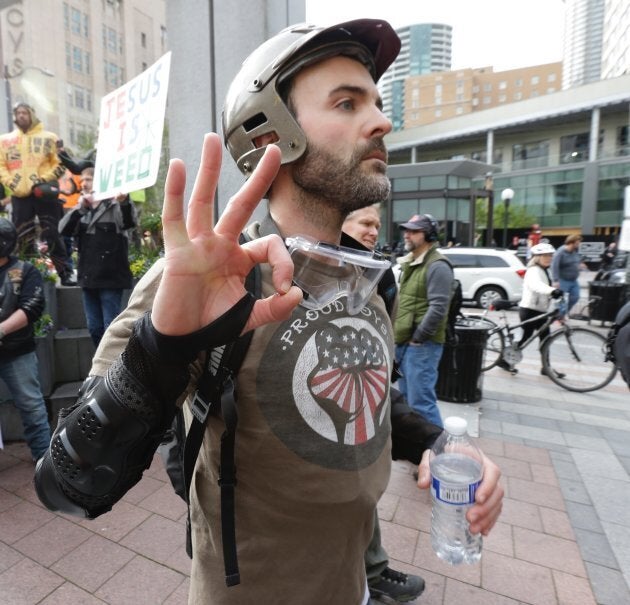 Since the Proud Boys was founded in 2016 in the U.S., chapters have opened up across the world, including about 30 in Canada, according to its website.
The group has contributed to violence at political rallies in American cities and it "openly discriminates against women, Muslims, Jews and all people that are of a national origin or an ethnicity that is not traditionally thought of as a western country," the sheriff's memo said.
Canada lacks extremist list
The RCMP has a guide on terrorism and violent extremism, which includes "leading national and international extremist groups, organizations, movements and symbols," but it hasn't been updated since it was first published in 2016, said Public Safety Canada.
The guide does not include the Proud Boys. When asked why, Public Safety Canada spokesman Scott Bardsley declined to comment on "security operational matters" but noted that "hate speech and hate crime are intolerable in Canada."
These groups are fractious, they form and disintegrate, and violence isn't necessarily coordinated.Stephanie Carvin, Carleton University
The federal government keeps a terrorist list, but that includes entities that have carried out or attempted to carry out a terrorist activity, rather than groups who promote violence against other groups of people. This definition captures groups that are Islamic, Sikh or Palestinian but no white nationalist groups.
Groups espousing ideologies that inspire violence, like the Proud Boys, know how to "dance on the line" and avoid being labelled as violent themselves, said Stephanie Carvin, an assistant professor at Carleton University and former security analyst.
"The government, broadly, is aware far-right groups are extremists, but are they violent extremists? That's where the trouble comes in and there's no easy answer," Carvin said.
"One of the issues is that a lot of these groups are fractious, they form and disintegrate, and violence isn't necessarily coordinated. From a counter-extremism perspective it becomes hard to create a list."
Watch: White nationalist posters are popping up around Canada
Canada's definition of terrorism and how it classifies national security threats is flawed, said Barbara Perry, a leading expert on right-wing extremism and a professor at the University of Ontario Institute of Technology.
"It requires that the group has already been associated with "terrorist" violence, which is too late," Perry said in an email.
"The more appropriate term is probably extremist, and the more appropriate definition would be groups that, through their own words, suggest the likelihood of violence directed toward specific targets, civilian or otherwise."
How is the intimidation of marginalized communities not a threat to national security?Barbara Perry, professor
Not having a publicly available, up-to-date list that informs Canadians of right-wing extremists reflects the general sense of government and law enforcement denial that these types of groups represent a threat to national security, Perry said.
"How is the intimidation of marginalized communities not a threat to national security?" said Perry. "These are much more than simply threats to public order. The rhetoric and activities of the extreme right challenge our core national values of inclusivity, equity and respect for the diversity that characterizes our nation."
Perry's research suggests far-right ideologies have inspired 19 murders in the past four years, including Justin Bourque killing three RCMP officers in Moncton in 2014, Alexandre Bissonnette murdering six Muslim men in Quebec City in 2017 and Alek Minassian killing 10 pedestrians in Toronto's van attack in April.
Warman, the human rights lawyer, said labelling groups as extremist raises concerns about censorship and stifling decent, and creates a "problematic line" between what law enforcement morally believes and what constitutes actual criminal activity.
"That's why any sort of listing of extremist groups would be fraught with risk," Warman said.
Public Safety Canada believes there are other ways to counter radicalization beyond making lists of suspect groups.
It points to initiatives like providing $35 million over five years to create a new violence prevention centre that will work with all levels of government, not-for-profit organizations, researchers, law enforcement and others to develop and implement a national strategy on countering radicalization to violence. It will provide $10 million after the first five years to continue the centre's work.