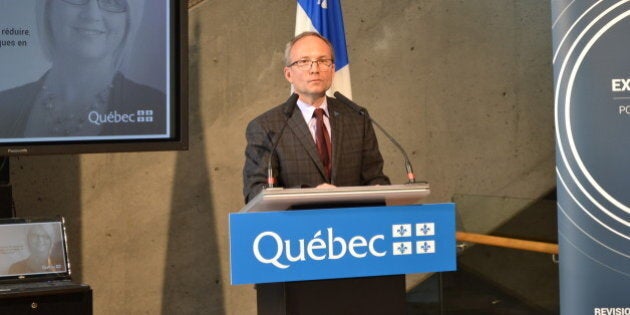 Martin Coiteux doesn't give the impression he's very interested in negotiating with workers in the public sector. Despite the fact that the Common Front has significantly lowered its demand on pay from 13.5 per cent over three years to between nine per cent and 10.5 per cent over three years, it seems clear to me that the chair of the Conseil du trésor had already written his speech before he even met with the Common Front.
A provocative response from employers
At lightning speed, barely an hour after the union counter-offer was presented, Coiteux was already saying public, that he didn't recognize the Common Front's move as a sign of openness, even though this new proposal on pay is a significant revision of our original demand. Yet Coiteux was very quick to reject it out of hand. Nor does he recognize our important gesture in delaying the use of our days of strike action to allow for discussions at the bargaining table. After six days of extraordinary mobilization, Coiteux is behaving like a king who doesn't negotiate with his subjects!
After listening to the Conseil du trésor chair's public comments, which were to say the least insulting, many of our members wonder if the Common Front made the right decision in offering a 10-day lull to give negotiations a chance. I understand very well why our members may be asking this question.
After visiting picket lines throughout Québec and participating in various actions in the last few weeks, I can say that the minister is making a mistake in continuing his provocation as he did Wednesday in response to the unions' offer. Current mobilization is strong and widespread, and the government would be wrong to not take it seriously. Various observers have noted, quite rightly, that this level of mobilization hasn't been seen since the 1972 Common Front. So there's good reason to wonder whether the government is having trouble properly evaluating workers' determination, or whether it just wants provoke a huge confrontation with us anyway.
Discussions on what comes next in our action
Sunday, delegates from public and parapublic CSN unions will meet in Québec to assess Coiteux's response at the bargaining table: it's to be hoped that the employer's response at the bargaining table was a bit more flexible than the sorry spectacle that Coiteux gave us at his press conference. And then on Monday and Tuesday, some 500 Fédération de la santé et des services sociaux (FSSS-CSN) delegates will consider what comes next in our action plan.
Taking into account Minister Coiteux's reaction, and in accordance with the obligations set out in the Labour Code on essential services, this action plan is likely to include filing strike notice quite soon. As well, we will be proposing what comes after the three days of strike action left in the current strike mandate. What do we do if the government continues to be so intransigent after these three days of strike action? That's what we'll be debating.
Finally, on November 28, we will ask our members to respond favourably and massively to the call from the Coalition opposée à la privatisation et à la tarification des services publics for a unified demonstration in the streets of Montréal. This demonstration against austerity starts from Parc Jarry at 1:00 p.m.
I have to admit that I hardly fell off my chair at Martin Coiteux's public comments. Of course I would have like a more satisfactory response from him, some minimal openness to the legitimate demands of the thousands of women and men who provide services to the population on a daily basis, but perhaps that's underestimating the minister's ideological narrow-mindedness. He had a golden opportunity to continue negotiations for a settlement that meets workers' needs. Instead, he opted for provocation.
Although the attitude of the chair of the Conseil du trésor can only disappoint us, I am certainly thrilled by the determination of the workers who are participating in actions by the tens of thousands indicating that they haven't said their last word yet.
Mr. Coiteux, take advantage of the next few days of calm on the picket lines to negotiate. Meanwhile, we will prepare in case you want at all costs to insist on making workers poorer and dismantling our public services!