We've officially hit peak pumpkin spice season and it's only been fall for three days.
A pizzeria based in New Jersey is now offering a Pumpkin Spice Pizza for... some reason.
Villa Italian Kitchen debuted their newest creation last Friday. It is topped with pumpkin pie filling and after it's been in the oven, more pie filling is added to it.
According to Fortune, it also contains nutmeg, clove and cinnamon and will be a seasonal offering "while supplies last."
A spokesperson for the company told Vice that Villa Italian Kitchen thought the pizza would be a hit.
"Pumpkin Spice is undeniably the most popular flavor of fall. As such, we wanted to slice up our piece of the pie," Brian Lowe said. "We thought, what could be better than combining the popularity of Pumpkin Spice with pizza?"
We're not so sure, and we're not the only ones. Twitter users also sounded off about the controversial creation.
Late-night host Seth Meyers also took the time to joke about the pizza.
This isn't the first time the chain has capitalized on a trend. In January, they released an "Alternate Fact" pizza after Donald Trump's inauguration and claimed it had no calories even though it was loaded with meat and cheese.
So while the literal taste of the Pumpkin Spice Pizza might be questionable, we have to give Villa Italian Kitchen props for creative advertising.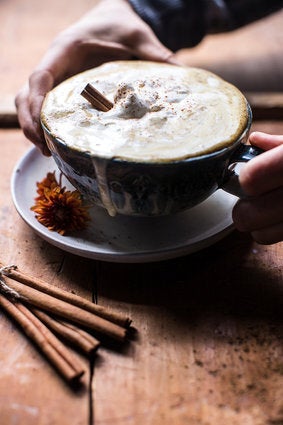 Pumpkin Spice Latte Recipes
Popular in the Community