An aggressive B.C. wildfire has burned down homes and a business, leaving some residents with hardly any possessions.
The Puntzi Lake fire, west of Williams Lake, grew nearly seven times in size over the weekend, going from 12 to 80 square kilometres.
Georgie Ferguson, whose job is to load firefighting planes, lost his home last week. But while his house was burning to the ground, he was busy working to save his neighbours' properties.
"I had a job to do," Ferguson told Global News. "I could not put myself first. I could not hold my head down and pout and cry. I had planes to load, I had more houses to save."
Ferguson lost everything other than his dog, iPad, iPhone, wallet, and truck, according to the outlet. But he said he will stay at base camp to continue loading planes with fire retardant until the threat is over.
A GoFundMe page has been set up to help Ferguson. As of Monday morning, it had raised over $13,000 in just 24 hours.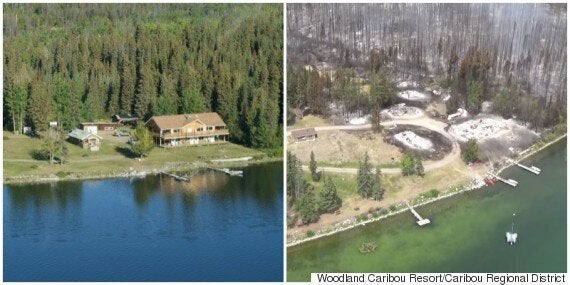 Woodland Caribou Resort is seen on the left in July 2012. A video screengrab on the right shows what's left of the business.
Jan and Dan Coates, who own the resort, were hosing down the lodge as a precaution when flames suddenly appeared at their backs, reported CBC News.
"[There was] just a 30-metre (100-foot) wall of flame not far from where we were and I just looked at Jan and said, you know what, we gotta go," Dan told CBC. "It was our home. Everything we have is... was there."
There are still over 250 wildfires burning in B.C.