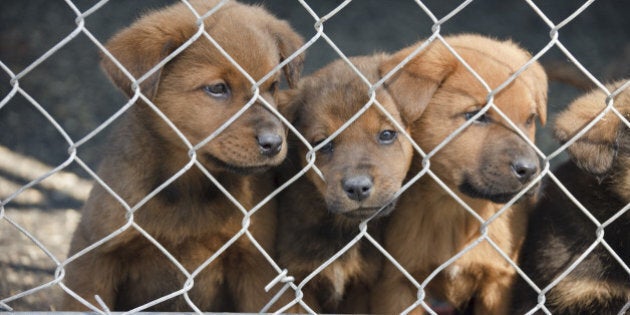 October 4 is World Animal Day, a global event celebrating animals big and small, from coast to coast and sea to sea around the world.
Although it was started in 1931 to draw attention to the endangered species is has since "become a day for remembering and paying tribute to all animals and the people who love and respect them. It's celebrated in different ways in every country, with no regard to nationality, religion, faith or political ideology."
It's a day to appreciate the animals that make our lives complete. For many Canadians, that's often the family dog who greets them at the door every day, tail wagging.
Here in Canada, almost 30 per cent of households have a dog. Fido is a member of the family to many -- their fur baby, best friend, unconditional love on four legs. They provide companionship, happiness and even therapy to their owners. But we still face a dark problem when choosing where to get our next dog -- puppy mills.
Puppy mills are defined as a high volume, sub-standard dog breeding operations, which sell purebred or mixed breed dogs, directly or indirectly, to unsuspecting buyers. They exist with the sole purpose of profit. This means pumping out mass amounts of puppies as fast as possible, with little regard for the health of the mother or puppies.
Fortunately, there are many pet supply stores that don't sell animals, joining the positive trend of helping stem companion animal homelessness by operating satellite adoption centres instead. We applaud retail outlets such as PetSmart, PJ's Pets, and Petland. Sadly though there are still some stores with puppies for sale, or advertised on beautifully designed websites, or available through on-line classified ads that allow the puppy mill industry to thrive.
Many puppy mill victims are born with genetic defects and hereditary conditions due to overbreeding. Puppies are born into cramped, squalid conditions, without access to veterinary care or proper food and water. Infectious diseases run rampant, resulting in sores, viruses and the deaths of dogs and puppies. Mothers are bred to exhaustion, bearing litter after litter of puppies until they physically spent, and then discarded. Operators often offer to meet in parking lots or at alternate locations. The buyer will never see the mill and may only discover their pup is from a mill when it becomes sick or dies. Remember: reputable breeders will never sell their puppies out of the trunk of their car.
Yet even in the face of all this suffering, it is incredibly difficult to crack down on puppy mills. We don't have laws in Canada specifically against puppy mills. The worst puppy mills that may be perpetrating animal cruelty are often located in rural areas and may not be discovered by humane society or SPCA inspectors. And even those who've be charged with cruelty are often back in business after they've paid their fines or served their time. Worst still, if they are not charged federally, they can just pull up stakes and move to the next province to cause the cycle of suffering once again.
If you're thinking of adding a dog to your family, please take the following steps to ensure that you are not unwittingly supporting a puppy mill. First and foremost, consider adoption. Humane societies and SPCAs are overflowing with animals looking for their forever home. If you are partial to a particular breed, check out breed-specific rescue groups in your community. If you do choose a breeder, meet with them, see their entire facility, and meet your puppy's parents.
Think carefully. Choose wisely. Love deeply.
Now go hug your pet, volunteer at your local humane society or make a donation to an animal cause near to your heart.
Have a happy World Animal Day.