Millennials don't have it easy when looking for jobs.
And employers don't have an easy time keeping them.
But a white paper released by auditing firm Deloitte and the Billie Jean King Leadership Initiative (BJKLI) last week provided a few tips on how to retain young workers.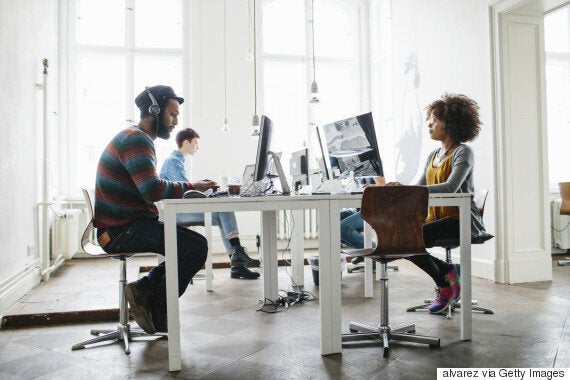 The white paper used three years worth of data to determine millennial attitudes about work, their place in it, and their employers' broader impacts on society.
Two out of three respondents said they would keep working for a business because it was driven by a distinct purpose, according to data collected through a series of surveys. Only 20 per cent of millennials were happy working in a place that didn't have a set mission.
Fewer and fewer millennials are also starting to believe that businesses should focus on profit, instead of impact and strategy.
Three years ago, 35 per cent agreed businesses should be driven solely by profit; in 2015, only 27 per cent felt that way.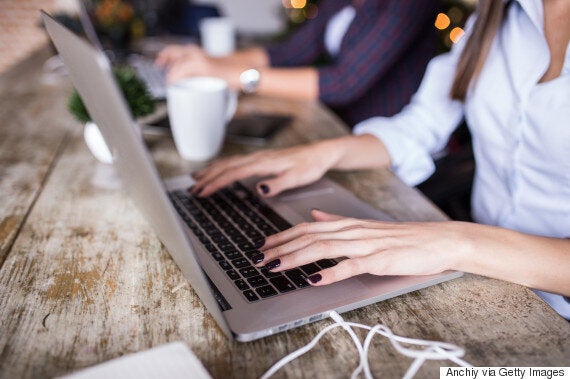 Workplaces could retain millennial workers more easily if they offered "flexible working conditions and work/life integration," the paper said.
They could also make better use of millennials' skills. Only a third felt their workplaces were making the most of what they can offer.
The white paper derived its data from three main sources: the Deloitte 2013-2015 Global Millennial Survey; the 2014 Deloitte Millennial Leadership Study; and the Deloitte/BJKLI Millennial Influence Survey.
Its conclusions were consistent with another study: The 2016 Deloitte Millennial Survey, which also found that millennials are driven less by profits than purpose.
The survey spoke with 7,700 millennials in 29 countries, all of whom were born after 1982 and were full-time workers with college or university degrees.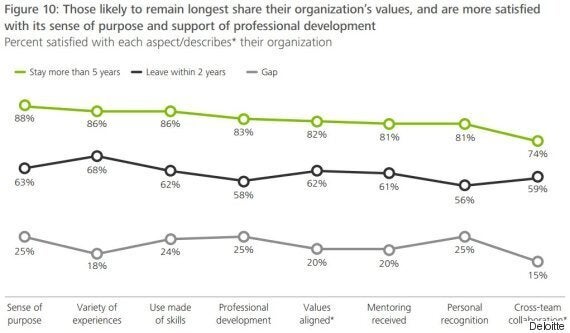 It found that millennials were likely to stay in their jobs longer if they were satisfied with a workplace's sense of purpose. Indeed, 88 per cent of respondents said they would stay in a job for more than five years if they were happy with the business' mission.
Meanwhile, 63 per cent of millennials said they would leave their jobs within two years, even if they like the company's purpose.
Nevertheless, overall numbers indicate that many employers could have difficulty keep their millennial staff over the next four years.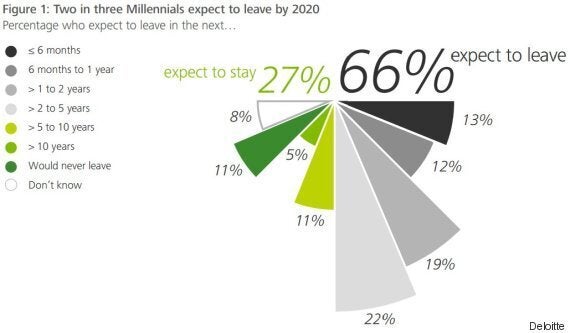 The 2016 survey found that 66 per cent of millennials expected to leave their jobs in the next four years.
Most (22 per cent) expected to stay in their jobs for two to five years, while 19 per cent felt they would only remain in them for one to two years.
"This remarkable absence of loyalty represents a serious challenge to any business employing a large number of millennials, especially those in markets ... where millennials now represent the largest segment of the workforce," the survey said.
But a "lack of loyalty" likely doesn't explain why members of Generation Y move between different jobs more swiftly than previous generations did.
A LinkedIn study earlier this year found that most millennials hop between four jobs in their first 10 years out of university.
That was a lot compared to Generation X, whose members averaged two jobs in the first decade out of university.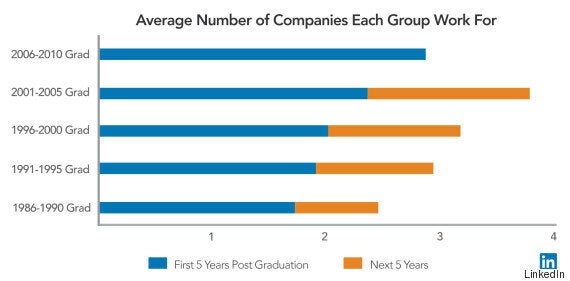 LinkedIn said this was due to a number of factors, such as the Great Recession, as well as a desire among young people to try out different jobs "before settling on a career."
There were, however, regional differences when it came to job loyalty, Deloitte found.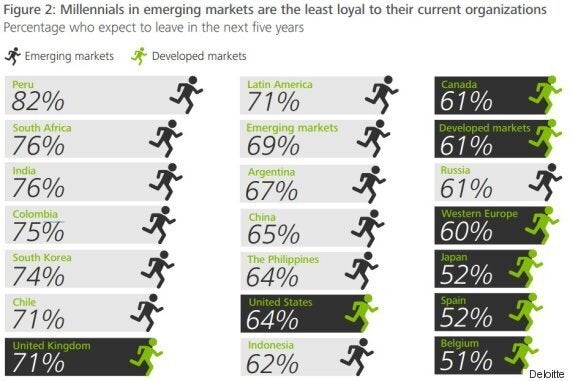 Canadian millennials were more loyal to their workplaces, comparatively speaking. Only 61 per cent planned on leaving their jobs within five years, compared to places like Peru, where 82 per cent hoped to find other work.
Millennials were least loyal in emerging economies like Peru, South Africa (76 per cent), India (76 per cent), Colombia (75 per cent) and South Korea (74 per cent).
They were most loyal in established economies like Belgium (51 per cent) and Spain (52 per cent).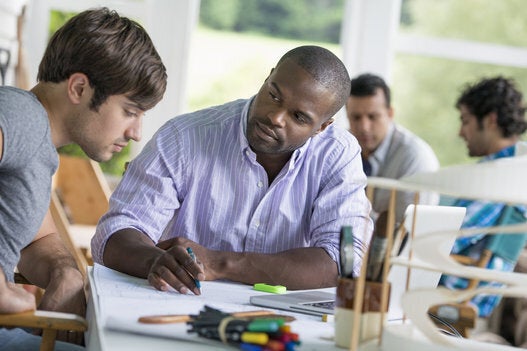 Overwhelming Potential: Life Advice, Tips, And Tricks That Every Millennial Needs To Hear