While staring at little, sparkly fish in the Yangtze River at the age of four, I fell in and was flushed downstream. Unconscious, I was caught up in a fisherman's net, revived and brought home. This is my story about surviving all odds and how I open my new memoir.
The Jacqueline Shan Story: Pursuing A Dream, Never Giving Up is about learning to swim. In it, I capture my perspective as a scientist, entrepreneur and immigrant. I share my experiences riding a professional rollercoaster. Writing it has been a therapeutic process and has given me the chance to tell my story.
I am most known as the co-creator of COLD-FX®, but I have always been passionate about marrying Eastern and Western medicine. I recall my grandmother whipping up mysterious herbal remedies and, when I was sick, fixing me chicken soup with ginseng. It took many years and two doctorate degrees to understand why it worked.
My professional journey stared when I was offered to travel to Canada as a research associate of Dr. Peter Pang, chairman of the physiology department at the University of Alberta. Knowing virtually nothing about Canada, I boarded a plane and headed to Edmonton (I am still proud to call myself an Edmontonian today!).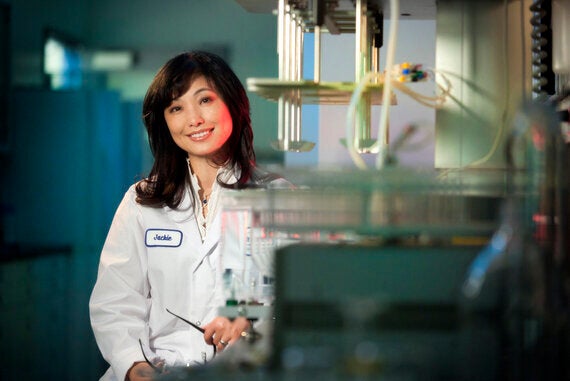 After completing my Doctorate in Physiology, Dr. Pang and I founded CV Technologies Inc. and COLD-FX®. We were successful beyond our wildest dreams, but we also faced criticisms.
Our goal had been to develop and market natural health products based on the same clinical testing that mainstream pharmaceuticals use. We used this model when developing COLD-FX® and it was a big step. COLD-FX® is one of the most researched and studied products in the natural health industry, and still the best selling cold and flu product in Canada.
There are many challenges running a public company and I have faced them head on. When something happens people think it is the end of the world, but it is not. You learn and you carry on. Writing the memoir was a chance for me to explore this concept, and to share my experiences with young entrepreneurs. The most important lesson I felt important to share was to never give up, to pursue personal goals and make them real. Success has everything to do with perseverance.
So what does the next chapter of my life hold? I continue to focus on developing and bringing premium, evidence-based natural health products to market. My new company, Afinity Life Sciences, has a new line of Omega-3s designed for a specific health conditions, and other products developed for menopause, andropause and fatigue.
The last thing I wish to share comes from my father: so long as you have good intentions, good education, knowledge and a good attitude you have everything.