 Theirs is both a depressing and heartening story. Depressing because it reminds us that there are other governments, not just our own, that regularly obscure the truth of their activities with platitudes and distraction; that there is more than one place on earth where a government can speak about democratic ideals while directly contradicting them. But it's a heartening story too. It proves that art can challenge political power. Say what you will about Pussy Riot's tactics, music, or taste. The bottom line is that an indie-feminist punk band unnerved a storied establishment and a shrewd and seasoned politician.
Art is the ultimate mode of communication. It is a rapid message delivery system that can directly target its audience's emotional and intellectual centres at the same time. Art can be, and often is (indeed, is often at its best when), messy. By its very nature, it is unpredictable and uncontrollable. Artists well know that often, the message they intend isn't always the one that's received. Lyrics, for example, are notorious for being widely misinterpreted ("Louie Louie" is but one obvious example). Creation is inherently chaotic and its strength and beauty reside here.
Political power, however, by its very nature, tends toward control. It gets extremely uncomfortable about the things it can't. There are various reasons for this, and not all of them are nefarious, but it means that political power and freedom of expression are never far from conflict.
And this is a good thing! In fact, it's one of democracy's core tenets: the free exchange of ideas contributes to a healthy and vigorous society of tolerance and acceptance. This is the ideal anyway. Power's job in this arrangement, is to listen and respond to these ideas, debate and discuss them and choose the one that seems to offer the greatest benefit to society as a whole. But this can only work when ideas are free to be expressed and passed around, discussed and dissected. If power attempts to control which ideas take preference, if it attempts to assert its preferred ideologies, democracy suffers. The result can be veritable or actual autocracy, oligarchy or worse. Maintaining an atmosphere in which citizens feel secure in expressing their opinions is not only desirable; it is arguably one of a democracy's central tasks. Freedom of expression is non-partisan.
Ideally, if a society is equitable, and citizens are encouraged to debate the best to approach collective governance, hateful ideas would have a more difficult time finding adherents. Say what you will about Stephen Harper and his policies, his real downside as a leader of a democratic country has been his insistence on stifling debate in the House of Commons. If he truly felt his policies were that good for Canadians, I'd have thought he'd be confident enough they'd survive even the most rigorous debate. After all, the people of this country have elected representatives to the House of Commons to do exactly that. No debate means no democracy. End of story.
I know it seems like a long shot for the country once dubbed the "peaceable kingdom" to descend into totalitarianism. Even Harper, for all his flaws, doesn't really seem like a Hitler or Stalin (it depends who you ask of course). Canadians have been mostly sheltered from first-hand experiences with fascism and tyranny. The tendency is to assume that such things could never happen here. But the truth is, there is nothing really preventing it. I don't feel particularly confident that Canada is immune to fascism. Given the right circumstances, anything is possible. There is nothing inherently 'good' about us Canadians. We are just as prone to hatred and fear as anyone else.
There are lots of examples from our history when the liberties of Canadians were violated. It happened in World Wars One and Two. It happened in 1970 during the October Crisis and again in Toronto in 2010 during the G20 summit. Canadians don't think of themselves this way. We tend to forget or try to justify these bad memories. But they're there. They happened. And who knows? Maybe next time will be worse.
BLOG CONTINUES AFTER SLIDESHOW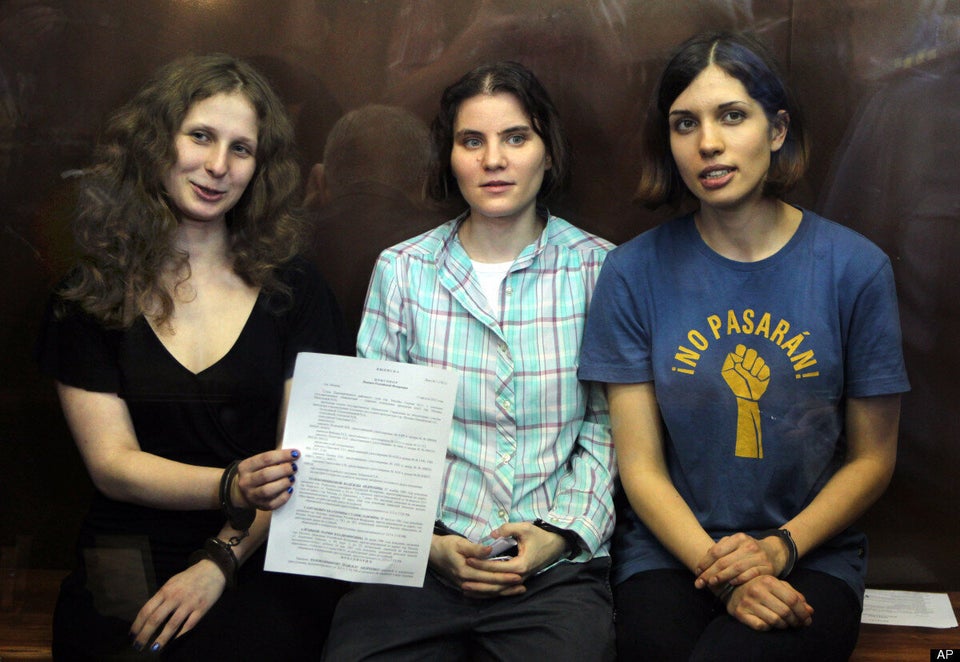 Pussy Riot Appeal Sentence
Artists are inevitably on the frontlines of that conflict between power and expression. Our livelihood relies on our being able to express what we feel no matter its political implications. Often, our work engages with emotions and ideas that are complicated, complex, that cannot be easily explained. And this is usually why we turn to art instead of just saying, "I am sad" or "I am angry." Sometimes we have to risk being misunderstood to communicate what we need to. This is why I started the Canadian Artists for Civil Liberties project. I don't trust our political leaders to leave our rights alone. I don't trust them to make sure our rights are secure and available to future generations. Maybe I'm paranoid or alarmist but ongoing civil engagement is really the only way to make sure we keep the rights we have. It is a project that is never completed, a case that is never closed.
History is littered with examples like Pussy Riot, of artists exiled, imprisoned, or tortured for criticizing authority and official policies of their leaders. Here are just a few examples:
- Cuban poet Reinaldo Arenas. Arenas was imprisoned by the Cuban revolutionary government because of his "ideological deviation." His writings, the Petagonia novel series and the memoir Before Night Falls (made more famous as a film by Julian Schnabel which featured a sexually visceral and endearing Javier Bardem) were sharp (and sometimes) not-so-subtle jabs at Castro and the revolutionary experiment. Arenas escaped Cuba during Castro's Mariel Boatlift expulsion and lived out the rest of his life, unwelcome in his native country, poor and dying of AIDS in New York.
- The list of famous Jewish artists who escaped Hitler's occupied territories in the Second World War would fill pages. Artists Marc Chagall and Max Ernst are just two examples of scores of people exiled, cast out of their communities by violence and fear.
- Elizabeth Catlett. Catlett was an African American woman who escaped to Mexico during the 1940s and 1950s because of intense pressure from the United States government. They considered her a nuisance because of her "politically charged" works of art. But also, the New York art scene was not exactly receptive to a vociferous, politically minded black woman.
- Eduardo Galeano. Uruguayan author Galeano narrowly escaped the firing squad after Bordaberry's civic-military right-wing dictatorship took the reins in Uruguay. He remained in exile for almost a decade. While in exile, his dramatic work of revisionist history, Open Veins of Latin America, (later given as a provocative gift from Hugo Chavez to Barack Obama) was outlawed by several Latin American nations because of its staunch anti-U.S./anti-colonial perspective.
- Miquel Littin. Gabriel Garcia Marquez's Clandestine in Chile: The Adventures of Miquel Littin chronicles the subversive exploits of the Chilean filmmaker who, after being exiled by the Pinochet dictatorship, slipped back to Chile in disguise (his own mother didn't even recognize him when they inadvertently crossed paths) to make a film documenting the profoundly negative effect the tyrant's reign had on everyday Chilean life.