 October 1 marks the second day of global action for jailed Russian punk rockers Pussy Riot. It's also the day a judge will rule on the appeal made by three of its members sentenced in August to two years in a labor camp for performing a "punk prayer" in Moscow's Christ the Savior Cathedral.
Pyotr Verzilov, Russian activist and husband of jailed Pussy Riot member Nadezhda Tolokonnikova, has become the de facto spokesperson for the group, denouncing President Vladimir Putin's harsh punishment.
Last week in New York, Yoko Ono awarded the LennonOno Peace Grant to Verzilov and his four-year-old daughter, Gera, on behalf of Pussy Riot.
Huffington Post Canada spoke with Verzilov about meeting Yoko, how he'll support his daughter if she turns to "hooliganism," why it's his responsibility to change Russia, and how the Pussy Riot appeal is futile.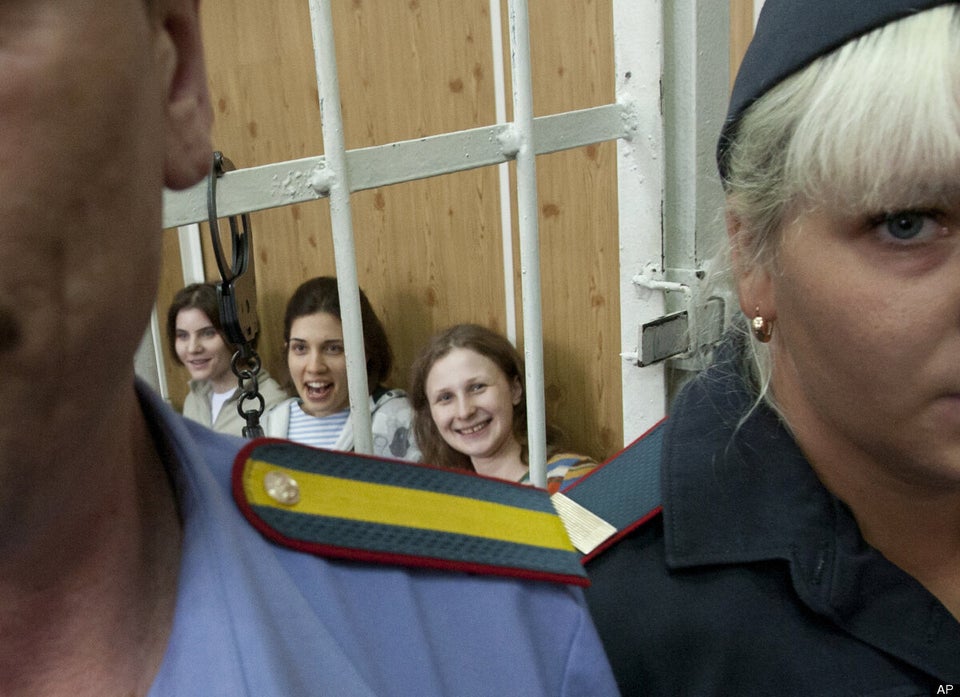 Firstly, when did you last speak with your wife? What is the morale like for the group?
A week ago, I went to the prison to see Nadezhda, and I took Gera, who hadn't seen her in six months. They are holding on; they are obviously very strong women. They have been turned into role models for millions of people in Russia.
On Friday you accepted the LennonOno Peace Grant on behalf of Pussy Riot. What was it like meeting Yoko Ono under those circumstances?
Yoko Ono is an extremely important figure as a political art activist, so that was a great honor; the girls are very happy. It's incredible to see Yoko still continue to support various initiatives. She said how amazed she was about the cultural references with this case, like it was Russian literature from the 1900s coming alive.
Can you see parallels between Pussy Riot and the Beatles? For instance, the uproar over John Lennon's 1966 "more popular than Jesus" comment.
There was an amazing level of outrage in the United States after Lennon made that comment -- especially in the south. Shows were cancelled, firebombs were thrown on stage, and all these Christians were picketing the shows. Obviously, they never had the chance of being thrown into prison, but it can be compared to the girls and the actions of the Russian government.
Pussy Riot have received a lot of support from the international music community, with Madonna, Red Hot Chili Peppers and Peaches among the big names condemning their conviction. What has this meant to your cause?
The Red Hot Chili Peppers were a surprise. We met them at their [July 22] concert in Moscow, and I was surprised at how knowledgeable Anthony Kiedis was about the case. He had read articles in foreign media, and he talked about the details of the trial and how the girls were doing. It was really cool.
When Madonna came to Moscow, we met her before the show and had this real cool moment where she talked about supporting Pussy Riot and fighting for freedoms. Then she went on stage and took off her shirt and there was a Pussy Riot sign, and then she sang "Like a Virgin" -- she really proved herself as the queen of pop in that moment.
With Peaches, she really inspired Pussy Riot musically and politically with her feminist lyrics, so to have her come out with the ["Free Pussy Riot"] video in support of the girls is incredible.
You've said you're more comfortable with support from cultural figures than government. So how has it been meeting with the US government this past week?
It's not that I'm more comfortable; I just think there's more importance to have cultural figures involved and speak out in support of Pussy Riot. After all, Pussy Riot are artists, so it's important for other artists and creative people to speak out.
At the same time, I'm thankful for the government officials who will pick up the cause. We've been meeting with a lot people in Washington talking about several important things related to sanctions and pressure to release the Pussy Riot girls.
Pussy Riot was inspired by Western culture -- tell us about the band's inception.
Pussy Riot, as a group, is heavily influenced from what happened in the late '80s/early '90s in the US, all those feminist Riot Girrl music groups. The name Pussy Riot sounds like some punk band from Washington State from 1992.
Nadezhda and the girls had been theorizing about Pussy Riot. The call for action was September 24 [2011] when Putin was re-elected as President. A lot of people felt lost because they had hopes that there would be change. So when that happened, the girls felt immediately so much anger that they started to play to call for change.
Were you shocked that Kremlin officials reacted so harshly to the "punk prayer"? Did the fact that these were women protesting factor into their sentence?
Frankly, no one expected President Putin to cross such a line for women singing in a church. If it was man taking part in this action, there would probably be punishment, but not as severe.
Knowing your wife was imprisoned for just singing a song, what would you tell your daughter if she said she wanted to continue her mother's activism?
By the time she grows up, we may not have these political problems in Russia, and President Putin won't be there. So I hope to see improvements. But if I had to answer that question now, yes, people should fight for their interests and protest, and to have the courage and integrity to do it. I'm very connected to Russia: the language, the culture. I feel like it's my responsibility to change things in Russia.
What are you expecting from the appeal on Monday, which is also been designated the second day of global action for Pussy Riot?
We do not have high hopes for October 1, beyond they might have three or six months thrown off their sentence. Prime Minister Dmitry Medvedev practically said he thinks the girls should be free, but he does not have much weight in Russian's political system.
But we will keep protesting; Pussy Riot is more than a band, it's a movement, and it will continue.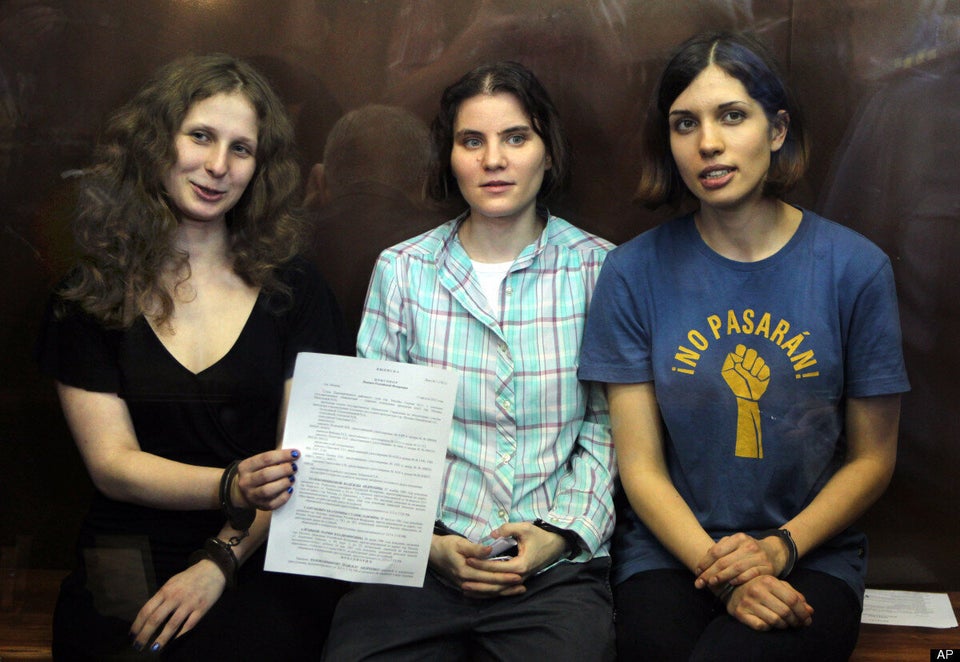 Pussy Riot Appeal Sentence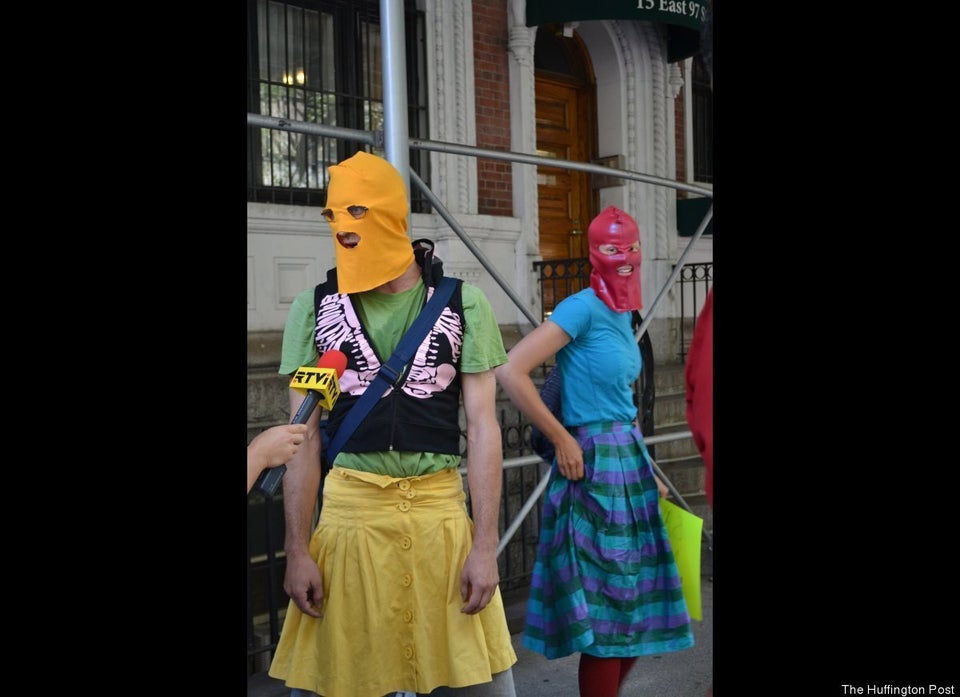 Pussy Riot Rally In New York City