A small community of women in Quebec will have difficulty taking the bus or accessing services. They will likely be subjected to discrimination in our public institutions. Bill 62 will seriously affect their ability to access public services, public transport or attend school.
Following the mosque shooting in Quebec, in January last year, the province failed to launch an anti-racism campaign, create programs to address racism, or address in a meaningful way the growing incidents of hate crimes against Muslims and the worrying hate rhetoric on Quebec radio stations.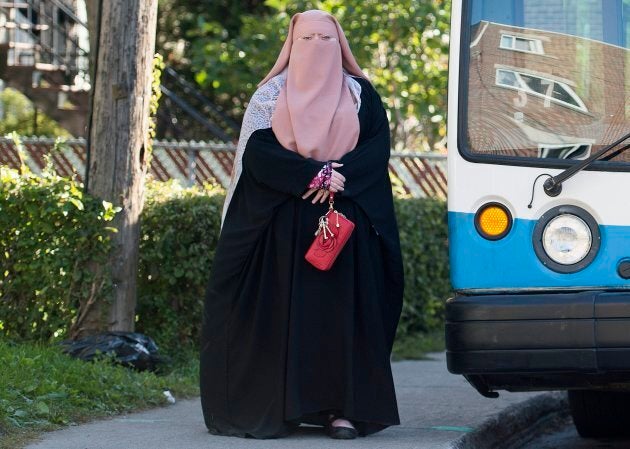 Instead, the provincial government proposed Bill 62, a new law that effectively targets this particular community.
I train leaders and executives on how to become allies for gender equity, diversity and inclusion in their workplaces, and overcome bias and unconscious bias impacts. Quebec has a growing problem, as demonstrated at the recent far-right protests in Lacolle, that goes beyond bias and stereotypes. Bill 62 is the foundation of institutionalized racism fuelled by populist politics.
This legislation is guided by the province's religious neutrality language. The law would ban anyone from receiving public services if they wear any face covering. Yet, this law is clearly not about all religions; instead, the language purporting to support religious neutrality in public institutions is being applied most directly to one group of citizens.
Bill 62 bans all public workers and those receiving any government service from wearing a niqab or burka. To suggest the law targets all face coverings is inaccurate, as those of us wearing a hat and neck warmer that conceals our face are likely to be left alone by enforcement. I would be treated differently from a Muslim woman.
This is anti-woman, anti-Muslim legislation.
The ambivalence of the majority and the not-so-subtle pure laine, Quebecois-style politics is petrifying.
Meanwhile, the Catholic cross remains in a prominent position within the Quebec legislature. They argue it is a symbol of Quebec heritage. This symbol, the government says,is not out of line with the principle of the state's religious neutrality law.
If this hypocrisy can happen to the minority of Muslim women in Quebec, what makes us feel so sure something similar can't happen to those of us who are not affected by this law?
This is Canada, and one of our provinces is actively institutionalizing racism and limiting our fellow citizens' ability to move freely and their right to freedom of religion.
Quebec Justice Minister Stéphanie Vallée was recently quoted, "If you don't get on, you won't get kicked off" — meaning, if these women aren't allowed on the bus, a bus driver will not have to kick them off. Her disdain for these women is palpable.
Women wearing the niqab or burka must remove them in classrooms "to promote a culture of learning," she says. Higher learning institutions take note: you must be intolerant to teach tolerance and promote knowledge.
If these already marginalized women want to request an exception from the law, Vallée has made some recommendations for the process. Let's review the most problematic:
The request must be serious and based on sincere belief. (How about religious belief? Is there a decision tree on how to measure sincerity?)
The accommodation must be in line with the principle of equality of all people. Therefore, the exception to the law must not result in the discrimination of another group. (Since when did what a citizen wears count as discrimination against others?)
The accommodation is reasonable. In other words, it does not cause undue hardship on others or affect the quality of service or public health of others. This also factors in the cost of any accommodation. (What "hardship" could a religious face covering pose to others?)
The person making the request is co-operating in seeking a solution, including making concessions. Failure to co-operate may result in the request being denied. (This vague wording gives decision-makers a free pass to deny a person's application. Perhaps Vallée thinks protecting one's civil rights from being abused is above a Muslim woman's station in Quebec society.)
The ambivalence of the majority and the not-so-subtle pure laine, Quebecois-style politics is petrifying. Our politicians did not stand up for freedom of religion, women's rights and freedom of expression when they needed to.
Je me souviens. The lack of moral leadership will not be forgotten.