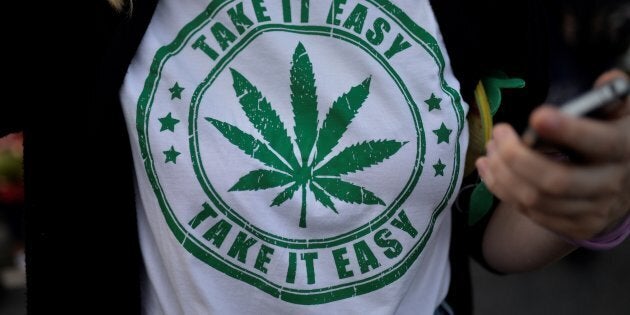 On October 17, Quebecers will be able to light a joint legally — but it appears they will lose the right to buy T-shirts or posters with the marijuana leaf on them.
A clause in Quebec's law adapting the federal legalization of marijuana prohibits the sale, exchange or donation of any product branded with "an image directly associated with cannabis," according to a report at HuffPost Quebec.
"The operator of a business or a cannabis producer may not sell, give away or exchange an object that is not cannabis if a name, logo, distinctive sign, design, image or slogan that is directly associated with cannabis, a cannabis brand, the Société québécoise du cannabis or a cannabis producer appears on this (product)," reads section 50 of the province's Cannabis Regulation Act.
While the law itself seems vague as to how far the prohibition extends, a provincial website explaining the legal changes makes it clear: "In Québec, it will not be permitted, for example, to sell T-shirts with the printed picture of a cannabis leaf."
A spokesperson for the province's health ministry confirmed to CTV News that there will be 31 inspectors whose job it will be to enforce this law across the province. Fines for violating the law will range from $5,000 to $62,500.
But this doesn't mean that people who currently own cannabis-adorned products will be forced to throw them away, says Mylany David, a partner and head of the business law group at law firm Langlois Avocats.
"Basically (this) is more about sales, exchange or donations," she told HuffPost Quebec. "Technically, wearing a sweater or drinking coffee in a cup that has a cannabis leaf on it does not seem to be part of that ban."
David said she believes the prohibition may be the subject of legal challenges.
"Whenever the government wants to limit fundamental rights like freedom of expression, it has to demonstrate a justification," she said.
"With the Tobacco Act, they were able to demonstrate that there was an impact on health. Can they do it with cannabis? It remains to be seen."
— With files from Emilie Clavel, HuffPost Quebec