OTTAWA — As the holidays approach and Canadians dig through their pockets to support charitable causes, The Huffington Post Canada has learned several Quebec MPs — mostly New Democrats — have been using their office budgets to support organizations such as the Quebec Cancer Society, the Multiple Sclerosis Society of Canada, the Canadian Red Cross and Le Noël du Pauvre — a telethon that supports the less fortunate at Christmas.
Trois-Rivières MP Robert Aubin, for example, was reimbursed for $7,632.50 in expenses he claimed between April 1, 2014, and June 30, 2015, to support not-for-profit organizations in his riding. His colleague, Sherbrooke MP Pierre-Luc Dusseault, claimed $7,488.07 in that 15-month period.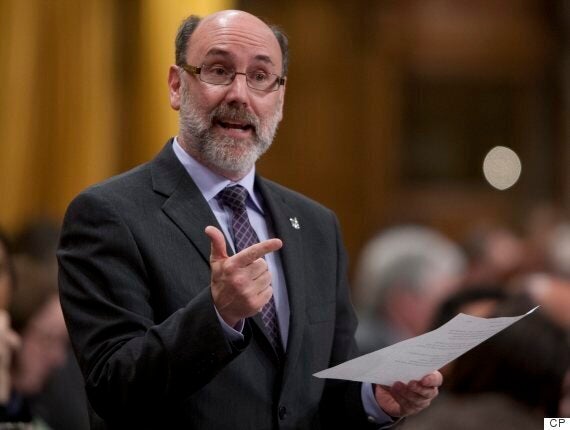 NDP MP Robert Aubin rises during Question Period in the House of Commons in 2012. (Photo: Adrian Wyld/Canadian Press)
Aubin declined to be interviewed, but his expense reports are peppered with claims supporting not-for-profits and registered charities. He claimed, for example:
$250 for the Quebec Cancer Foundation
$110 for the Canadian Red Cross
$300 to Le Noël du Pauvre
$255 to the Val Marie School Foundation
$250 for the Kiwanis Club of Trois-Rivières
$250 for the Richelieu Club of Trois-Rivières.
He bought three $25 tickets to a dinner organized by Espoir de vie — A.P.O.R Inc., a registered charitable organization that provides financial assistance to cancer patients in the regions and issues tax receipts to donors. He expensed $100 for two golf tournament lobster dinners in support of the Maison Grandiose — a registered charity he frequently supports that offers respite care for children and adults with disabilities.
Aubin also expensed $200 for tickets to the Trois-Rivières Symphonic Orchestra during this period and claimed $250 for two tickets to attend the Grand Prix Trois-Rivières — two weekends of auto racing in various categories – in his riding.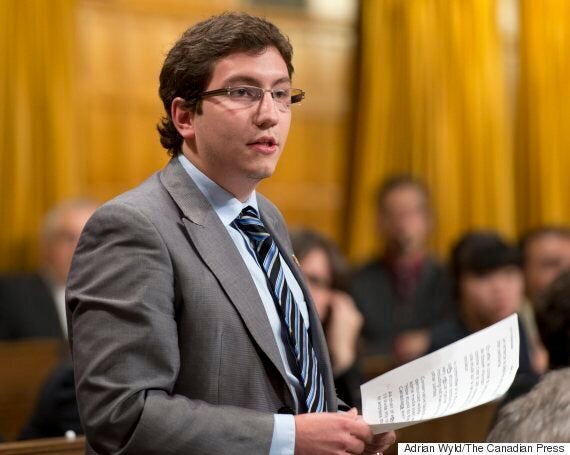 NDP MP Pierre-Luc Dusseault speaks in the House of Commons. (Photo: Adrian Wyld/CP)
Commons rules allow MPs to use their budgets in such ways, but a review of all hospitality expenses over that time period suggests that few do.
$250 for tickets to the Sherbrooke Symphonic Orchestra
$300 for the Multiple Sclerosis Society of Canada
$250 for the Alzheimer Society in Estrie
$230 for the Kidney Foundation of Canadian section Estrie
$90 for the Heart and Stroke Foundation
$160 for Oeuvres de Denis Bisson – a fundraising dinner
$200 for Ducks Unlimited.
He also claimed $117.42 for three tickets to attend a craft beer show.
"If the expenses are accepted, it is because they follow the rules."
In an interview, Dusseault said he doesn't know why other MPs don't make such claims.
"We are invited to so many activities in the riding that it's rare we decline an invitation. We participate to try to meet the most voters as possible," he told HuffPost.
"If the expenses are accepted, it is because they follow the rules," he added. "There have been a few occasions where the expenses were not accepted because they didn't respect the rules, so then we pay them through other ways."
Although Aubin and Dusseault were generous in the use of their office budgets to support charitable causes — they were far from alone. The records show that dozens of Quebec NDP MPs used their office budgets to support not-for-profit groups, including re-elected MPs Matthew Dubé, Ruth Ellen Brosseau and Anne Minh-Thu Quach.
Dubé, the MP for the new riding of Beloeil–Chambly, spent approximately $4,200 in support of various causes. His office declined to provide details of his spending. Among his expenses was $90 for a hockey ticket, $240 to support two local boules clubs, and $125 to support the Canadian Cancer Society.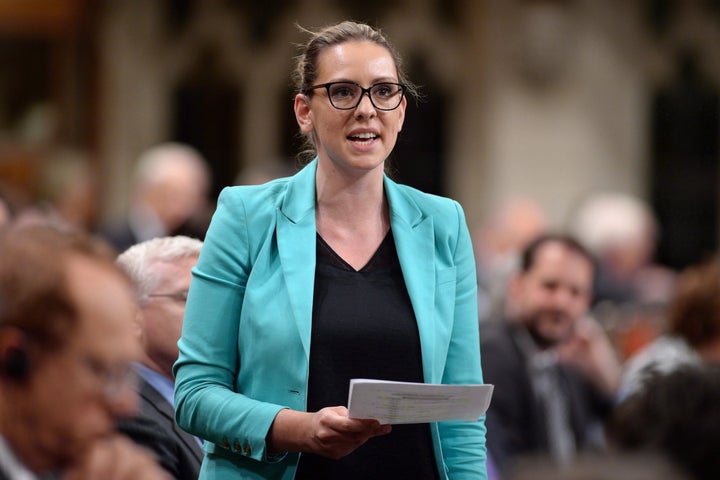 NDP MP Ruth Ellen Brosseau rises during question period in the House of Commons. (Photo: Sean Kilpatrick/CP)
Brosseau, the MP for Berthier–Maskinongé, spent approximately $920 to support not-for-profit groups, including $160 for seven guests to attend Le Noël du Pauvre and $160 to support the local health and social services centre (CSSSM). In addition, she also expensed $250 for one ticket to attend the Grand Prix Trois-Rivières.
Minh-Thu Quach, the MP for new riding of Salaberry–Suroît, expensed approximately $1,400 — funds she mostly used to help local hospital foundations and groups.
She spent $700 for 12 people to attend a boat show in her riding, but, like Brosseau, did not use her account to support national charitable causes.
Her expenses were approved by the House of Commons, she noted. "They are all for community groups in my region. It's mostly tickets for fundraising dinners," she explained.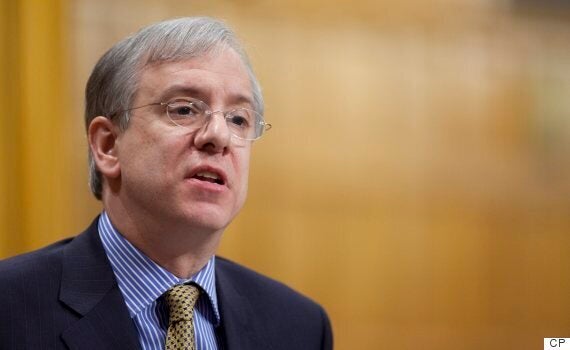 Liberal MP Francis Scarpaleggia rises during Question Period in the House of Commons on Parliament Hill in 2010. (Photo: Adrian Wyld/Canadian Press)
Lac-Saint-Louis MP Francis Scarpaleggia was the only Liberal with similar expenses. He claimed approximately $1,965 in support of local causes, including:
$250 for two tickets to the Lakeshore General Hospital Foundation
$125 for the West Island Palliative Care Residence Foundation
$510 for four tickets for the Canadian-Italian Association of the West Island
$120 for the Iranian Cultural Society of West Island
$100 for the Greek Orthodox community of the West Island of Montreal.
Scarpaleggia told HuffPost all of his expenses were for tickets to local events.
An official from the Commons' finance section who agreed to speak to the Huffington Post Canada on background because he wasn't authorized to speak on-the-record, said MPs handle their office budgets differently. Some MPs put a lot of kilometres on their cars because they drive all over their ridings, and others don't, he said. "They do their jobs differently, but within the parameters of what the Board [of Internal Economy] decides is okay."
The rules officially state that MPs cannot use any of their budgets for:
personal expenditures, such as personal meals and traffic violation fines;
hospitality expenses for partisan events;
membership and tournament fees;
a gift purchase exceeding150;
a gift purchase for third-party fundraising;
donations or contributions of any kind, direct or indirect, including any fundraising meals or events;
sponsorship expenses for events, groups or causes.
The House of Commons decided a few years ago, however, to allow MPs to expense up to $125 per ticket to attend a local gala or event. It also allows MPs to use their advertising budget, to a maximum of $500, to advertise in an event program — as long as the MP's contact information and details are included in the publicity.
Tory MPs question 'scale and scope'
Several MPs told HuffPost, however, that they do not dip into their taxpayer-funded budget to purchase tickets to local fundraisers.
"To me, just on the surface it doesn't appear that that would be allowed," Conservative Tom Lukiwski said.
"I've always had a straightforward approach," the Saskatchewan MP added. "If it was a fundraising event or a charitable event, I paid out of my own pocket, always have… . I know some MPs get money from the EDAs [their party riding association], which is legitimate — they can do that because it's money they raised themselves."
Quebec Conservative MP Denis Lebel said all MPs "do a little bit of" of local support, but the problem with the NDP MPs is "the scale and the scope."
"We all have limited ways we can help certain organization," the Lac-Saint-Jean MP said. "When the Traversée internationale du Lac St-Jean [an international swimming marathon] asks me are you going to help us financially a little? We don't have millions of dollars but I send them a few hundred dollars. But I don't know what budgets I'm using," he admitted.
Montreal-area Liberal MP Emmanuel Dubourg told HuffPost he doesn't know how the NDP MPs could donate to charities.
"These expenses were accepted?" he asked. "Huh."
Dubourg said he understood MPs could help local groups through their advertising budget. "If I have an organization in my riding that is doing an activity…. I can decide to advertise in their program."
Why are Quebec MPs doing this?
"This is a Quebec phenomenon, and I think it is driven by the Quebec MNAs," the Commons official told HuffPost.
In Quebec, each member of the National Assembly receives a $90,000 discretionary budget they can use to support causes of their choice.
"What happens is the federal MPs get embarrassed when they show up at these things and they have paid $200 for their business card to be replicated in the program and the MNA is handing over a cheque for maybe $1,500 or $2,000. It's just done differently there," the official said.
"Quebec is the only area where we have a huge problem with advertising because of that dynamic. Where members complain about the rules being too restrictive — but they are the rules for everybody across the country."
"This is a Quebec phenomenon, and I think it is driven by the Quebec MNAs."
Minh-Thu Quach seemed surprised to find out that MPs in other provinces don't claim advertising expenses or ticket purchases for fundraising dinners in such large numbers.
"Oh, maybe in Quebec, I don't know, we have a lot of community groups that organize dinners to raise money or — I don't know why elsewhere in Canada they don't do this, but for us, it's pretty active," she said.
NDP MPs from British Columbia to Nova Scotia did not follow the Quebec pattern. Some Quebec MPs, such as Guy Caron, Alexandre Boulerice, and Romeo Saganash, also did not expense similar items. The Bloc Quebecois's longest serving member, Louis Plamondon, an MP since 1984, also had no similar expenses.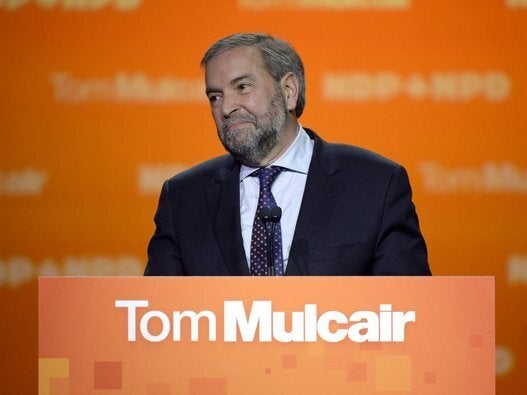 Key NDP MPs Defeated In 2015 Election
Popular in the Community