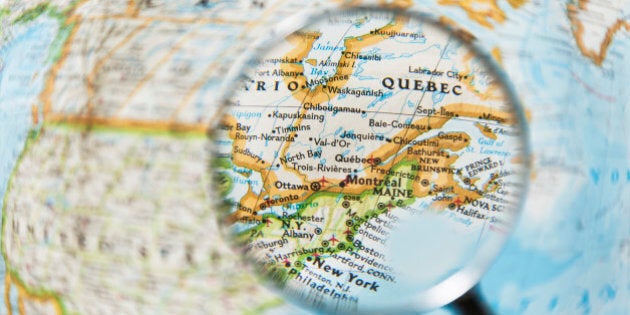 Thick fog covered many parts of Quebec on Friday morning, as a firestorm of mistrust and contempt festered in the shadows. Quebecers have long had a deep-seated mistrust with the police in my view, and things are only getting worse as new information trickles in every week.
It's been nearly 13 months since Radio Canada's investigative program Enquête uncovered a startling pattern of abuse. The program was initially in the northern city of Val-d'Or -- some 600 kilometers north of Montreal -- to investigate the disappearance of an indigenous woman named Cindy Ruperthouse.
When Enquête interviewed several indigenous women regarding Ruperthouse's disappearance, they discovered provincial police officers were allegedly picking up these women and demanding for sexual favors. The officers would allegedly drive women to the outskirts of the city, and drop them off in the middle of nowhere -- sometimes even in the dead of winter.
When the news broke, the Sûreté du Québec handed the investigation over to the SPVM -- Montreal's police force -- who compiled a comprehensive report and submitted it to the Crown prosecutor. There were 38 initial files compiled in this report, and on Friday we discovered The Crown was only pursuing two cases due to "lack of evidence," according to CBC News.
The six officers who are at the center of this debacle were also suspended with pay, and will not be prosecuted. Also, in a bizarre twist of events, 41 officers from the Sûreté du Québec have launched a $2.3 million lawsuit against Radio-Canada claiming their journalism was flawed, biased and incomplete amongst a bevy of other accusations.
This is absolutely ridiculous to say the least; the justice system failed these women and the indigenous community in Val-d'Or. The authorities were meant to protect citizens, but instead the officers abused their power and positions, and got away with their crimes.
The justice system is clearly flawed, and it proves that police officers can get away with virtually anything. Instead of serving justice to the survivors, the system is openly protecting the perpetrators. It's also troublesome to see officers from the provincial police force launch a large lawsuit against Radio-Canada. Since when is it acceptable to go after journalists for uncovering the truths that plague our society?
The lawsuit is draconian and unacceptable, and symbolizes how the police are willing to go to great lengths in order to silence and prosecute media corporations and journalists for essentially doing their jobs.
This isn't the first time police officers in Quebec have tried to interfere with journalists. Earlier this month, information came to light revealing the SPVM spied on Patrick Lagacé, a prominent columnist for La Presse. They were monitoring Lagacé's iPhone for several months, tracking his calls, texts and location in order to determine his sources.
This all stems from Project Escouade, an internal investigation launched by the SPVM to probe five police officers in the street gang and drug trafficking division, and how they allegedly fabricated evidence, according to the Montreal Gazette.
One of the five officers, named Fayçal Djelidi, reportedly had contact with Patrick Legacé, which led the SPVM to obtain 24 warrants to spy on the journalist for an extended period of time.
These actions are so disturbing and startling to say the least. It makes Quebec look more like a Soviet satellite state, set on intimidating and silencing the free press into submission. This signals to journalists across the province they should be afraid of the state, and how the authorities can unethically interfere with the journalistic process on a judicial level.
How are we supposed to have faith in the police and the justice system when allegations of misconduct are constantly surfacing? Whether it's in the Montreal region, or in Val-d'Or, there's a clear pattern of serious wrongdoing.
Quebec premier Philippe Couillard announced in August the provincial government would not be launching an investigation, but a national inquiry would be held as a part of the missing and murdered Indigenous women and girls, according to CBC News.
It's clear the government in Quebec City needs to do more to protect citizen's rights, instead of idling in the National Assembly and watching our society morph into some post-WWII dystopia.
We need to wake up and smell the coffee, because something is clearly wrong. There needs to be a modus operandi in place to ensure the justice system serves and protects the general interest of Quebecers, and not the criminals who hide behind this facade.
Follow HuffPost Canada Blogs on Facebook
Popular in the Community