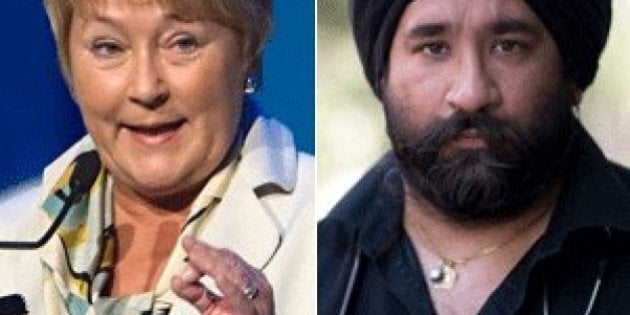 With polls showing a majority of Quebecers agreeing with the provincial government's approach to religious accommodations, the Parti Québécois has seen its support boosted significantly.
A poll by Léger Marketing for Le Devoir released over the weekend showed the PQ gaining five points since June to hit 32 per cent, putting them a close second to the Liberals, who were down two points to 36 per cent. François Legault's Coalition Avenir Québec trailed in third with 18 per cent, down a single point.
Though trailing an opposition party in the polls is never a good thing for any government, this is a positive rebound for Premier Pauline Marois. The PQ had been behind by double-digits at the start of the summer, and a CROP poll taken earlier in the month showed a similar boost.
Reaction to a leaked report of the government's plans concerning its Charter of Quebec Values has been credited for some of this gain. Though decried in the rest of Canada, the purported plan to prevent public employees from wearing ostentatious religious symbols and clothing — such as a hijab, turban, or large cross — has apparently been well-received among Quebecers.
A separate poll by Léger Marketing, taken shortly after the news of the charter broke, showed that 67 per cent of Quebecers thought there were too many religious accommodations taking place in the province, and 57 per cent believed the charter to be a good idea, compared to only 28 per cent who thought it was a bad one.
The divide on support was primarily between francophones and non-francophones: 65 per cent of Quebecers liked the idea of the charter, while only 23 per cent of anglophones felt the same. Quebecers with a first language that is neither French nor English greeted the charter somewhat more approvingly, though a majority were still against it.
A poll by Forum Research also showed a divide between Quebec and the rest of the country, but not to the extent some had perhaps expected. Overall, Forum found that 42 per cent of Canadians approved of the PQ's plan (including 58 per cent of Quebecers, very similar to Léger's findings), while 47 per cent disapproved. A majority of Canadians disapproved of it in every region outside of Quebec, except Alberta. But a significant minority were not put off by the plan either, with approval ranging from 35 to 40 per cent depending on the region, and disapproval never being higher than 56 per cent.
Harsh criticism in English Canadian press is rarely a bad thing for the sovereigntist Parti Québécois, and the charter itself seems to have paid some dividends. The newest Léger poll shows 47 per cent of Quebecers chose the PQ as the best party to defend and protect Quebec's culture and values, compared to only 16 per cent who chose the Liberals. Another 12 per cent said none were capable of the task.
Though the Liberals still led on the economy and employment (35 per cent to 23 per cent for the PQ), the government's gains among francophone voters seems to suggest that their position on reasonable accommodations is paying off. Thirty-nine per cent said they were satisfied with the performance of the government, up 13 points from June and the highest it has been in a Léger poll since the September 2012 election.
The Liberals have already ruled out passing the PQ's Charter of Quebec Values, leaving Legault's CAQ as the last potential obstacle to it being adopted. Legault has suggested he could accept a watered down version of it, but with his party slumping in the polls he may even reconsider that.
Éric Grenier taps The Pulse of federal and regional politics for Huffington Post Canada readers every week. Grenier is the author of ThreeHundredEight.com, covering Canadian politics, polls and electoral projections.