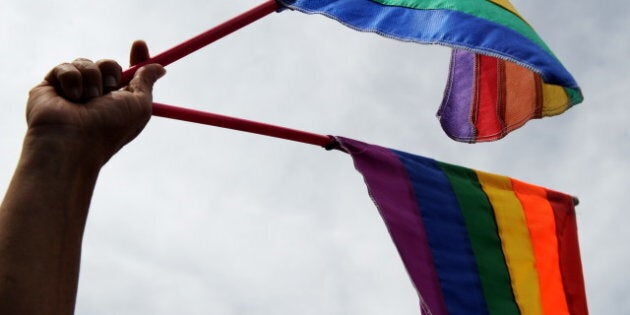 Kluwe then responded to Burns with an extremely sassy and hilarious letter in support of Ayanbadejo. This letter took the Internet by storm. Later, when college football player Jamie Kuntz was kicked off his team for kissing his boyfriend in the press box, Ayanbadejo and Kluwe took to Twitter to offer their support. The spectre of homophobia looms so large in men's sports and specifically in men's professional sports.
BLOG CONTINUES AFTER SLIDESHOW
In women's sports, the tide has already started to turn. Olympic soccer player Megan Rapinoe came out this year and received an outpouring of support by her teammates and fans. The men are lagging behind. I believe this has to do with to an outdated code of secrecy, shame, and silence that pervades professional sports.
Men have been stunted by the notion of traditional "family values" that is conjured when participating in sports as fans or as athletes. Indeed, hatred (dressed up as traditional values) led to a Emmitt C. Burns Jr.'s repellant attempt to suppress another American's right to freedom of expression by claiming to speak for the traditional "fan base." As Frank Bruni points out, "The possibility that coming out might rankle management or sour fans ... keeps gay athletes in the closet."
It appears that the culture of professional sports is still largely a culture of bullying. But thanks in part to Ayanbadejo and Kluwe, as well as Patrick Burke's groundbreaking "You Can Play Project" (whose slogan "Gay Athletes. Straight Allies. Teaming Up For Respect" says it all), the culture is changing. These activists have elevated the discourse in a world that is notorious for its rigid, limited, and archaic notions of heternormativity.
There's much work to be done in terms of awareness and advocacy. Although it is widely acknowledged that there are gay athletes in all four major professional sports leagues (NBA, NFL, MLB and NHL) we are still waiting for an active player to come out.
Queer positive messages like Ayanbadejo's and Kluwe's get us closer to the day where a gay athlete will not have to endure the often-barbaric and hateful atmosphere of the locker room, where a gay athlete in one of the four major leagues will proudly be able to claim his orientation publicly and will not be demonized, but in fact respected and loved for coming out.
I long for the day when being on this list will not be seen by anyone as anything other that a point of pride. We are closer than we were. So, this is my sports story of the year. It's not about a game that was played on a field. However, it's about an important victory for activism and inclusion in the field of civil rights.