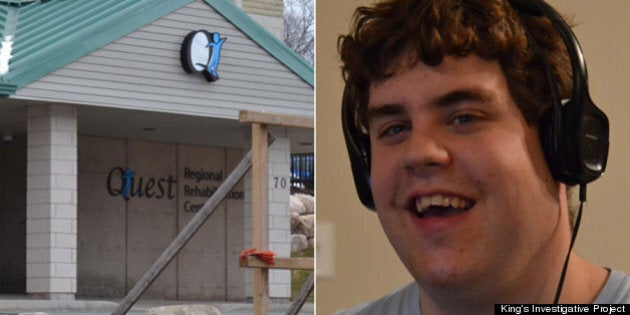 On a patch of grass and gravel at the end of Freer Lane in Lower Sackville, N.S., sits a low-lying building of glass, steel and concrete. Its surroundings consist of a parking lot, a concrete highway overpass and small garden with a gazebo bounded by a high, black fence.
Nothing of interest lies within walking distance of the area wedged between two of Halifax's major highways in a semi-developed area of the suburbs.
This is the home of the Quest Regional Rehabilitation Centre.
Quest houses 24 residents with developmental disabilities complicated by physical, medical, behavioural or mental health issues. It serves as a "hub of intensive support," said its director, Laura Arthurs. The idea is that residents come in, are rehabilitated by the facility's multi-talented clinical team, and then transition to a community-based living option.
"[W]e're not a housing option," Arthurs said of Quest's purpose. Still, she considers the facility a part of the deinstitutionalization movement, which promotes the transfer of those with intellectual disabilities from institutions to home-like settings in the community, so individuals can lead fuller lives.
But with its hospital-like environment that clumps people of different needs together, the pressure of developing program plans for two dozen highly different individuals, and Nova Scotia's community-based options capacity issues, Quest does become home for some residents, sometimes for years.
Ben James, Richard Rector and Paul Gillis moved into Quest as a result of individual crises soon after the facility moved to its current location at the Cobequid Community Health Centre in 2008. They had faced severe difficulties living at home: they were at times aggressive; their families were overwhelmed. James, 23, and Gillis, 22, have autism, while Rector, 27, suffers from a brain injury caused by an ATV crash.
Rector is under an adult protection order from the courts, giving Quest the responsibility to control his movements and call police should he ever go absent without permission. The order was instituted after a physical confrontation between he and his father.
James's mother, Nancy Walker, Gillis's mother, Barbara, and two other families had drafted a proposal for a "small option" home for their four sons, who were all friends, and presented it to the Nova Scotia Department of Community Services. (A small option home is a residence for three people licensed under the Homes for Special Care Act, where staff often live with people with intellectual disabilities in a community setting.) Under the proposal, the parents needed provincial assistance to buy the home but would provide the staff and programming.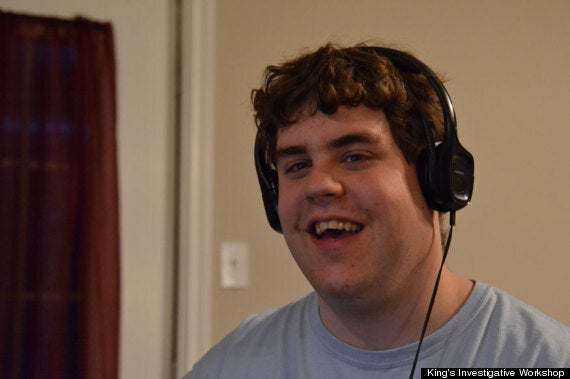 When Paul Gillis has trouble sleeping, is anxious because he has not gone outside or is having difficulty dealing with the noise at Quest, he's given Lorazepam or a similar drug, his mother says.
Community Services responded that the four boys needed to be evaluated individually; they couldn't necessarily be lumped into one care situation, despite their familiarity with one another, similar ages and needs. The department also warned the families that only three people were allowed to a small option home. The plan was effectively rejected, and three of the boys ended up at Quest.
Walker remembers the day that James moved in as "horrendous, horrific." She despised the look of the facility, she said.
Quest is split into two units, separating the high- and low-functioning residents. Those units are further split into wings, eating areas, common rooms, nursing stations and offices.
"Every time I went in there, I thought I would just die, because it just wasn't what I'd wanted," Walker said. "I had wanted him in a small option home in a place that looked like home."
Four years later, James, Rector and Gillis still don't feel at home.
Quest's care plans have a strong emphasis on medical care, with each resident assessed by a psychologist, social worker, nurse, physician, occupational therapist and psychiatrist, depending on the situation. Together, the professionals develop an individual rehabilitation plan based on observation, data and best practices in the field – a process that can take years, depending on the complexity of each individual case.
Despite the detail involved in creating these plans, the young men's mothers don't believe Quest is doing enough to tailor programming to their sons' needs.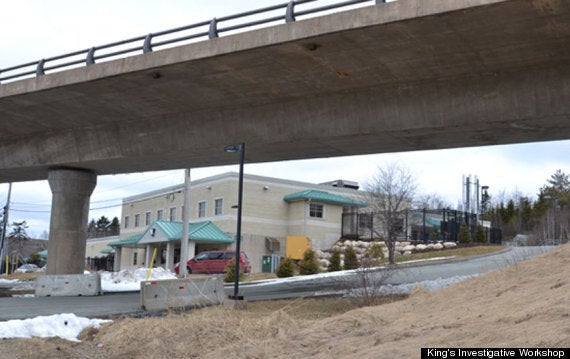 Quest's surroundings consist of a parking lot, a concrete highway overpass and small garden with a gazebo bounded by a high, black fence.
"They're too spread thin trying to deal with each and every case that deserves its own attention," Gillis said.
James moved into Quest when he was 19 and continued to attend school and a summer program run by his mother for three years after that. When he graduated at 21, James suddenly had full days to fill and, according to his mother, Quest was not ready with a program plan. That's despite the fact that Ian Landry, the Quest social worker, says the facility works closely with schools to ensure a continuation of programming after graduation.
Walker says her son's Quest-organized programming largely involves short walks, getting groceries, seeing a movie or doing tasks, such as laundry, around the facility,Gillis contends that daily tasks should not count as "programming" and that only three to four hours of her son's day are truly filled with activities. She wishes her son went outdoors more often. Instead, he spends many days watching TV and playing on his iPod.
"On paper and in meetings, I would be led to believe that Paul gets out every day, but it doesn't always happen," Gillis said. "I wanted a schedule. I wanted some kind of something to show me that he's doing these things."
Landry says that the number of activities and community inclusion programs depends on each individual. Arthurs adds that Quest's goal is to increase residents' self-sufficiency.
James was already involved in the community before he moved to Quest: He works at a recycling centre, goes swimming and bowls. Quest added nothing, says his mother. Walker says his programming has improved since she wrote a letter to the Department of Community Services about the quality of James's care. She now receives comments from staff about how capable her son is, which bothers her because she says she knew that all along and yet the programming wasn't allowing her son to flourish.
"I think the expectancy is so low for most of the individuals in there that they don't raise the bar," Gillis said, reflecting Walker's feelings.
The parents question what they see as Quest's unwavering loyalty to program plans, assessment, researched best practices and policy, saying it seems to stifle the institution's flexibility in dealing with the residents.
The structure keeps families from being involved in their children's rehabilitation, despite Quest's mandate to "work closely with clients and their families to develop program plans," they say. The three mothers contend that their suggestions for care, programming and intervention during resident outbursts are ignored by the Quest administration and staff.
Landry says that Quest is open to hearing families' suggestions but that they cannot always be incorporated into rehabilitation plans when they do not adhere to the clinically prescribed best practice. Clients – the residents of the facility – and staff always attend quarterly team conferences to assess progress and residents, if they are deemed competent, also have full rights to comment on and negotiate their own plans.
That includes medication, a point of contention between some parents and the Quest staff.
The administration of fast-acting sedative drugs is a source of distress for Gillis. She says if her son has had trouble sleeping, is anxious because he has not gone outside or is having difficulty dealing with the noise at Quest, he's given Lorazepam or a similar drug. She contends that these drugs are doled out as if they were Advil. According to one email from staff to Gillis obtained by the King's investigative reporting team, Methotrimeprazine and Lorazepam were both given to Paul following an aggressive incident. The email does not explain what caused him to act out. Because her son is over 18 and is no longer Gillis's dependent, she has no legal say over what drugs he is given.
The documents were obtained by King's students after the original interview with Quest officials. They could not be reached for further comment.
Paul also has a tremor and goes into spasms during which his body tenses, he stomps with both feet, and his head jerks. Gillis says these issues developed after he was administered drugs, particularly Lithium, used primarily to treat manic depression symptoms, three years ago during a seven-month stay in isolation at the Nova Scotia Hospital, a large psychiatric institution.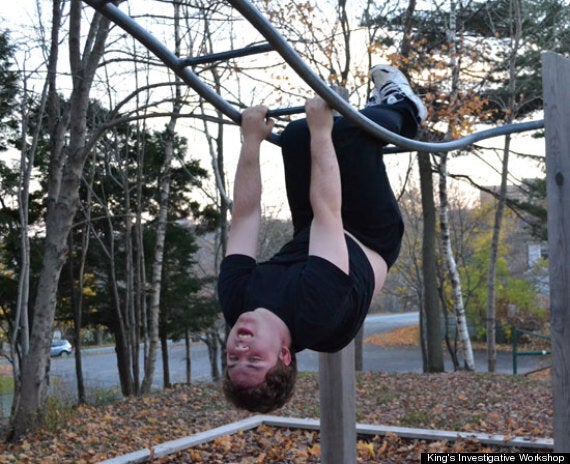 Paul Gillis playing on the monkey bars.
Walker learned early in James's residency that the staff were using medication to calm him. When they wanted to increase his regular doses, she sought legal guardianship of her son. It cost her $6,000 in legal fees but now the staff must funnel such decisions through her.
Otherwise, frontline staff are not supposed to have any contact with parents. Arthurs said that only head nurses are qualified to speak to the "big picture" of an incident or a resident's care plan.
Gillis emails the head nurse on weekdays – they don't respond on weekends – and checks in with her son daily by telephone.
When Rector's mother, Leslie Lowther, calls her son at Quest, she sometimes hears yelling from other residents and thinks such overstimulation is the root of much of Rector's aggression. The mothers say their sons' aggression is exacerbated by the environment they're in: loud residents, boredom, a sense of being trapped.
"There's not really anything that can so much be done about that except for teaching residents to cope with the differences in people," said Landry, adding that Quest works with its residents to help them adapt to different settings so that they don't feel the need to resort to violence. It's a tactic for preparing them for community-based living, he says.
The facility uses non-aversive behavioural support, Landry adds. This method involves teaching residents how to calm down on their own with the help of therapeutic quiet rooms. All staff are trained in this method.
Persuant to his adult protection order, Quest instituted tight controls on Rector's access to the outside community, creating a system that allowed for first two hours, then four hours, then eight hours and ultimately unlimited, unescorted excursions. To graduate to each level, he had to get through 30 days without "any incidences of attempted elopement, manipulation, or aggression" while on escorted excursions. Poor behaviour can result in his being dropped a level.
"Depending on where Richard is with his 'program', time can and does get taken away from going out with his family," Lowther said in an email. "Richard is free to go out with staff or family only if he has earned the time."
Speaking generally and not about any specific incident, Arthurs and Landry say that family visits and leaves with residents have not been an issue as far as they are concerned and that they have not received any complaints.
Safety, medical or program plans could impose restrictions on leaving the facility with family, but that ultimately it is the family's decision, they add.
"This is not something the clients have to earn," Arthurs said. "The ability to be with your family is what we call 'noncontingent.' You always have the right to be with your family. Always."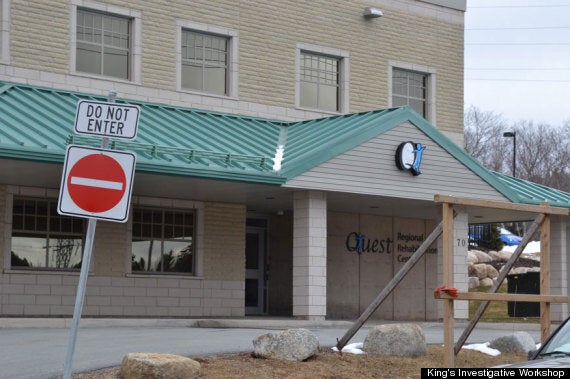 Still, visits are complicated by what these mothers refer to as Quest's "lockdown system."
After being buzzed into the locked entrance of Quest, visitors must fill in a form detailing who they are, the reasons for their visit and the time. They must then go through locked doors for every wing, common room and private bedroom in the facility. Visitors are allowed in the bedrooms for only 15 minutes. Otherwise, family visits take place in a "Town Square" area, the facility's multipurpose room, or on request, in a boardroom or family/telephone room that allows more privacy, according to a March 4, 2013, letter to families.
"It's like a prison," Gillis said.
Only some residents are allowed swipe cards to access the different parts of the facility. Those under adult protection, such as Walker and Lowther, are not. No one can get out the front door on their own. Landry and Arthurs say the barriers are for safety and to ensure that no resident has the responsibility of preventing another resident from leaving the building.
The question now is: When will James, Rector and Gillis be able to leave for good?
Landry says that Quest does not set timelines for discharge into the community, since each case can vary in its complexities. Some residents have been in and out within a year, while others have lived at Quest for 20 and will likely never leave, according to Arthurs.
"If they claim to be 'rehabilitation-al,' sorry it's not really happening," Gillis said.
She says she has watched Paul's independence decline since he's been at Quest.
Ben James' mother feels the same way.
"He's been in there three-and-a-half years and he's going backwards," Walker said. "That's what I'm seeing. He's going backwards because he didn't have programming."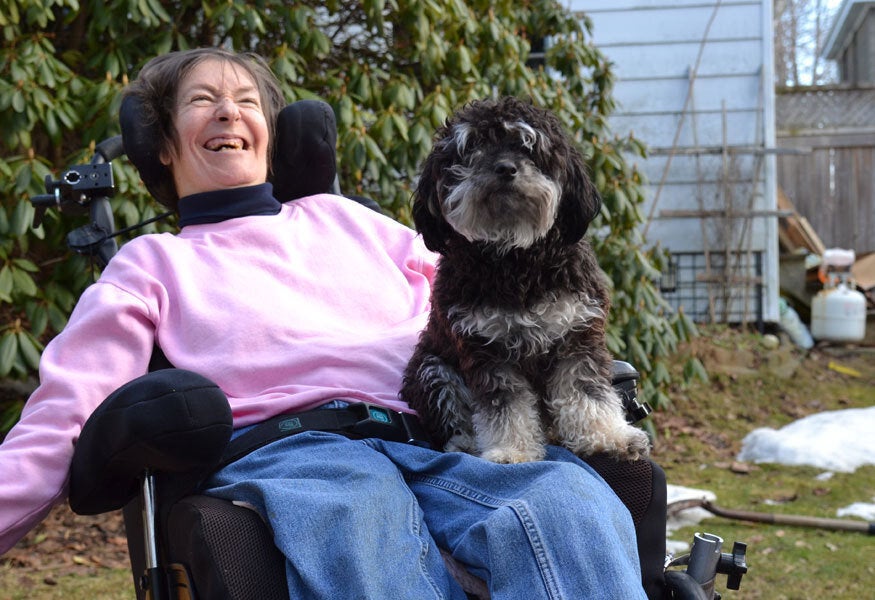 Warehoused: Profiles
Warehoused is the final product of a six-week investigation by the investigative workshop at the University of King's College, in Halifax, Nova Scotia.
Managing Editor and Faculty Advisor