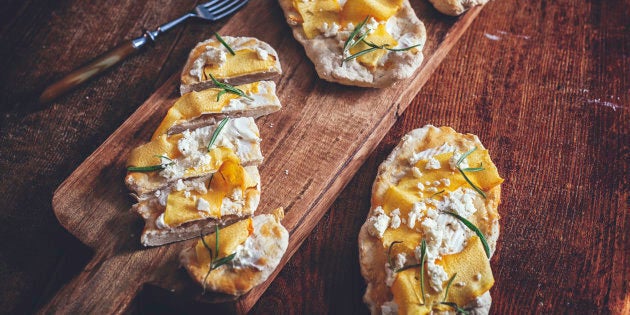 Hosting Thanksgiving is, conservatively speaking, a TON of work. Making a turkey is crazy complicated. (It takes hours! And you have to "baste" it?) Making even a "simple" version of a Thanksgiving dinner often requires a Herculean organizational effort for those of us with fewer than five ovens in our homes.
Luckily, if you've evaded hosting yourself (phew!) and are headed to someone else's home for Thanksgiving, there are lots of easy ways to make smaller dishes that are easy, delicious, and will make you look like you're a fancy person who has your life together.
Here are some quick tips to keep in mind:
Seasonal vegetables are cheap, tasty, and embody the fall colour palate. Anything you make with pumpkin, mushrooms, brussels sprouts, carrots, cauliflower or cranberries is likely to warrant you an impressed eyebrow raise.
The autumn version of bruschetta is simple and delicious — and do you see how elegant that ricotta and pumpkin bread looks above? Fancy AF. Just get a nice bread and something hearty and seasonal to go on top, and voila, you've won the Thanksgiving appetizer game.
Everyone — everyone!!! — appreciates a nice bottle of bubbly, whether that's champagne for the truly fancy, prosecco/cava for the rest of us, or a tasty sparkling apple cider for the non-drinkers.
Here are some quick and easy recipes, from the looks-very-fancy-but-not-actually-that-hard to the truly disaster-proof. Your fellow Tgiving guests will say "Wow!" and you'll just smile the contented smile of someone who has their life completely and utterly together.
If you want to spend about an hour in the kitchen: Squash toast
Don't worry — most of that time is just waiting for the squash to cook. And don't tell your guests, but you can cut down on cooking time by buying an onion jam rather than making it from scratch. Get a recipe at Food 52.
If you want to spend forty minutes in the kitchen: Stuffed mushrooms
If you want to spend half an hour in the kitchen: Figs with chile and bacon
This one is shockingly simple, given how sophisticated it looks: cook the bacon, heat up the sauce, heat up the figs, arrange them, and done. Get the recipe at Bon Appetit.
If you want to spend 20 minutes in the kitchen: Tahini and carrot dip
Seasonal, sophisticated, and the perfect Thanksgiving colour. It required a blender, but it's worth it. Get the recipe at Saveur.
If you want to spend 15 minutes in the kitchen: Candied nuts
These are ridiculously simple and endlessly adaptable — use whatever sugar, oil, nut or seed you prefer. The only trick is making sure you stir them enough that they don't stick to the pan. Get the recipe at the Minimalist Baker.