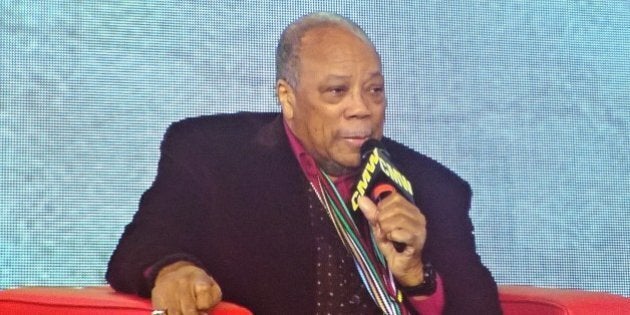 Quincy Jones needs no introduction, but if he did, where would you start? His work and friendships with Michael Jackson, Frank Sinatra, Lionel Hampton, and Ray Charles? How about Marvin Gaye, Sidney Poitier, Stevie Wonder, 2Pac and Will Smith?
Would you mention his astounding 27 Grammys or his even more astounding 79 nominations? Would you include his Emmy, the seven Oscars for which he's been nominated, or the one — the Jean Hersholt Humanitarian Award — which he won?
Any way you slice it, Quincy Jones is one of the most important figures in the history of popular music, a fact not lost on the scores of people who jam-packed Toronto's Marriott ballroom on May 10 to see the legend interviewed by Ross Porter of Jazz FM.91 as part of Canadian Music Week.
It'd be impossible to relate all of the stories that Jones told over the course of over an hour onstage, but here are some of the best anecdotes he shared with us at CMW 2014.
QUINCY JONES LOVES HIM SOME NIKKI YANOFSKY
Canadian jazz singer Nikki Yanofsky was referred to by Porter as Quincy Jones' "most recent discovery," and at one point Jones compared her ability to Ella Fitzgerald's. "Don't fail to listen to her," Jones warned, "because this lady is just starting and she is just… I watched her last night and I see her growth, exponentially. It was just incredible."
Yanofsky, who was sitting directly in front of me, was in a semi-permanent state of cheering and blushing throughout this and other bits of the conversation. She was delightful.
"When I was studying in Paris with Nadia Boulanger," Jones continued, "she said something I'll never forget. She said 'Quincy, your music can never be more or less than you are as a human being.' And Nikki is a great, great human being."
From the same conversation about Yanofsky, Jones dropped an oldie but a goodie: "God gave you two ears and one mouth; you're supposed to listen twice as much as you talk."
ON NADIA BOULANGER, IGOR STRAVINSKY, AND STRENGTH
"Nadia Boulanger was Romanian, Russian, and French. The most astounding woman I ever met in my life. She was a mentor to Stravinsky, taught Aaron Copland, Philip Glass, Daniel Barenboim, Leonard Bernstein. I met Stravinsky there when I was working with her in the 50s. What a lady! She was strong, really strong. She was the first woman to conduct the New York Philharmonic." He later added, "she said, 'I have to be careful with jazz musicians, Quincy, because you guys shack up with music first, and you record it and marry it later.'"
A HILARIOUS-SOUNDING THING ABOUT AN ALL-TIME LEGEND
"At that time, Lionel Hampton was bigger than Louis Armstrong — Louis Armstrong used to open for us."
ON ROCK AND ROLL'S ORIGINS
"I know it might seem that Bill Haley and Elvis Presley started rock and roll, but I'm telling you — and the Quarrymen — Louis Jordan and Lionel Hampton did that."
Article continues after slideshow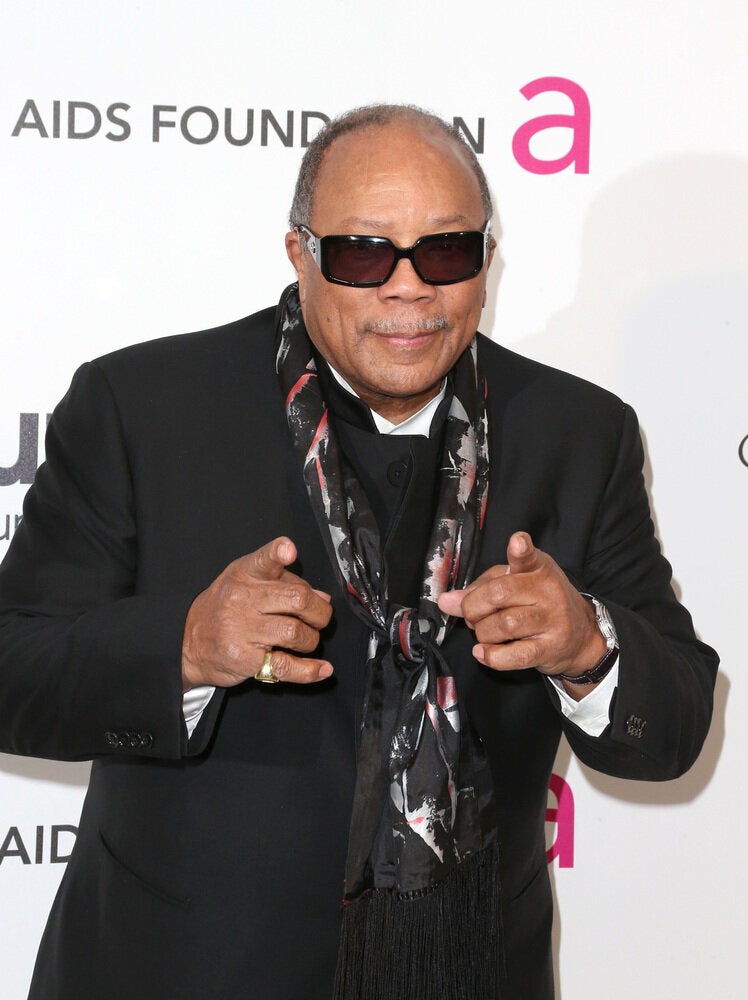 Quincy Jones' Best Quotes
ON WHY HE STOPPED PLAYING THE TRUMPET
"I stopped playing trumpet because I had to. I had two aneurysms. Serious brain operations. They cut my head open twice [in the mid 1970s]." This, he said, has interfered with his ability to go through metal detectors and customs.
ON MARLON BRANDO, STEVEN SPIELBERG, AND BEING UNDERESTIMATED
After his brain surgery, Jones says Brando sent him to his home on the island of Tetiaroa to convalesce.
"That was right after 'The Color Purple,' [which] was the first film I produced and it was a lot of work. I also discovered the power of being underestimated. It gives you strength. Everybody was saying 'what does this idiot Quincy Jones thinking about? He thinks he's going to get Steven Spielberg to direct his first movie. Steven was a $5.5 million director, 'E.T.,' 'Close Encounters,' everything you could imagine — 'Jaws' — and guess what? He did the movie for me for $84,000."
"He said 'you've got to find somebody.' I was talking with [Spielberg] about this lady up in San Francisco working on the streets, doing these impersonations. Whoopi Goldberg. So I had her come to Amblin and [she did] seventeen vignettes from junkies to Valley Girls. Everything. And Steven was so in love.
You may remember there was another famous actress in that movie. Ever wonder how she got cast?
"I saw this lady on Chicago A.M. and said, 'if she can act, that's Sofia. It took me three days to find the name." That name, of course, was Oprah Winfrey.
The Color Purple didn't win any Oscars despite getting nominated for 11. Jones said it was because of an anti-Spielberg bias in Hollywood. "The Academy guys, 350 Academy guys, they were very jealous of Steven. They gave [Best Picture] to 'Gandhi' instead of 'E.T.,' they were very jealous of Steven and George Lucas, you know."
ON FRANK SINATRA, AND WOMEN, AND GOODNESS
There was a long story about the first time Jones performed with Sinatra ("this man was from, like, another planet!"), but the best part was at its conclusion. There was a long pause, and then Jones said, breathlessly, "I cannot tell you the experiences we had. It was just un-be-lieve-a-ble."
Porter pushed: "Let's talk a little bit about the ladies, what trouble did guys you get into with the ladies, you and Frank?" Jones replied with something unintelligible under his breath, which delighted the crowd. "We saw Ruth Roman, Ava Gardner, Lana Turner, Marilyn Monroe. And see, I didn't think Marilyn was that hot because I was big into Mamie Van Doren back then. She was Swedish and Cherokee, give me a break!"
"Ever seen anyone get on the bad side of Frank?" Porter asked. "Well, Frank was bipolar, you know," said Jones. "And he loves you to pieces. One example: I went over in 1968 to do the score to 'The Italian Job' with Michael Caine, who happens to be my celestial twin — we were born on the same year, month, day, and hour — and he taught me Cockney and all this stuff. And my son was born that same year.
When I came back [there] was a letter from Sinatra and it said, "Dear QIII," which is my son. "Let uncle Frank welcome you into this world with a college education, [and there was] a bond for his whole college education."