Manita Singh, 25, never had an ultrasound during her pregnancy, so she was surprised to learn that her baby turned out to be quintuplets.
Singh welcomed her daughters on Saturday morning at a local hospital in Ambikapur, India, after complaining about labour pains. She was just 26 weeks pregnant, but her five babies were all born healthy and weighed just over three pounds each.
Singh is now the first woman in the state of Chhattisgarh to give birth to quintuplets naturally, reports Inquistr. Additionally, the baby girls are now the most premature quintuplets to be born in India.
Mahesh Singh, the father, is very happy with the birth of his five daughters and told the Daily Mail that he feels blessed.
"I am extremely grateful to God for blessing us with not one but five children," the 26-year-old said. "We were heartbroken when we lost our first child, a son, immediately after birth two years ago. I believe God has compensated the loss. I only hope that they all survive and I can give them a wonderful life."
The infants are currently under supervision in the neo-natal intensive care unit. Dr. Tekam, who led the delivery, says the girls are being closely monitored due to their incredibly low birth weight.
It can be difficult to assess the odds of quintuplets, however, the chances of having them are about one in 60 million. Having all-male or all-female quintuplets are even rarer. In fact, the first set of all-girl quintuplets in the U.S. were only just born last year.
In Canada, the first set of quintuplets known to have survived infancy was the Dionne sisters. The identical girls were born two months premature in May 1934 in Corbiel, Ont.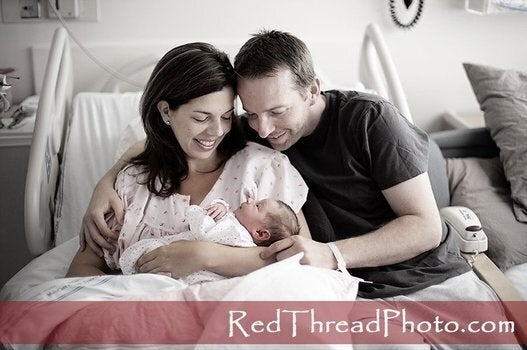 Newborn Photos Every Parent Needs To Take
Popular in the Community