Hey Nik Wallenda, you ain't got nothing on this little furry critter.
A new video offers undeniable proof that the raccoons are taking over in Toronto and are going to win the war.
The battle has been going on for years, as any Torontonian will tell you: Lawns look like bombed battlefields after the masked mammals forage for grubs; residential green bins for the city's organic waste are knocked down nightly like bowling pins; alleys in the older quarters of the city are the staging grounds for spring offensives.
And damn they're smart, as this incredible video of a raccoon's high-wire act shows. The creature was caught on video traversing the city's Danforth neighbourhood, high above the houses, gripping only utility wires with its four paws.
The video, which was uploaded to YouTube a few days ago, includes a lovely narration by a woman laughing with amusement as the racoon tightrope-walks across her backyard.
"Very, very clever," she laughs. "It is going.. It is going. It is so clever, my word."
Of course, raccoons are no laughing matter for many residents. A Toronto man pleaded guilty last month to animal cruelty for hitting several raccoons with a shovel as they dug up his backyard. (He was given a conditional discharge, forced to pay a chunk of cash to a wildlife centre and must serve 100 hours of community service at a humane society).
Some estimate there are nearly 100,000 raccoons in the city, leading a prominent columnist at The Toronto Star to call for a raccoon cull.
If there ever is an effort to reduce Toronto's raccoon population, we bet this masked star of "Raccoon On A Wire" makes it out alive.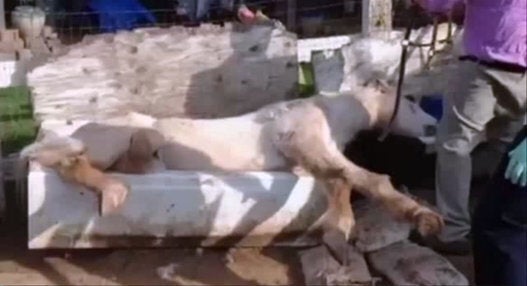 Animals In The News