Alberta Premier Rachel Notley says her province is pulling out of the federal government's climate plan.
Notley's stunning announcement comes after a Federal Court of Appeal ruling effectively quashed the contentious Trans Mountain pipeline expansion — a project she has pushed for zealously.
Speaking to reporters Thursday, Notley said she is demanding the Liberal government appeal the court ruling to the Supreme Court, call an emergency session of Parliament to "fix" the National Energy Board and kickstart construction of the pipeline.
"This ruling is bad for working families and it is bad for the security of our country, the economic security of our country," she said.
"Albertans are angry. I am angry," she said.
Until work on the project resumes and the federal government "gets its act together," Notley added, her province will not be part of the federal government's climate framework.
"And let's be clear: without Alberta, that plan isn't worth the paper it's written on," Notley said.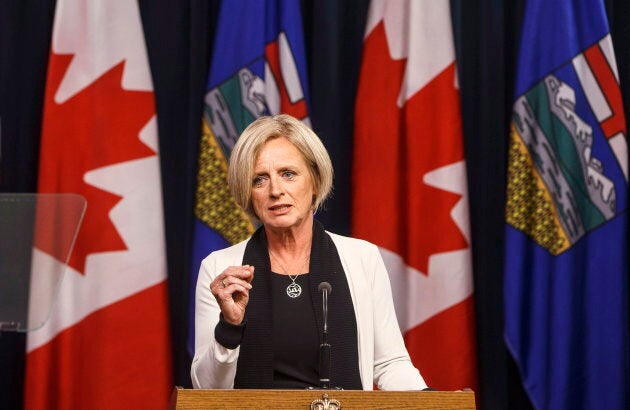 Leaving the federal plan means the province won't agree to raise its current price on carbon from $30 tonne to $40 tonne in 2021 and $50 a tonne by 2022.
Notley said Alberta's current provincial climate plan will stay in place.
She blamed "successive" governments in Ottawa and Edmonton for the pipeline's current "mess."
"It was broken in Ottawa, and now Ottawa needs to fix it," she said.
"The time for Canadian niceties is over."
Finance Minister Bill Morneau told reporters Thursday that the government will review the court's decision but still intends to push ahead with the contentious project.
The Federal Court of Appeal's decision cited a flawed review of the pipeline by the National Energy Board and the failure of Ottawa to meaningfully consult First Nations on the project.
The decision came on the same day that Kinder Morgan Canada Ltd. shareholders voted 99 per cent in favour of selling the pipeline and its expansion project to the Canadian government for $4.5 billion, not including construction costs that could be as high as $9.3 billion.
With files from Ryan Maloney, The Canadian Press
Popular in the Community