As we are fast approaching the end of 2013, I can't help but reflect on what an amazing and interesting year it's been. I now have a not-for-profit organization called Kids Right To Know, and have been invited to speak in lots of countries. I'm travelling the world spreading the word about freedom of choice and food safety! It's been an incredible experience so far. I've learned so much and met so many interesting people along the way. I have so much to be grateful for and feel so blessed.
This all started with a simple hope in my heart to renew our planet and re-define food safety for Canada. Since we live in a democratic country, I figured that publicly asking for transparency from our government so we could have a better and healthier future was a pretty reasonable request. I still think it's reasonable. We are supposed to be living in a democracy, right? What I didn't realize, was what an uphill battle it would be.
With all the public speeches and interviews I've done so far, I can tell that people really do want to know more about what's in the food they're eating. For the most part, it feels like everyone from everywhere on the planet is working together because everybody wants the same thing -- to be healthier and happier.
I clearly remember at the beginning when I was awakened to the truth about how the biotech companies are genetically modifying much of our food, I was so freaked out. I've been a vegetarian my whole life, so the thought of eating GMO foods that contained the genes of animals, bacteria and viruses was totally wrong to me. Not only because I'm vegetarian, but also because it goes against all laws of nature. If I hadn't done all this research, I wouldn't have had any idea what I was eating! My basic right to know and choose what's in my food seemed to have been taken from me.
Today, not only am I concerned about the actual GMOs themselves (i.e. BT corn), but also about the huge amounts of pesticides required to grow them. To be on the safe side, I try to avoid at all cost foods like sweet corn and other corn products such as high fructose corn syrup, sugar that comes from genetically modified sugar beets, canola, vegetable oil, soy and yellow squash.
Earlier this year, the organization, Canadian Biotechnology Action Network ran random tests of the sweet corn sold in farmers markets, vegetable stands along the road, and in major grocery stores. They concluded that 35 per cent of the corn they tested was genetically modified, and because there are no GMO labels in this country, that means there are people out there who are eating GMOs and don't even know it.
As much as possible, I support organic farmers because I want to support those that are protecting our soil, our health and our future!
This year, I also came to the harsh realization that many of the brands that we trusted and have grown up with are not that trustworthy after all. Brands like Kellogg's, Coke, Frito-Lay, Nestle, PepsiCo, and Kraft have all contributed millions to prevent us from knowing what we're eating.
What's worse is the biotech companies like Monsanto, Bayer and Syngenta are using their money and power to have the masses believe whatever they want.
They do things like fund university studies so they can claim that having more GM crops will solve the problem of world hunger. Not only are they threatening our future with more health problems, but our soil, water, air, and rain forests like the Amazon are also being destroyed. It doesn't look like they're solving world hunger and poverty, it looks like they're contributing to it. Sometimes I ask myself: How do unlabelled GMOs hidden in our everyday packaged products help end world hunger? Or GM Arctic apple, GM salmon, or GM alfalfa for that matter?
On a more positive note, I also had the great opportunity to speak at We Day in Toronto as a TELUS Youth Ambassador. It was this mind blowing, gigantic event that allowed over 20,000 young people to connect and motivate each other to go out in the world and make it a better place.
Another cool and important thing I was involved with was Planet In Focus. It's Canada's largest environmental film festival that took place in Toronto. Here, I was fortunate enough to speak along with Rob Stewart, who came out with the film Shark Water in 2006 and then this year, with Revolution which is incredibly inspiring, and now one of my favourite films of all time. I also got the chance to speak at the screening of GMO - OMG. It was a great opportunity to support this important film and to continue my campaign of raising awareness.
This has been a year of working very hard, without breaks, with little funding, missing a lot of school, and juggling to maintain my grades. But, this is how I've chosen to spend my youth because I want to make a positive change on earth, and be on the right side of history. Knowing that and having all these exciting experiences gives me a kind of joy that I find difficult to describe.
One of my favourite quotes from Rupert Stevens is, "Always leave the earth better than you found it."
So on that positive and inspiring note, I'd like to sincerely thank everyone who's been supporting me and this important movement. I wish you all many blessings for the holiday season. 2014, here we come!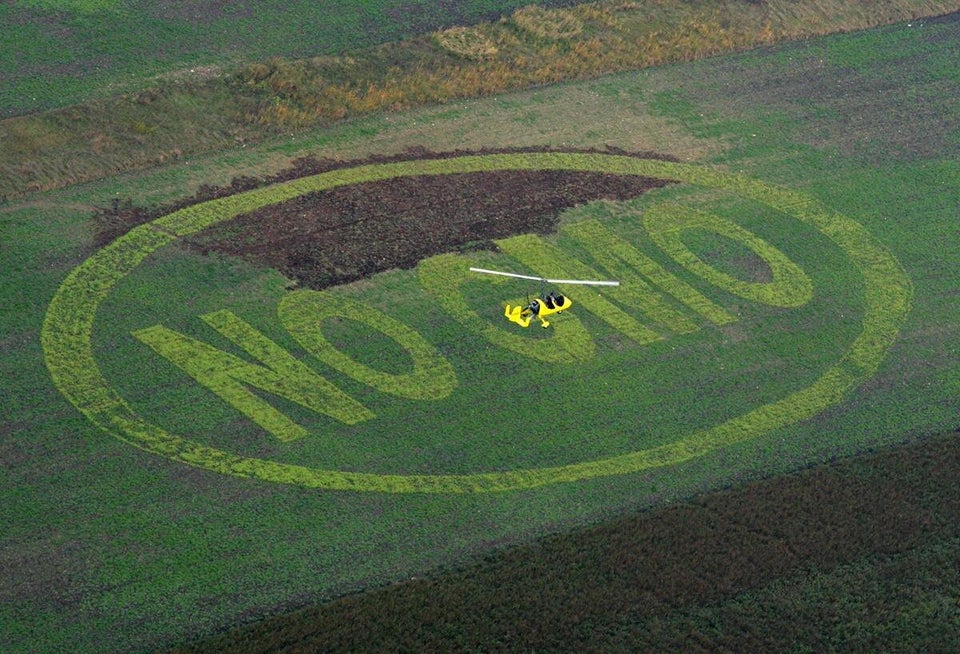 GMO Protests